The gondola style Skyliner at Walt Disney World opened in September 2019 and they are ready for YOU! The aerial gondolas are enclosed cabins which are transported through the air with the use of cables. So, are you ready to cruise around Walt Disney World in these incredible Skyliners?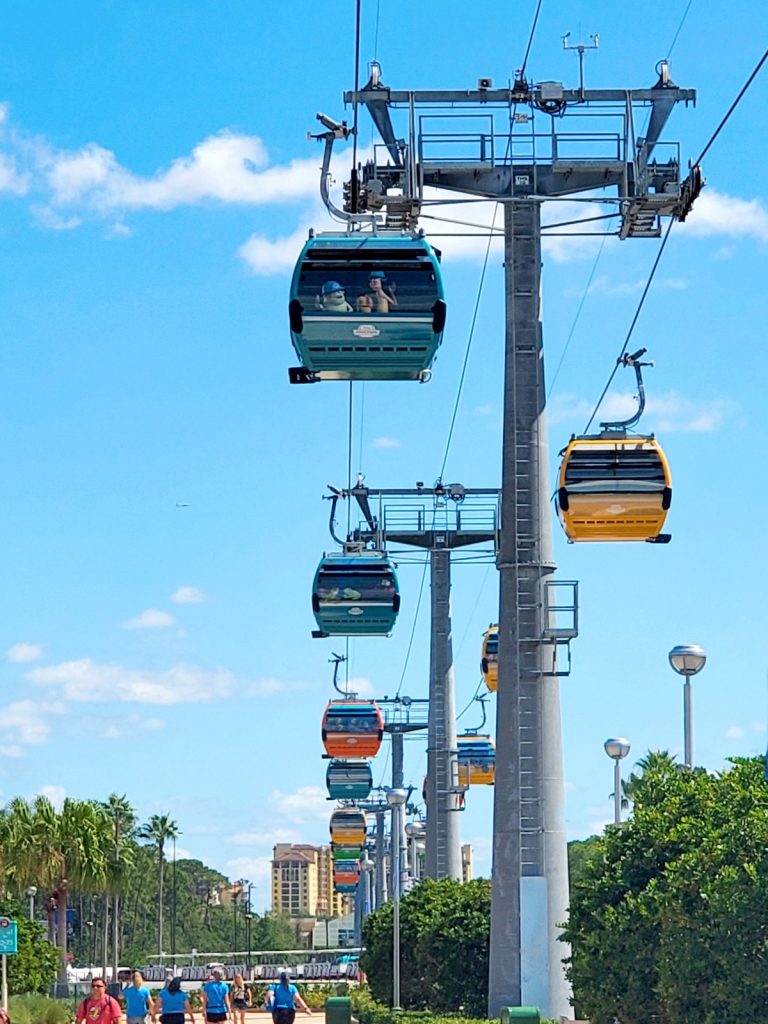 Everything You Need to Know About the Skyliner at Walt Disney World –
Where the Skyliner Goes:
You can take the Skyliner to the main gate of Hollywood Studios and the Epcot International Gateway.
You will NOT be able to access Disney Springs, Magic Kingdom or Animal Kingdom with the gondolas.
Skyliner Stations & Lines:
Stations –

Epcot International Gateway

Inspired by Europe with an Art Nouveau style and decorative elements that resemble moments of flight. With park admission, you'll enter Epcot through the International Gateway between the France and United Kingdom pavilions.

Hollywood Studios

Located near the front entrance, this station mirrors the same Art Deco style you see at Hollywood Studios.

Riviera Resort

The Riviera Resort is a fairly new Disney Vacation Club Resort. This is the only station you aren't required to exit the Skyliner, unless it is your intended stop.

Disney's Caribbean Beach Resort

This station is the main building that receives the lines from all the connected properties. (More on that below)

Pop Century Resort and Art of Animation Resort

Situated right in the center of Hourglass Lake, this station will only have a single line going out and coming back.
Lines –

The Epcot Line

Originates at Disney's Caribbean Beach Resort with a stop at the Riviera Resort before continuing on to Epcot International Gateway.

The Hollywood Studios Line

Goes from Disney's Caribbean Beach Resort to the entrance to Hollywood Studios

Art of Animation/Pop Century Resort Line

Takes you from the Pop Century and Art of Animation Resorts to Disney's Caribbean Beach Resort.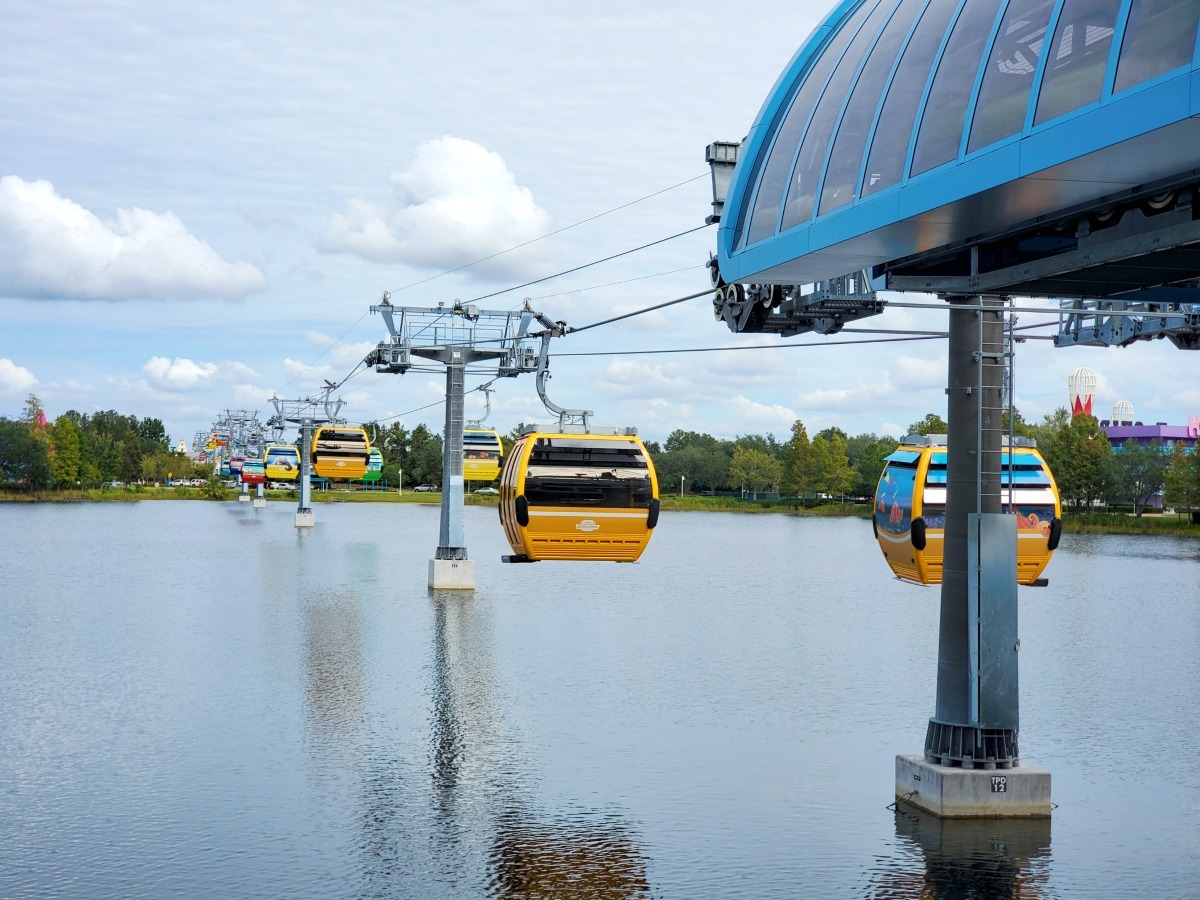 Skyliner Timing & Hours:
Travel Times (approximate) –

Caribbean Beach Resort to Hollywood Studios: 5 minutes
Caribbean Beach Resort to Pop Century Resort or Art of Animation Resort: 5 minutes
Caribbean Beach Resort to Riviera Resort: under 5 minutes
Caribbean Beach Resort to International Gateway at Epcot: 15 minutes
Riviera Resort to International Gateway at Epcot: 5 minutes
Operating Hours –

Typically 8:00 a.m. – 10:00 p.m. but vary from day to day
Things to Know:
Day guests should park at Hollywood Studios to ride the Skyliner at Walt Disney World.
Guests using the gondolas will not be able to access the Epcot parking lot after Epcot has closed for the day.
Gondolas will not come to a complete stop.
The Disney Skyliners do not have air conditioning but have a nice breeze when the windows are open.

Reflective windows help keep the heat at bay.
Cross ventilation creates the breeze.

There are wrapped and unwrapped gondolas. The wrapped gondolas have characters on them!
They have bench seats and hold up to 10 people.
Gondolas are handicap accessible.
Each ride lasts between 5 and 15 minutes, depending on your departure and arrival destinations. You will travel about 11 mph, and reach 60 feet above ground level at the highest point of the journey.
There is an emergency kit in each gondola.
Skyliner Map: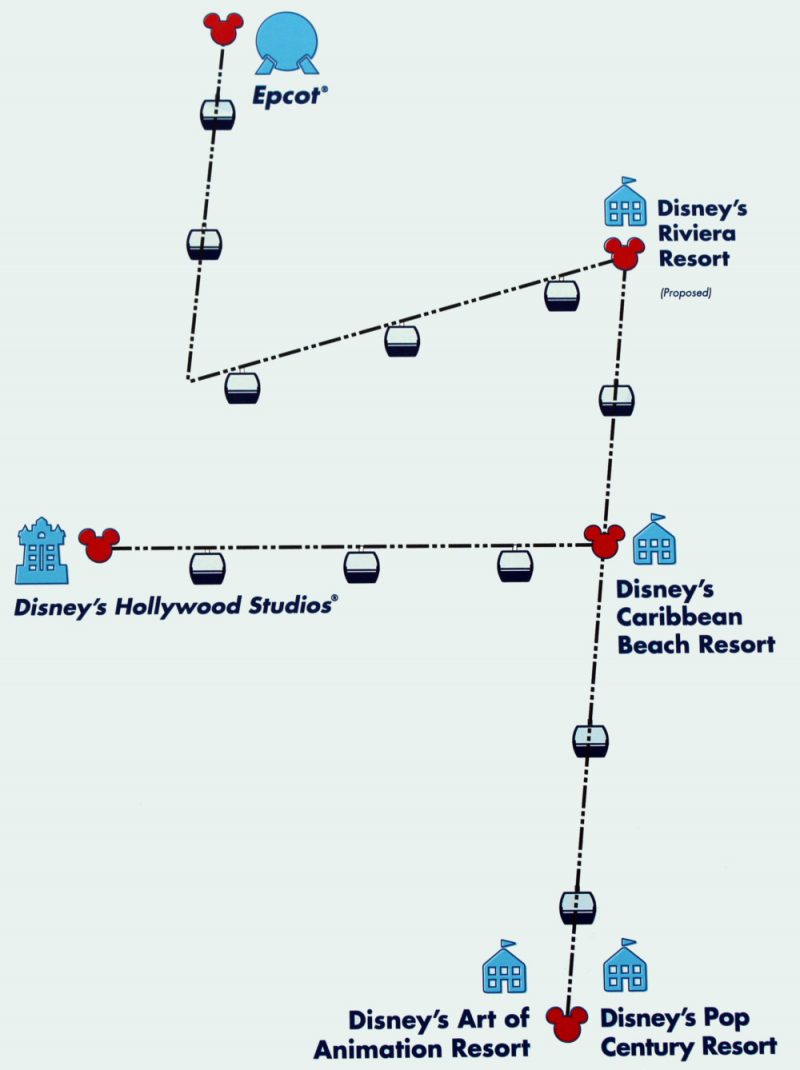 Y'all, I am terrified of heights but I'm trying my best to overcome that fear. That said, I LOVE the Skyliners at Walt Disney World! The views are best out of the unwrapped gondolas but either way, you can see a long way off and it's just beautiful.
Have you been on the Skyliner at Walt Disney World?
YOU WILL ALSO LOVE:
If you like this post, you'll love these that I've picked out just for you!