**Full Disclosure: This is a sponsored post. All opinions are my own.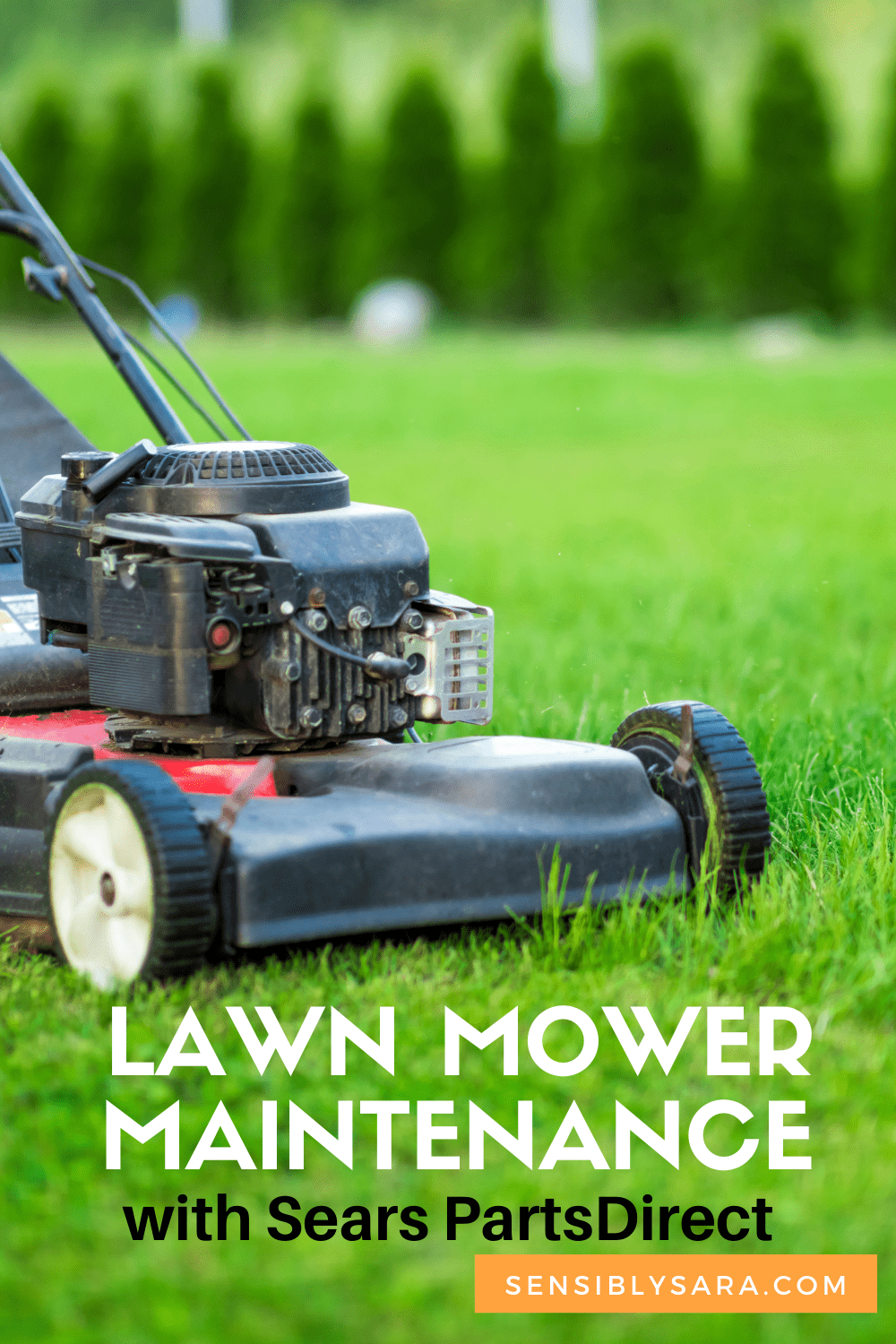 A lack of preventative home maintenance will certainly lead to replacing products sooner than desired which is why I'm so grateful for my husband. I tell my husband what needs to be done (or what I want done) and he takes care of it. Early on in our marriage, it was my husband's job to take care of the lawn but I've recently discovered that I don't mind mowing, edging and keeping up with the outdoors. With that, though, comes lawn mower maintenance, which is far easier than it sounds, especially with Sears PartsDirect! 
Lawn Mower Maintenance with the Help of Sears PartsDirect –
Read the Manual: 

Maintenance can differ from mower to mower so it's important to read the manual so you know what will need to be done for your model. 

If you can't find your owner's manual, download a free copy by looking up your mower's model number on Sears PartsDirect.

Check/Change the Oil: 

Use the dipstick to check the oil before each use. 

Look for floating debris or oil that appears dark black in color. 

Old or contaminated oil should be drained and replaced. 

To change the oil: remove the drain plug underneath the mower and allow it to drain completely. If your mower doesn't have a drain plug, you'll need to gently tilt the mower on its side and drain the oil through the fill hole. Be sure to consult your owner's manual for the correct method and type of oil to use!

Clean the Undercarriage: 

After each use, you'll want to clean the underside of your lawn mower. You can u

se a water hose to spray it down or a wire brush to scrape grass clippings and dirt from the undercarriage.

Inspect the Air Filter: 

Dirty/clogged air filters can strain your mower.

Most lawn mowers have a paper or foam air filter that can be easily accessed. Check it before each use and replace it about once per year. 

Change the Spark Plug: 

The spark plug is important to a functioning lawn mower, and like the air filter, they are easily accessed. Replace it once per year by u

nhooking the spark plug wire and removing the old plug with a socket or spark plug wrench. Install the new plug without over-tightening it

Sharpen the Blade: 

Lawn mower blades dull quickly thanks to large branches and rocks. You can

sharpen your own blade with a vice and metal file, but it's not recommended for the inexperienced.

(It scares me so I take mine into a local mower shop.)
There's just something refreshing about taking care of my lawn. It makes me feel good to get outside, give the yard a trim and enjoy the smell of freshly cut grass. 
Which parts do you order from Sears PartsDirect for your lawn mower?
Tips to keep your lawn looking great –
Don't cut wet grass:

Aside from clogging the lawn mower, it'll leave clumps of wet grass all over the yard. Wet grass won't cut easily which dulls the blade.

Set the cutting height to at least 1.5 inches:

Taller grass holds moisture better and allows the root system to "grab hold" of the soil better, which equals a healthier lawn.

Mow in different directions:

For example, one week mow north to south. The next week, mow east to west. This prevents ruts from forming in the yard and also lets the grass grow thicker.

Use the mulching feature: Use the grass catcher for the first cut and last cut of the season. Use the mulching feature every other time you mow to reduce yard waste and add nutrients back into the lawn.