**Full Disclosure: I received the book 'Classic Snacks Made from Scratch' for review purposes. No other compensation was exchanged. There are affiliate links in this post. As always, all thoughts and opinions are my own.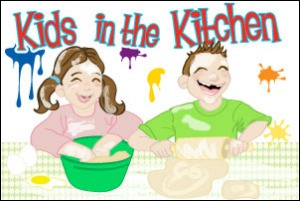 Last week I told you the boys and I did a bunch of nothing – but that we had big ideas for what we'd do this week. Thursday rolled around and we hadn't made our Strawberry Fruit Roll-Ups yet, so Colin and I ran to the store (we needed lemons), prepped the first part and waited for James to finish his homework so he could help me with the second part.
When I first read the recipe in 'Classic Snacks Made from Scratch,' I thought it was as easy as prepping the strawberries and then baking them. It's quite a bit more than that, but the boys were a big help!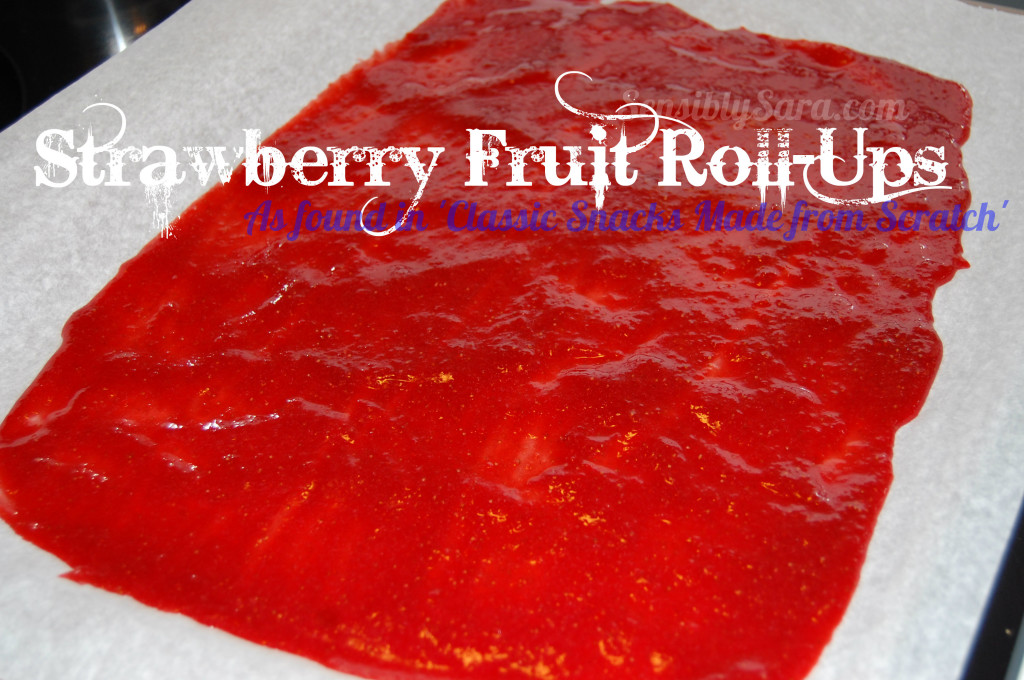 To make the Strawberry Fruit Roll-Ups, you'll need:
1 pound strawberries, hulled
3/4 cup granulated sugar
1 TBSP freshly squeezed lemon juice
I washed and quartered the strawberries, then Colin mashed them in our bowl. After, I measured out the lemon juice and sugar so that Colin could pour them in and stir it up. We left it on the counter for about 30 minutes. After James' homework was done, I poured the strawberry mixture into my food processor and James mixed it up. Next, James poured the pureed mixture into my pan and watched it "cook like lava." He stirred it occasionally until it darkened up and turned thick. We laid parchment paper on a cookie sheet and spread the cooked strawberry mixture. I took over at this point, because the rest of it was baking the fruit roll-ups for 5-6 hours.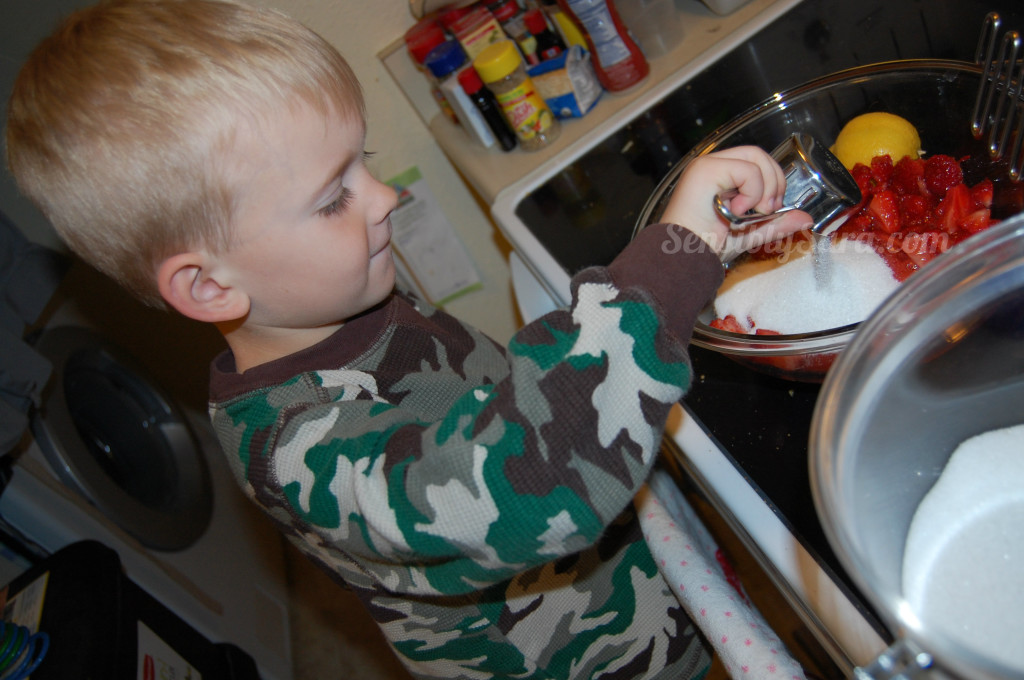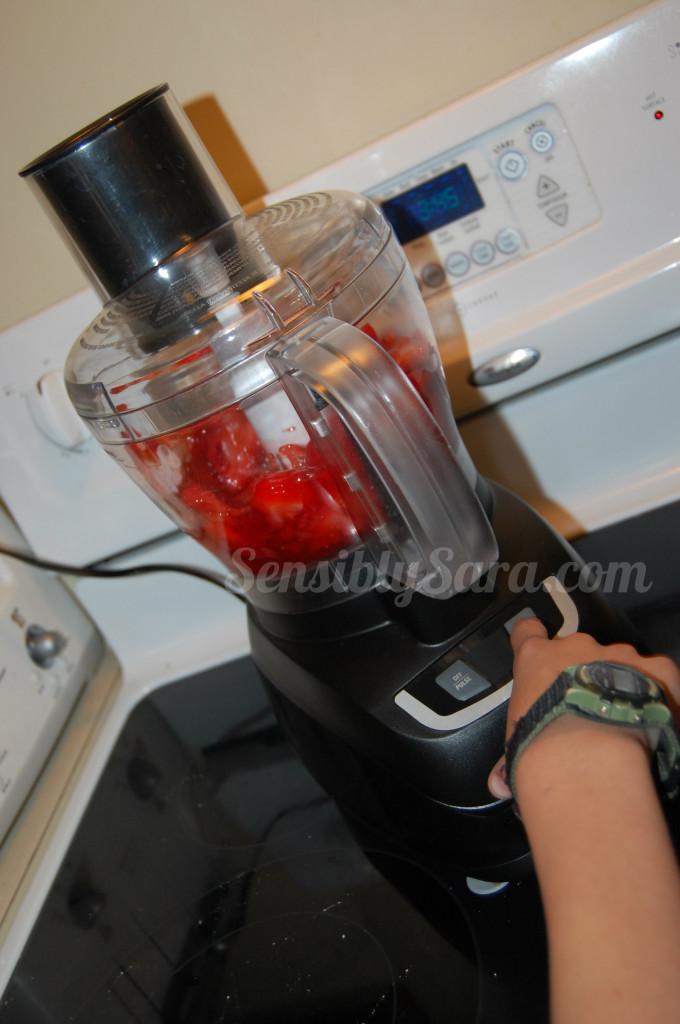 When I went to bed last night, I pulled them out of the oven. I decided I'd put the fruit roll-ups on wax paper and roll them in the morning. This morning, I woke up to a total FAIL. Our fruit roll-ups were more like peanut brittle. Colin tasted them, said "EW" and then threw it in the trash.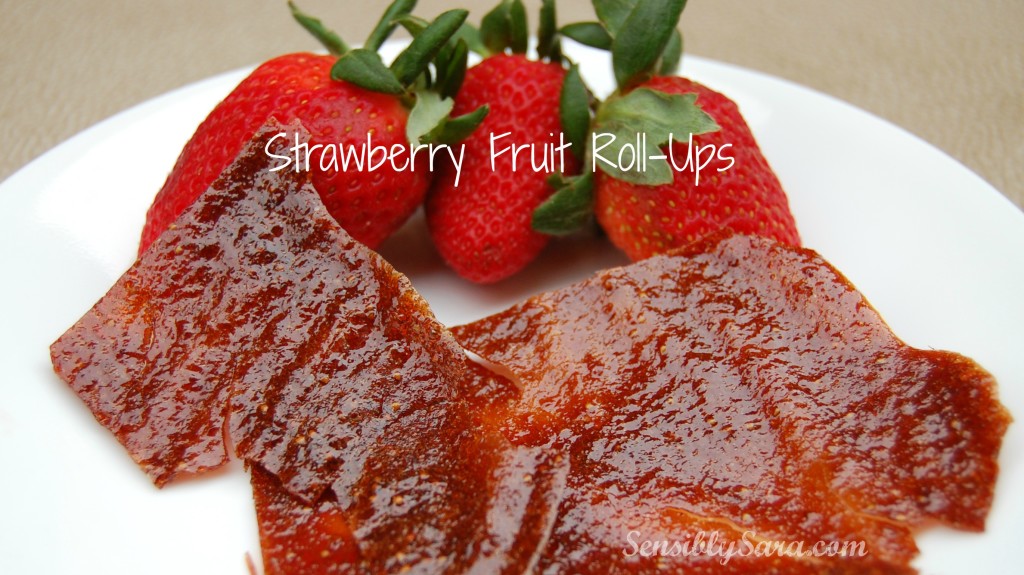 I would definitely recommend 'Classic Snacks Made from Scratch' – it's a great cookbook, especially for those that like to bake from scratch!
Would you make Strawberry Fruit Roll-Ups from scratch?!
Share photos, stories or recipes that include your #kidsinthekitchen. I would love for you to join me and my co-hosts, Paula at Frosted Fingers and Melinda at LookWhatMomFound…and Dad too, each week linking up a post, new or old, that feature the theme Kids in the Kitchen. It doesn't matter what you are doing as long as you are doing it together and enjoying it and learning something.
preparing healthy snacks
having a tea party
counting skills with m&ms
pouring from measuring cups
discovering a local restaurant that your kids love
creating new family friendly recipes
Don't have a blog, then share a photo you uploaded to Facebook, Instagram or Twitter. Share whatever you have, we want to see it.
linky rules:
1. Link up only your kid friendly recipes, stories, pictures or cooking lessons here. (No Etsy stores or giveaways please).
2. Link directly to a specific post, update or tweet – not your homepage.
3. Please add a Kids in the Kitchen button or link on your site or blog post or share through social media so readers know you are participating.
banner size

http://lookwhatmomfound.com/wp-content/uploads/2013/01/kids-in-the-kitchen-banner.jpg


button size

http://lookwhatmomfound.com/wp-content/uploadsnofollownofollownofollow/2013/01/kids-in-the-kitchen-button.jpg

4. Click through and comment, pin, like, tweet or share with other participants. We love to share inspiration and ideas with each other, don't link and run.
5. Follow the hosts of this feature: Paula at Frosted Fingers, Melinda at LookWhatMomFound…and Dad too and Sara at Sensibly Sara.

I can't wait to see all of the fun food themed ideas, excursions and photos you have to share.
Link up below!