Christmas is my favorite time of year! The music, the food, the decorations – everything just makes me so happy! Christmastime at Walt Disney World is high on my wish list but until I make that happen, I look at Instagram pictures to see what I'm missing out on. Last month, I saw a picture of a Gingerbread Salted Caramel Buttercream Sandwich Cookie and I knew I had to create something similar to spoil my family and friends with! If cookies aren't for you, try my Gingerbread Popcorn recipe.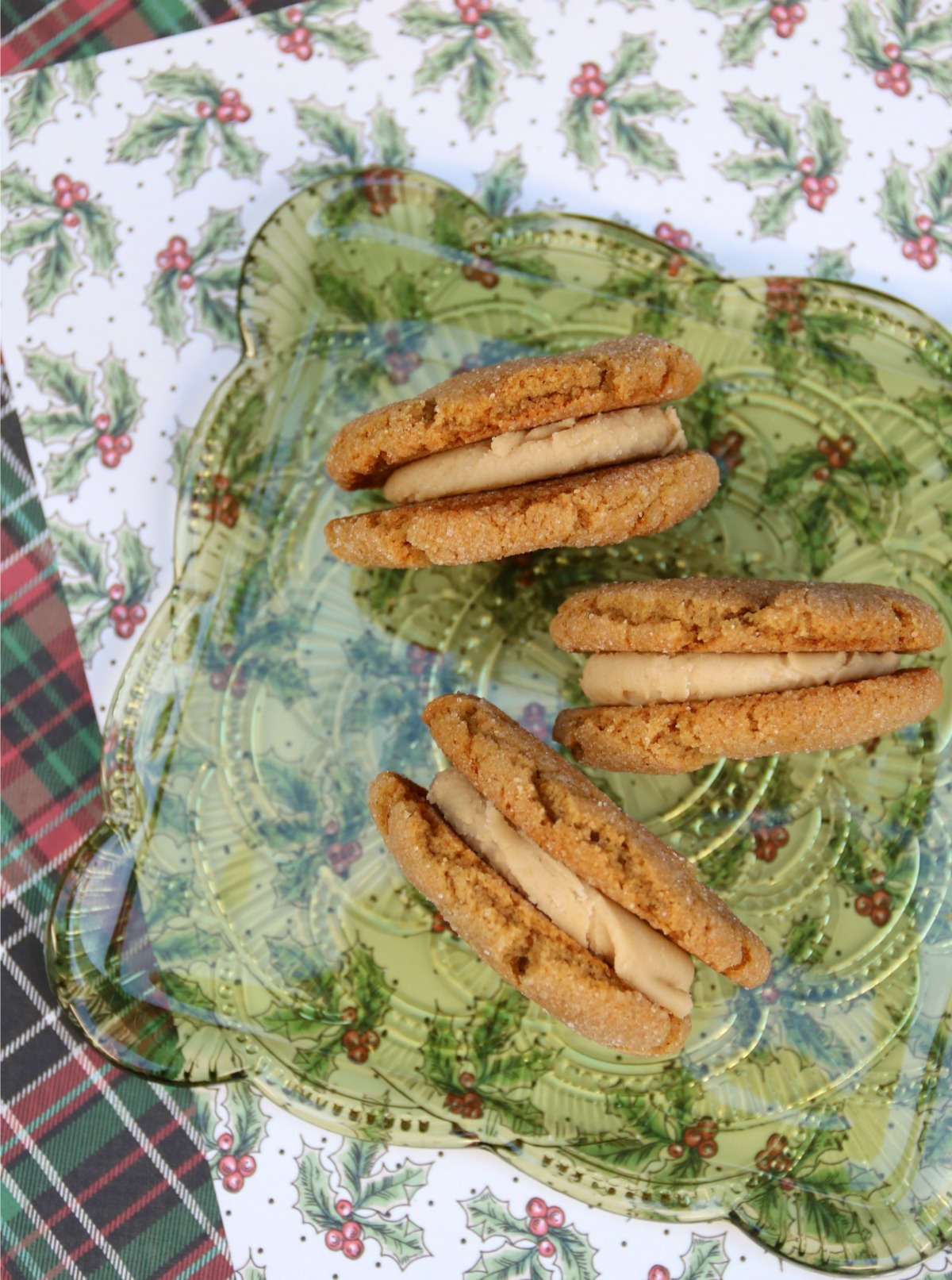 **Full Disclosure: This post contains affiliate links. I may earn a small commission at no cost to you.
Gingerbread Salted Caramel Buttercream Sandwich Cookie
Ingredients:
Cookie –
1/4 cup molasses
1 egg
1 cup sugar (plus a few tablespoons to roll the dough in prior to baking)
3/4 cup shortening
1/2 tsp ginger
1/2 tsp ground cloves
1/2 tsp cinnamon
1/2 tsp salt
2 tsp baking soda
2 cups all-purpose flour
Optional: Caramel sauce
buttercream –
1/2 cup brown sugar
1/4 cup butter
2 TBSP milk
1 1/4 cup powdered sugar
1/4 tsp sea salt
Directions:
buttercream –
In a saucepan, combine brown sugar, butter and milk.
Continuously stir over a low heat until the sugar is dissolved.
Increase the heat to medium and cook (do not stir) for about 5 minutes or until bubbles form in the center of the pan.
Remove from heat and pour the caramel into a mixing bowl.
Cool to room temperature.
Slowly mix in powdered sugar until creamy and everything is combined.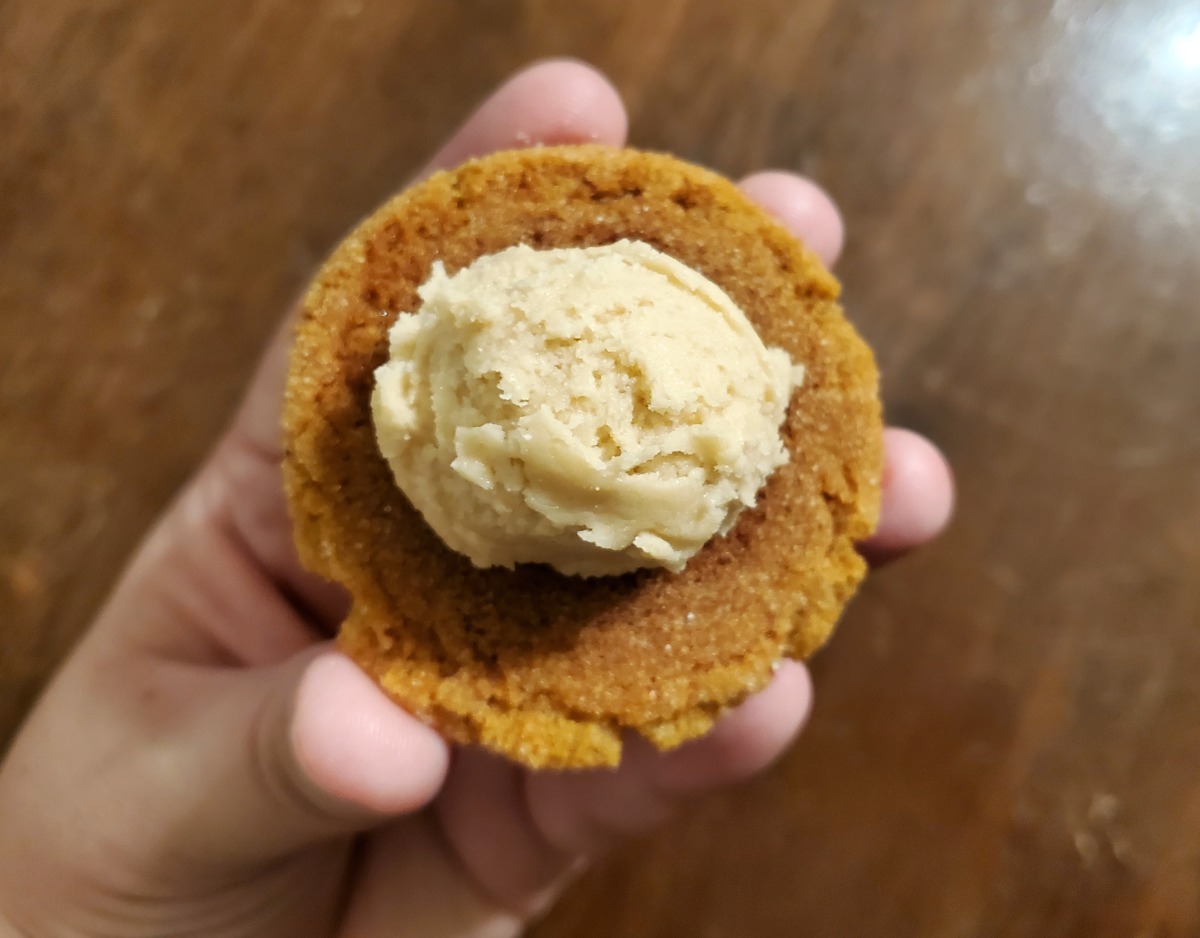 cookie –
Cream together the shortening, sugar, egg and molasses in a stand mixer for about 2 minutes.
At the same time, combine flour, salt, baking soda, cinnamon, cloves and ginger in a separate bowl.
Add the dry ingredients in with the wet mixture and mix until combined.
Use a small cookie scoop to portion out the dough. Roll the scoop between your hands to form them into a better ball.
Put your extra sugar in a small bowl and roll each cookie ball in the sugar so they are coated on all sides.
Place the cookie balls on a silpat-lined baking sheet.
Bake at 350° for 10 minutes.
Allow cookies to cool.
Using a small cookie scoop, add a scoop of buttercream to the center of the cookie.
Gently press a second cookie down on top.
Optional: Add a drizzle of caramel over the buttercream before adding the second cookie!
Serve and enjoy!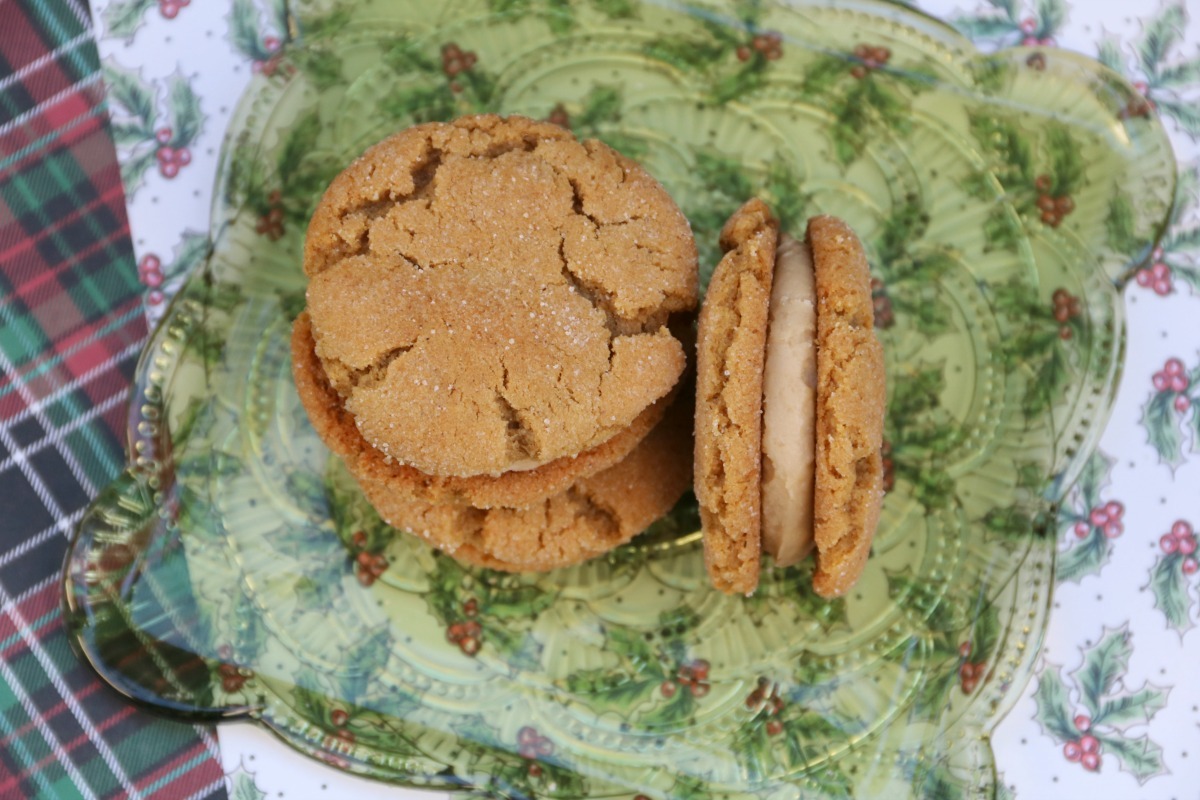 Y'all. This Gingerbread Salted Caramel Buttercream Sandwich Cookie is IRRESISTABLE! It's a lot of cookie because it's so rich but it's worth every calorie. Packed with sweet & spicy, this soft & chewy cookie is a holiday must-have.