My mom made banana nut bread quite frequently when I was a kid. Because I have never cared for nuts in my banana bread, she always made one mini loaf without pecans. I've not once made banana bread because when I buy bananas, my family consumes them quickly. This week, though, that changed. I had four very ripe bananas so I decided to try my hand at a batch of cream cheese banana bread. And now, I'm hooked.
If you don't like cream cheese or bananas, try this Poppyseed Bread from Finding Debra!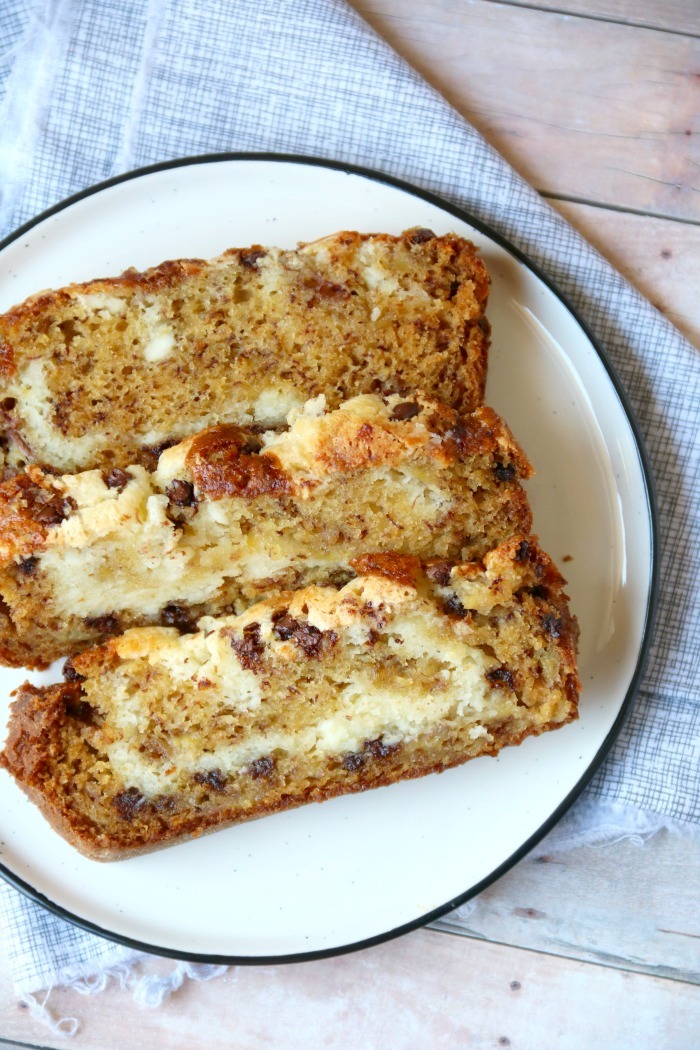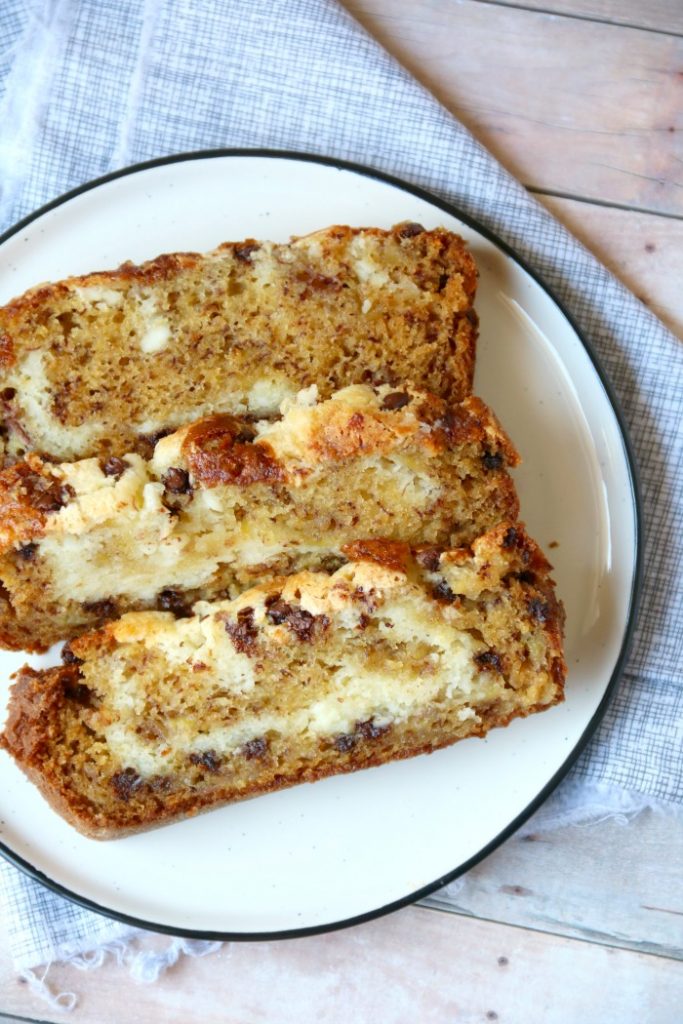 **Full Disclosure: This post contains affiliate links.
Cream Cheese Banana Bread with Chocolate Chips –
Ingredients
For the Bread:
2 eggs
2 cups brown sugar
1/2 cup vegetable oil
2 tsp vanilla bean paste or vanilla extract
1/2 cup sour cream
4 ripe bananas, mashed
1 teaspoon baking powder
1 teaspoon baking soda
1 pinch of salt
2 cups all-purpose flour
1/2 cup mini chocolate chips
For the Cream Cheese:
2 eggs
1 cup sugar
8 ounces softened cream cheese
6 tablespoons all-purpose flour
Directions
Preheat the oven to 350 degrees.
Grease and flour two loaf pans, set aside.
Combine eggs, brown sugar, vegetable oil, sour cream and vanilla together in a stand mixer.
Mix in mashed bananas.
Add in flour, baking powder, baking soda and salt. Mix until just combined.
Pour about a fourth of the batter into each loaf pan.
Make the cream cheese mixture by whipping the eggs, sugar, cream cheese and flour together until smooth.
Pour half of the cream cheese mixture over the banana bread batter in each pan. Sprinkle about 1/4 cup mini chocolate chips over the cream cheese in each loaf pan.
Cover the cream cheese and chocolate chips with the rest of the bread batter.
If you have any extra cream cheese batter, spread it over the tops of each loaf pan. Top with a few extra chocolate chips.
Bake for 35-40 minutes to start. If a toothpick doesn't come out clean, continue cooking in 6 minute increments until the toothpick is clean.
Serve and enjoy!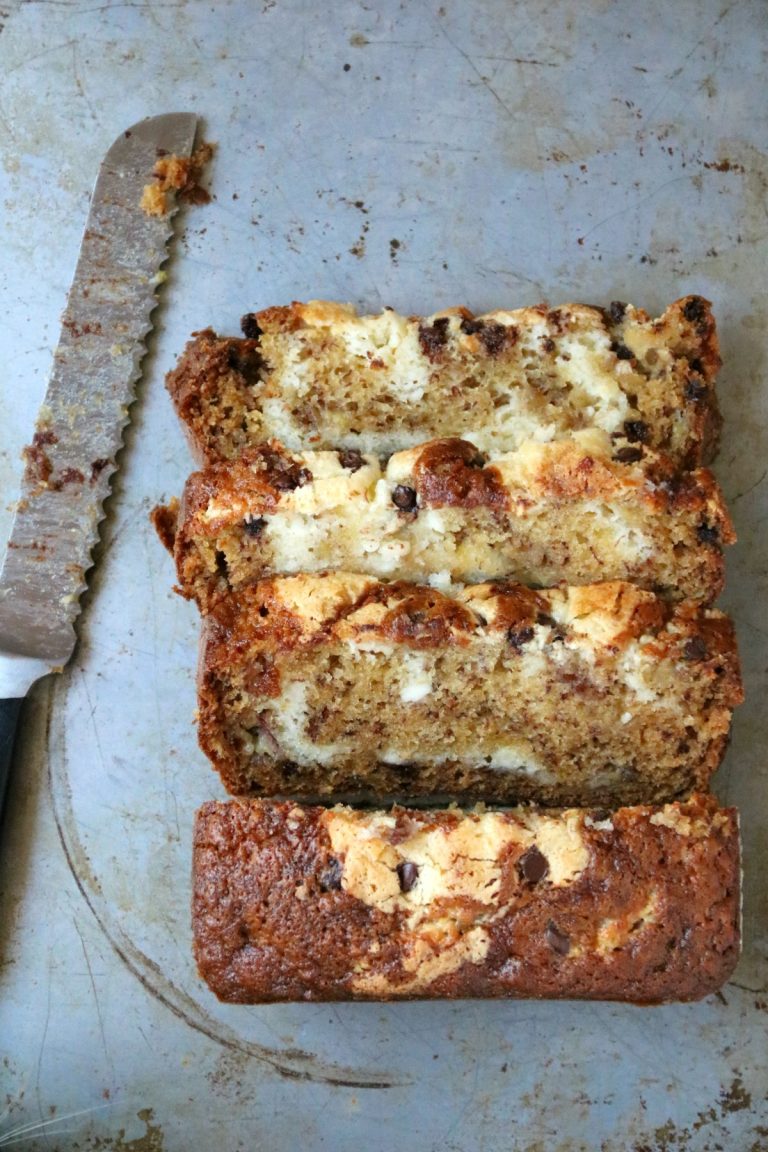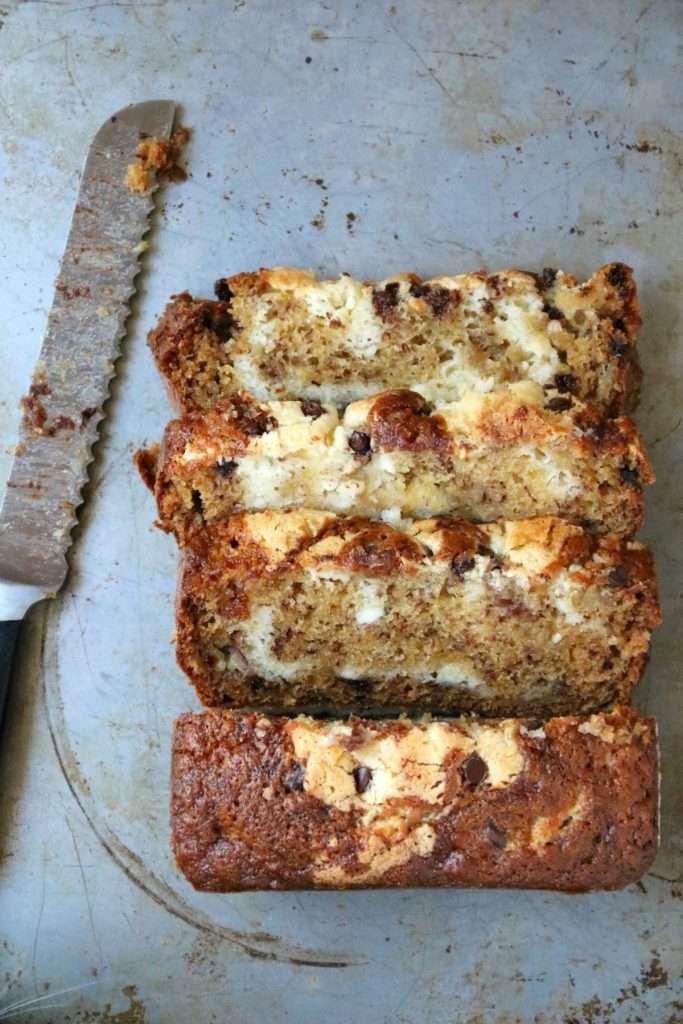 I flopped one loaf of cream cheese banana bread out on a cutting board about 10 minutes after I pulled it from the oven. My husband and I ate over half of it for lunch. But warm bread really is the best kind, isn't it?!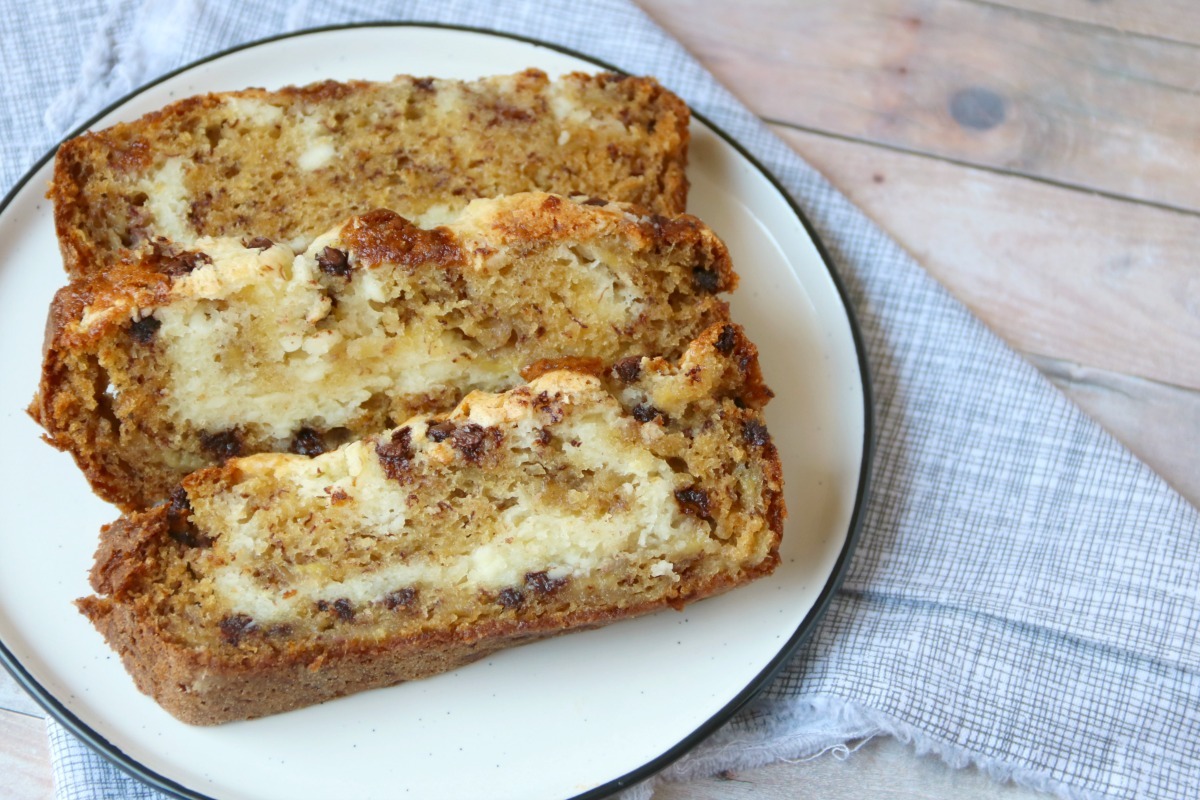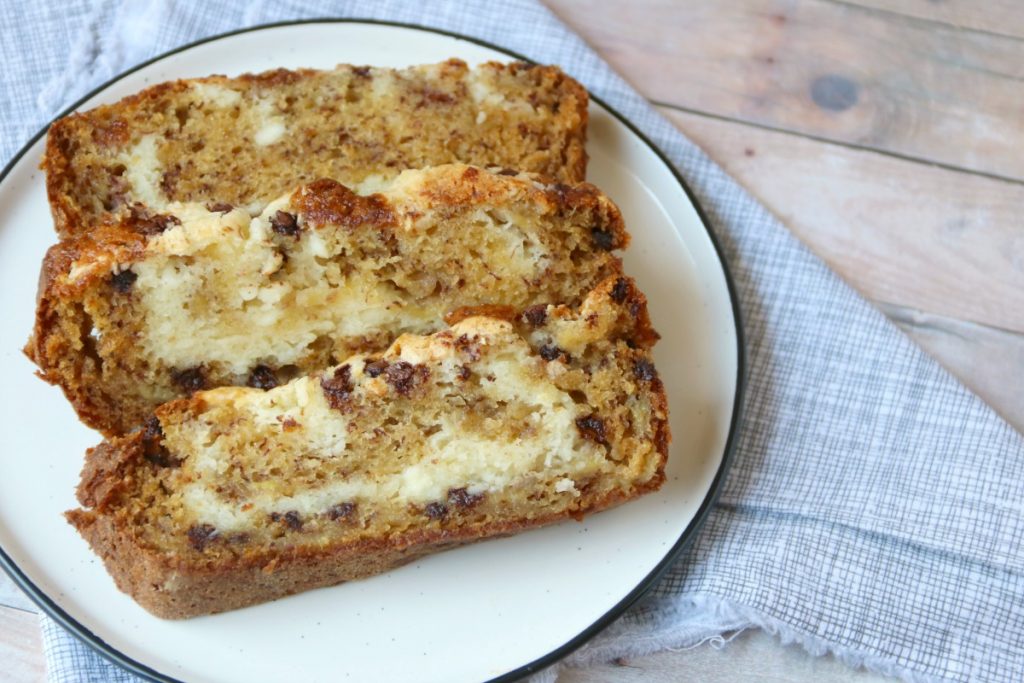 Do you make banana bread often?
YOU WILL ALSO LOVE:
If you like this post, you'll love these that I've picked out just for you!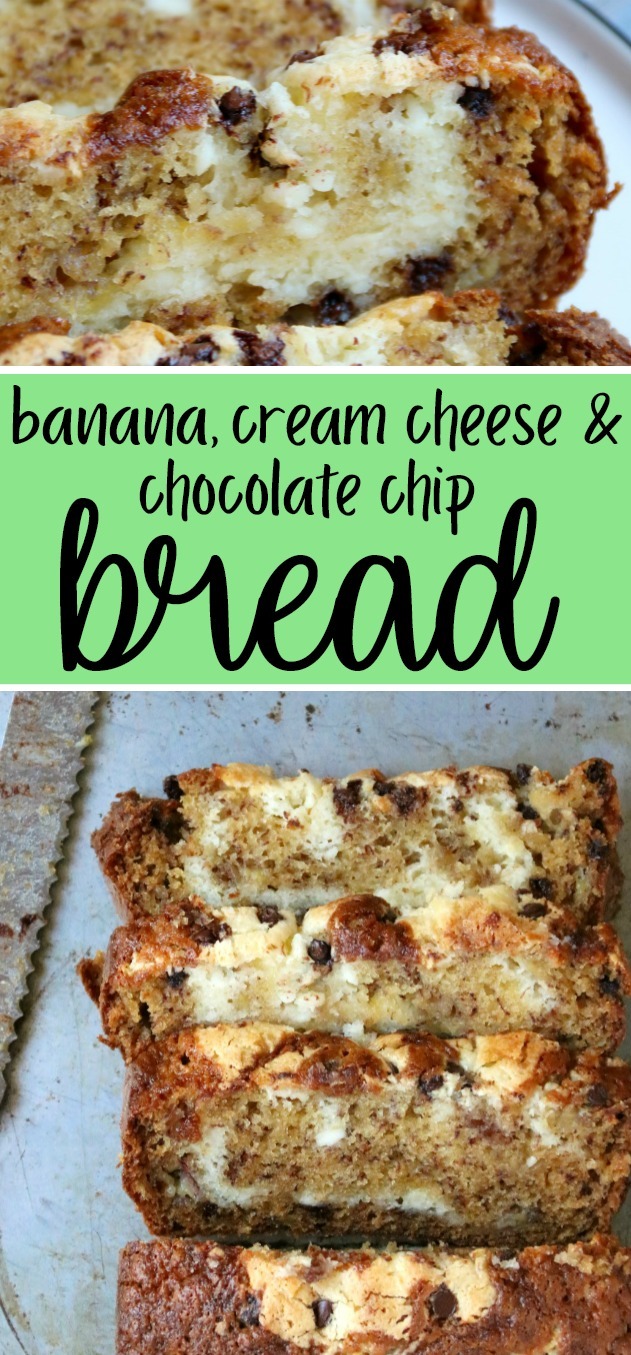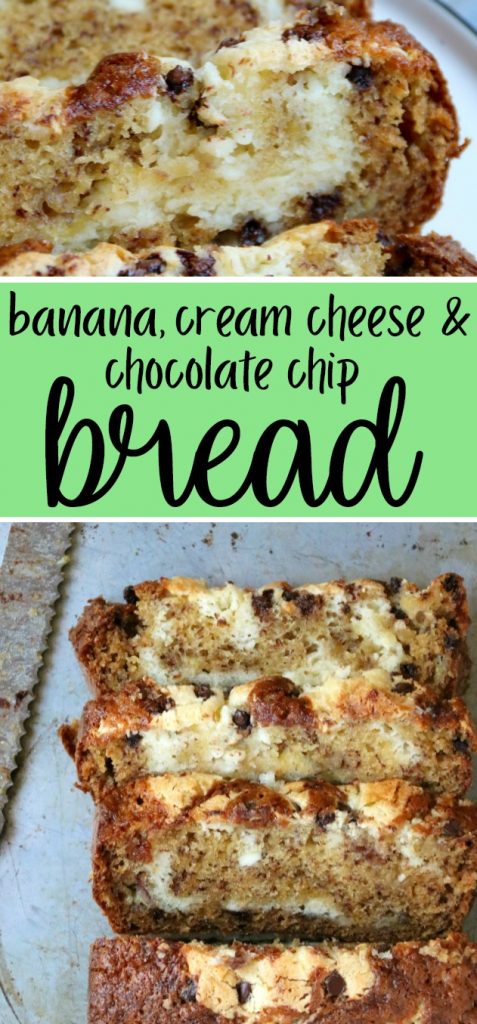 Try these other great recipes, too!