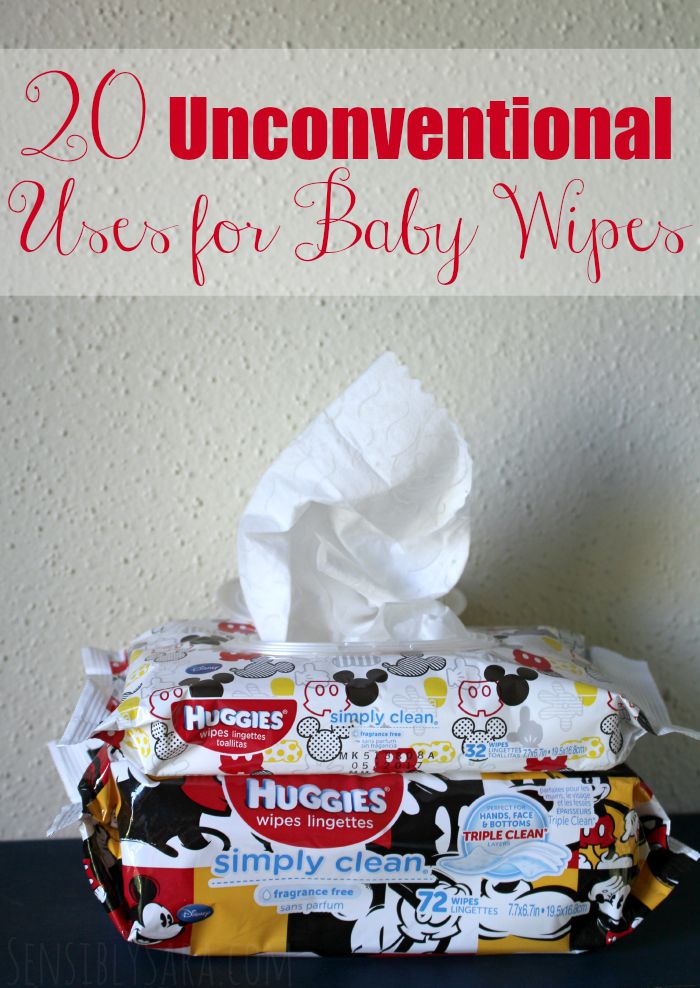 Confession: My boys are 11 & 6 but I still buy
Huggies Wipes
!  I'm sure you are asking yourself, '
WHY
does Sara still buy baby wipes?!'  The answer is simple: Because Kids Outgrow Diapers, Not Messes* … and you know I'm right!
It doesn't matter if they are eating dinner or playing with sidewalk chalk.  My boys are messy!  But Huggies Wipes have a ton of uses.  Here are 20 (crowdsourced) reasons to keep them on hands at all times.
Baby bums – Sure, that's a given, but it counts!
Makeup remover – simply use it as you would any other makeup remover wipe.  Works wonders on mascara!
Hand wipes – easy enough – clean your hands with a wipe.
Removing hair dye – You know the little bits that get on your ears, face and neck when dying your hair?  Use a wipe to eliminate it!
For dusting – Use it as is or attach it to a dust mop to pick up any extra dust!
Camping – Use the wipes to clean hands, feet, faces, clean up after meals, wipe down toilet seats (when bathroom is available), and wipe bums when bathroom isn't available.
Table cleaner – Have you ever been to a restaurant with sticky/dirty tables?  Pull out your Huggies Wipes and put them to work!
Stamp cleaner – if you are a big stamper, you know it's easy to clean off the ink after using the stamp.
Stain remover – Erase as much of the stain as possible just after it happens so it's more likely to come clean when you throw it in the laundry.
Doggy feet – Use the wipes to clean off mud and dirt from those paws before you let them back in the house!
Deodorant remover – Please, keep your deodorant on!  But using Huggies Wipes will pull out the line that your deodorant may leave on your clothing!
Hair tamer – Use a wipe to tame flyaways!
Shoe shiner – Scrub leather shoes with a wipe to make them shine again!
Envelope sealer – Wrap a wipe around your finger and slide it across the edge of your envelope.  Press to seal.
Curing hair – curl the hair around wipe, tie in a knot, let it dry overnight and the curls are set!
Eyeglasses cleaner – Use a wipe to take the grime off your glasses.
De-sander – Wipe down your feet & legs to remove the sand before getting back in the car.
Road Trips – You never know when you'll need to clean up a spill and sometimes stopping isn't an option.
Inexpensive fun – Let your kids pull them out of the package as quickly as they can!
Bird poo – Rub the wipe over the bird poo on your car and it'll come right off.
Huggies® Wipes are best because of their TripleClean™ technology that no other wipe can tout.  They come in a variety of fun, convenient packaging, so whether you keep them stashed in your living room, or bag, or car, there is a design that will meet your needs.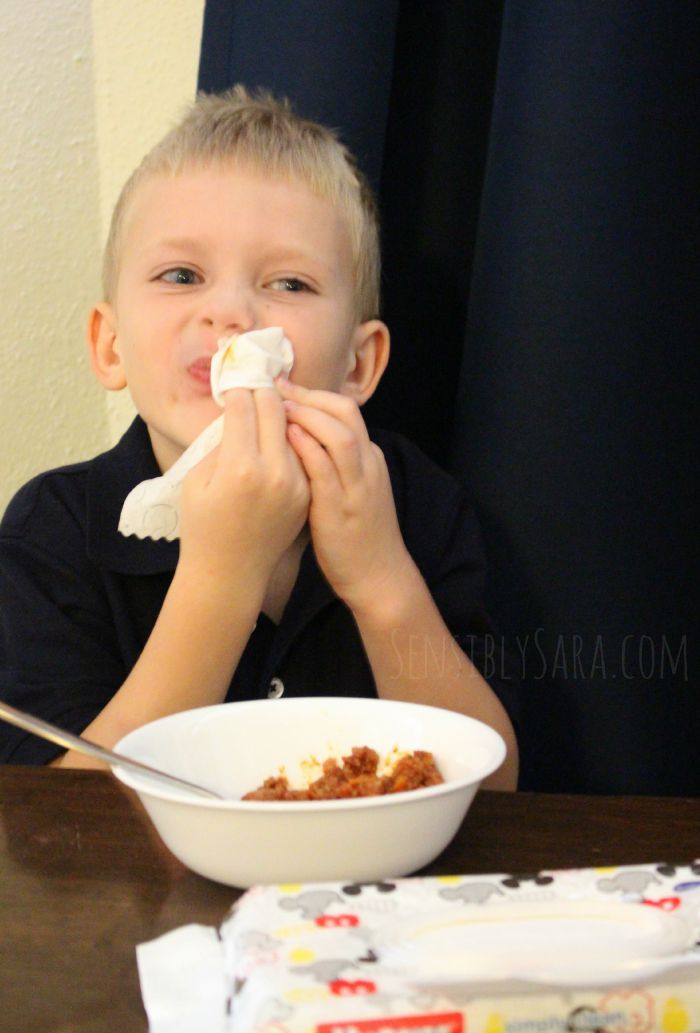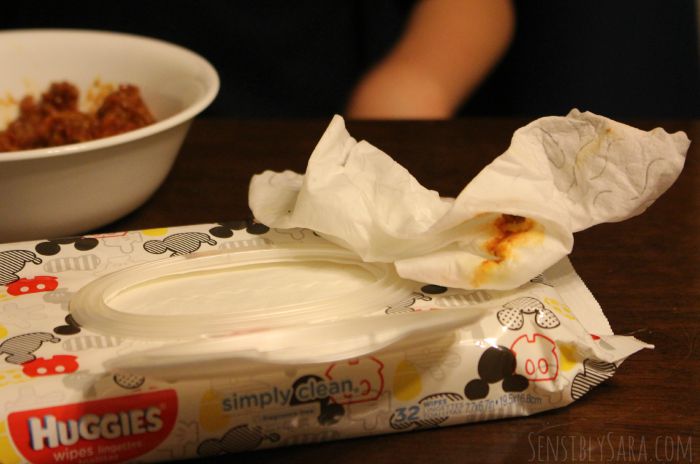 Just this week, Colin needed the entire package at his finger tips because he was getting bolognese sauce all over the place!