**Full Disclosure: I received two tickets to visit the SkyDeck Chicago. No other compensation was exchanged. All opinions are my own.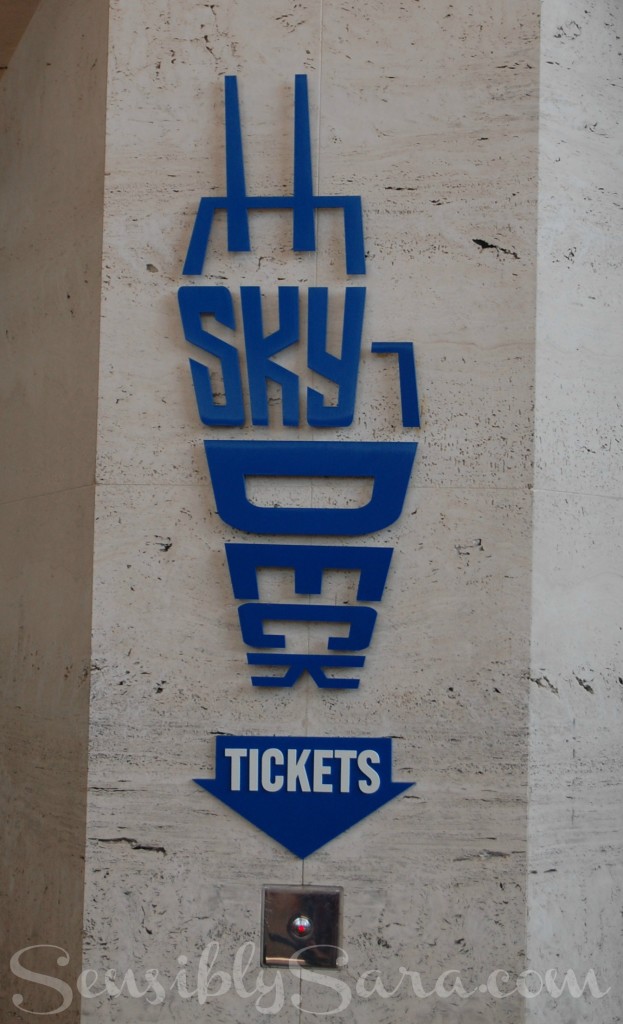 I am petrified of heights. I have all kinds of weird phobias that go hand in hand with my fear of heights. I won't go down escalators (I only recently started going up escalators), I don't like stairs that you can 'see through' (or that or open on the backside) and I walk against the wall (and avoid the railing overlooking the ground floor) on the second level of the mall. The list goes on and on. But I wanted to prove something to myself (I still haven't decided what!). I wanted to come home and hear "I'm PROUD of you" from my husband and kids. I wanted to be able to say "I DID IT!"
So when I decided to go to Chicago for BlogHer '13, I decided I also needed to do some of the touristy things that go with visiting a new city. SkyDeck Chicago was one of those touristy things.
About:

The Skydeck is open daily offering spectacular views spanning up to four states, a one-stop Chicago experience full of interactive exhibits and…The Ledge, a glass balcony experience extending four feet outside the 103rd floor of Willis Tower!

The iconic building is the tallest in the Western Hemisphere, encompassing more than 4.5 million square feet, including its Skydeck and 103rd floor glass viewing platform, The Ledge, which attract more than 1.3 million visitors every year.

Step outside the third tallest building in the world. At 1,353 feet in the air, the Ledge's glass boxes extend out 4.3 feet from Skydeck.

Open 365 Days a Year: April – September from 9am -10pm and October – March from 10am – 8pm (Last entry 30 minutes prior to close.)

You can order tickets online: http://www.theskydeck.com/get-tickets (Without audio: Adults are $18, Kids (age 3-11) are $12. With audio: Adults are $23, kids (age 3-11) are $16.50)
Wednesday afternoon (between events) Paula and I headed over to the Willis Tower (formerly known as the Sears Tower) to go to the SkyDeck. We got there and the security line was at least a 10 minute wait. We decided that was too long because we needed to get to another event. I was a little disappointed because I was there and I wasn't sure I'd be able to talk myself into going back to try again.
Thursday morning was open, so Lisa (a former SkyDeck ambassador!) and I headed back over to the SkyDeck. The security line was much shorter and moved very quickly. We picked up the tickets from will-call and headed in through the Fast Pass entry.
The view was AMAZING!!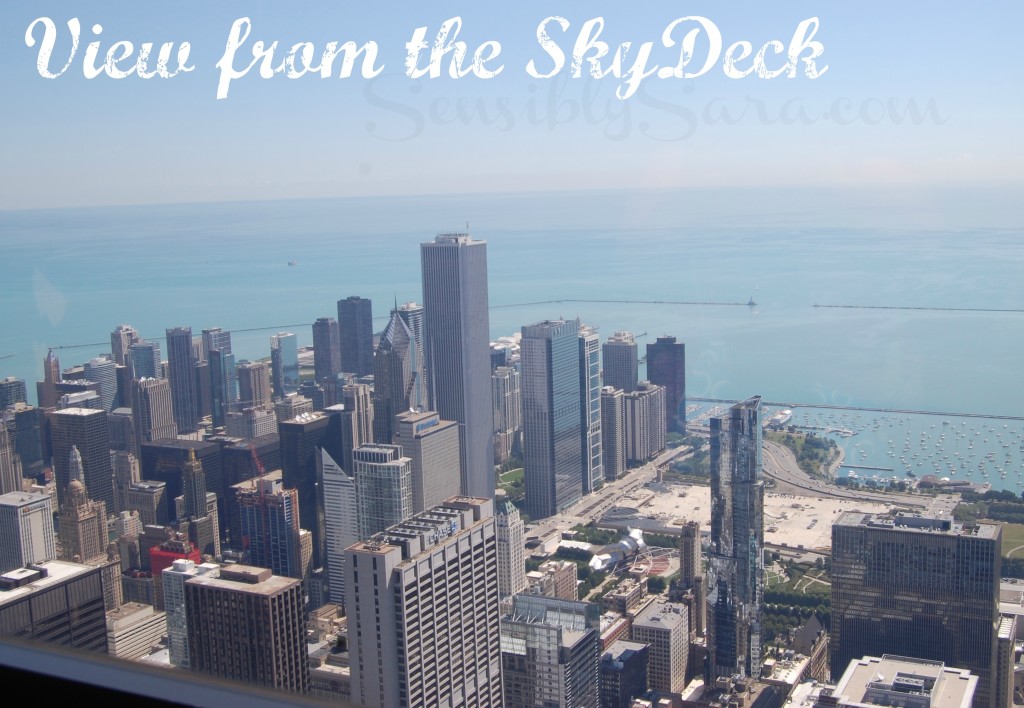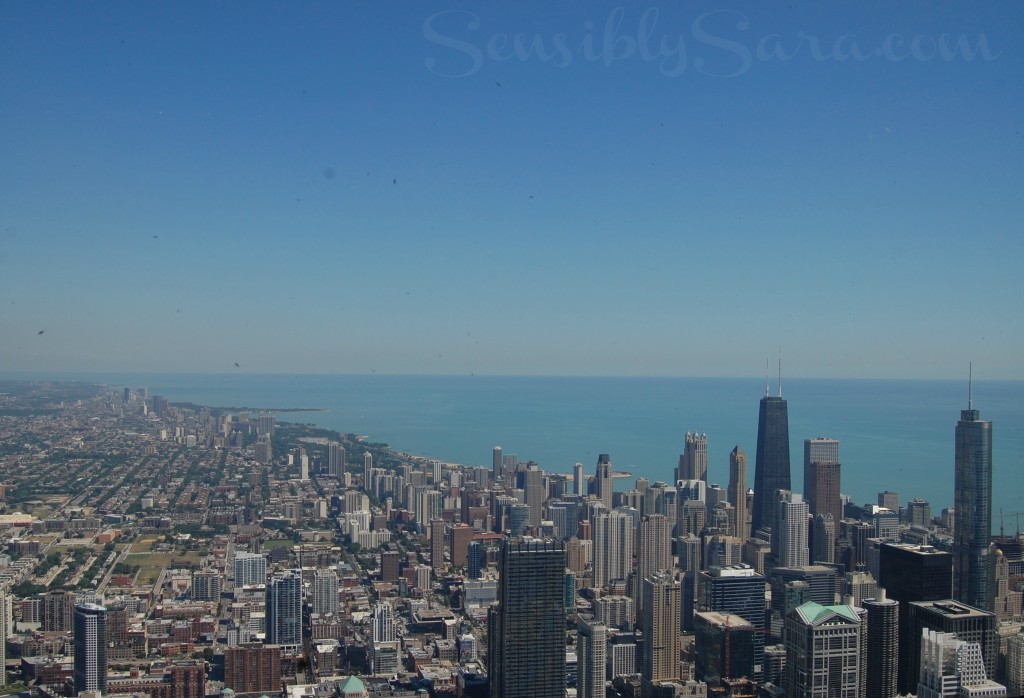 When Lisa and I got in the (rather short) line to step out on the SkyDeck, I didn't think I could do it. However, Lisa is awesome and she offered some great tips:
Tips for Standing on the SkyDeck:
Put your hand on the wall and keep it there until you are comfortable.

Back in! Look ahead (at the people in line) and step backwards.
If you are afraid of heights, do NOT look down. But have someone take a picture of your feet with lots of scenery!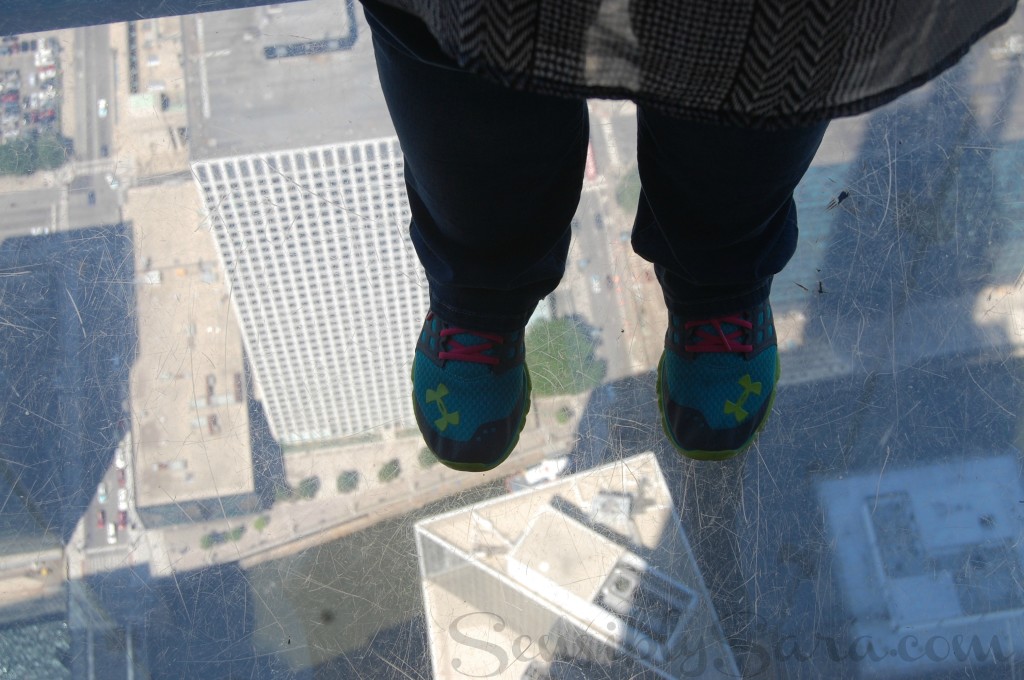 I DID IT!!!
It was a spectacular experience and I am so proud of myself! (I might even do it again!)
I expected the SkyDeck to be much larger than it is but I was happy that it wasn't any deeper!
Connect with SkyDeck Chicago on Facebook and Twitter!
Would you stand on the ledge at the SkyDeck Chicago?