My sister-in-law makes this super-duper-awesome-amazing Pico de Gallo (or so I'm told – I don't actually eat it!). So when we had our last family 'reunion' a few years ago, I took note of the ingredients, watched her make it and thought I could handle it. I was wrong – HORRIBLY wrong. I attempted to make it after we came home but my husband said it had no flavor.
Recently, he's been asking for Pico de Gallo (pico) again. HEB sells it little packages for about $1, so I'd been buying that. But I really wanted to prove to myself (and him) that I could make this stuff! AND I DID! I still don't eat it, but the hubs and C both enjoy it.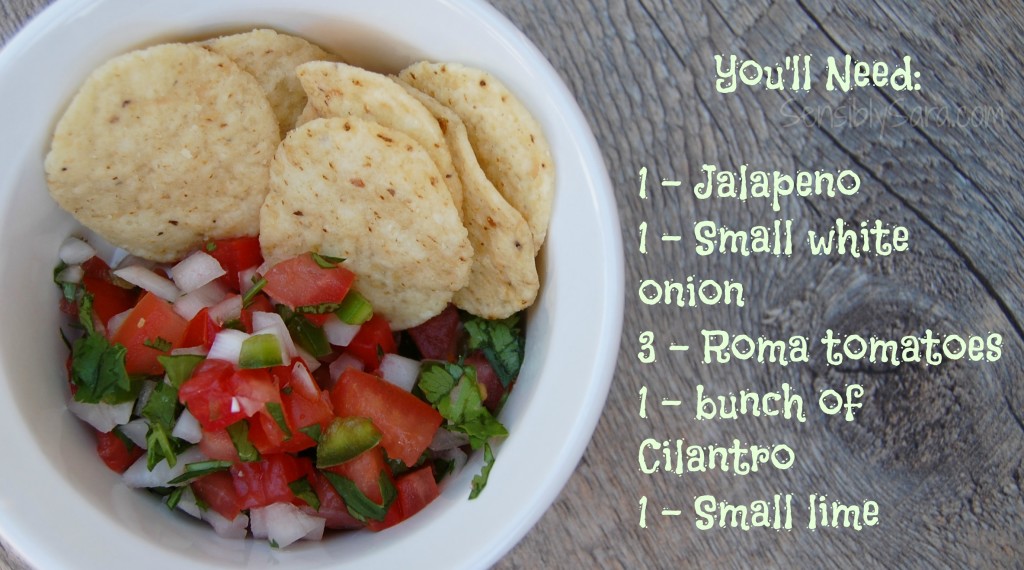 Pico de Gallo #Recipe
Ingredients
3 -

roma tomatoes

1 -

small white onion

1 -

jalapeno

1 -

bunch of cilantro

1 -

small lime
Instructions
Dice the onion and tomatoes (I pull the seeds out of mine). Put them in an air-tight container. Quarter the lime and squeeze all of it over the onion & tomatoes. I use about 1/2 a bunch of cilantro, but chop it up pretty small and throw it in with the onion, tomatoes and lime juice. Half the jalapeno and slice one have into this strips. Then cut the strips into tiny squares. I use about half of a jalapeno (minus the seeds) in my pico, but you can use as much (or as little) as you'd like! Add to the other ingredients, stir and refrigerate.

I like to let my pico marinate for at least half a day before serving.

ENJOY!
I've found that it's much cheaper to make my own Pico de Gallo than it is to purchase pre-made (I think everything is that way, though!). The total cost for me is about $2.50.
C and the hubs enjoy the pico for a snack a few days every week. They also add it to almost every dinner dish I make all week! C calls this recipe 'Pico a Gallo' and it's the cutest thing ever! I'd happily add it to anything he wanted to hear him say it over and over!
Do you have a Pico de Gallo recipe you use? How is it different?