**Full Disclosure: I received a gift card to purchase Hellmann's and additional ingredients for the recipe. No additional compensation was exchanged. All opinions are my own.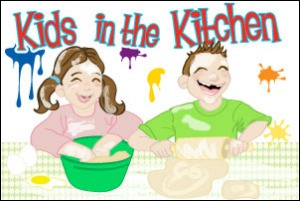 When my husband and I were first married (okay, until just last year) he was not a fan of grilling. He has been taking lessons from my dad and has gotten SO much better! These days I ask have my husband grill at least three times a month because I think burgers are that good! Burgers are one thing I don't have to fight my kids to eat so that's a bonus, too!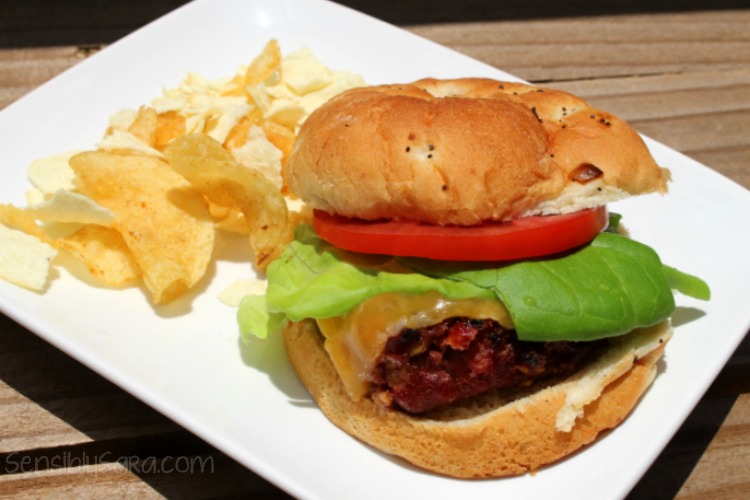 We have a very simple recipe for our burgers, and to be honest, I've never used mayonnaise in the mix. When I was asked to try Hellmann's Best Ever Juicy Burger Recipe and then add my own twist to it, I thought, why not?! Plus, with the 4th of July just a few weeks away, it was a great time to test a new recipe!
The hubs says I should always make a recipe the way it is before I change it to fit my liking. I didn't have time to do that with the Best Ever Juicy Burger recipe, so I was afraid of 'the twist'. What would taste good and would I make it the 'worst ever' burger?
James helped me pick out the 'twist' ingredients – cheddar crackers, Italian dip mix and a roasted pepper & onion marinade – which we added to the Hellmann's recipe. Then he chopped the cheddar crackers and measuring out the mayo and marinade.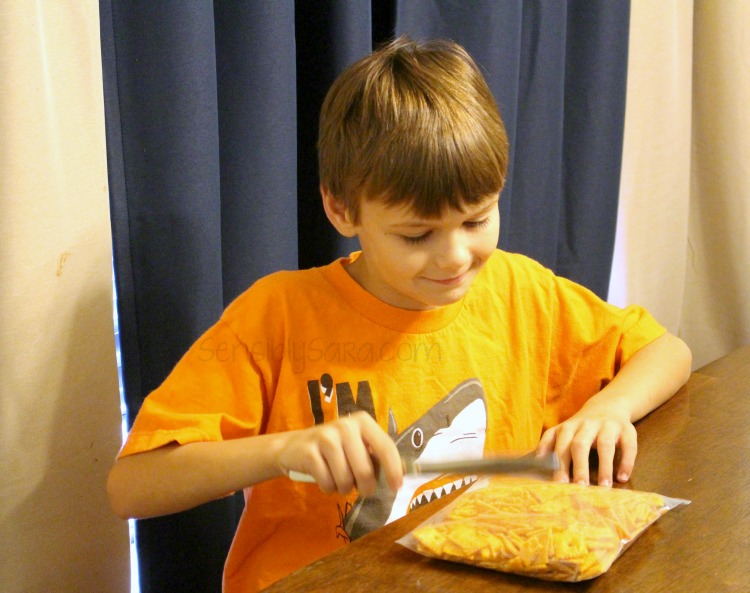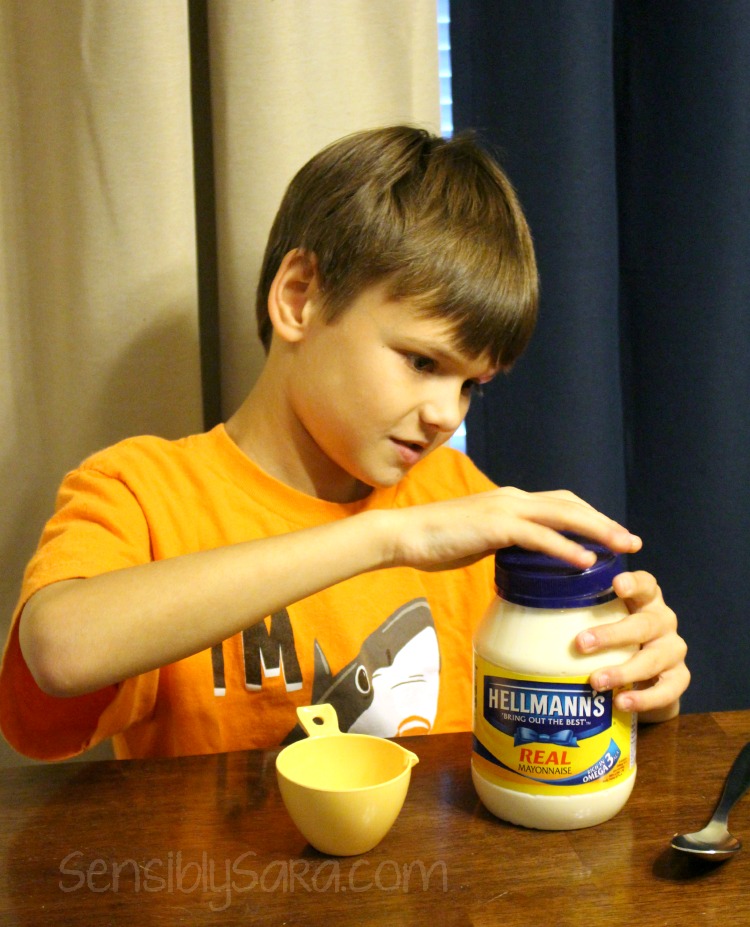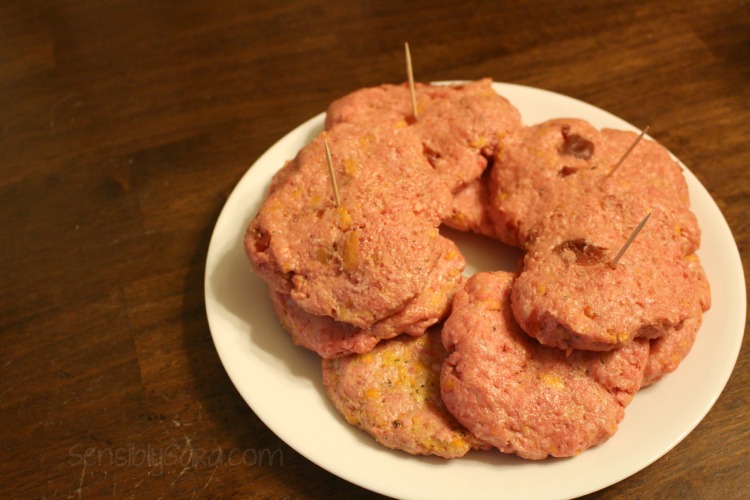 The Hellmann's recipe was beyond easy – mix hamburger meat with the other ingredients, press into patties, grill and enjoy. The mayonnaise helps to lock in moisture as the burger cooks. These burgers were incredibly juicy and delicious on their own but we topped 'em with extra cheese, tomato, lettuce and an onion bun! It was perfection! The cheddar crackers were a great addition because they give the cheddar flavor without the cheese melting out.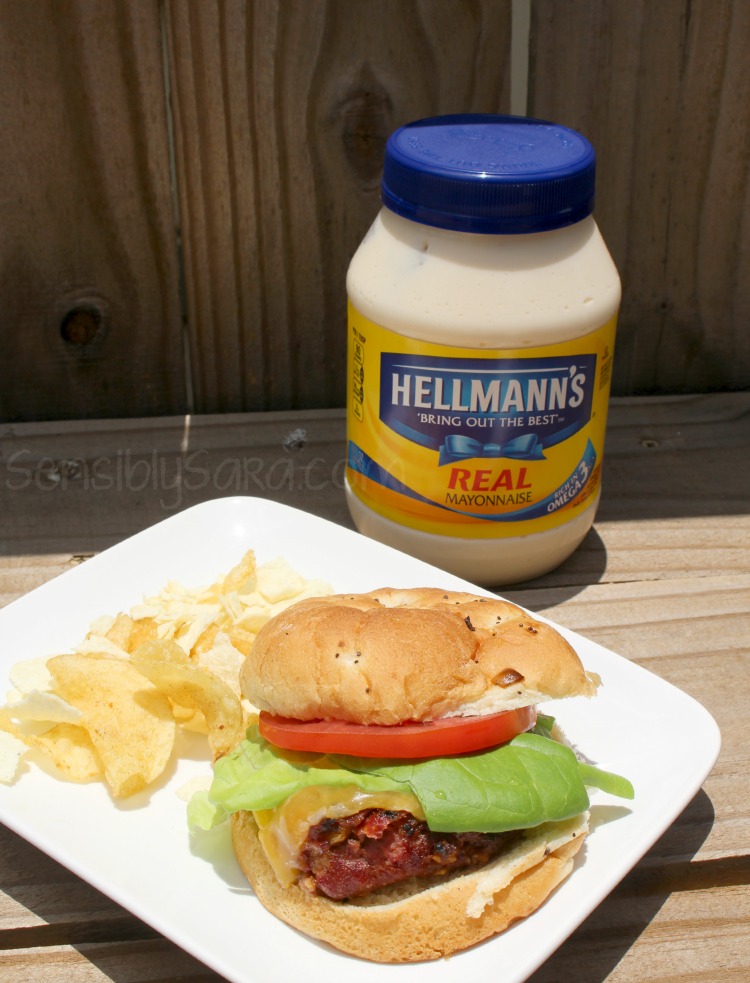 Visit www.hellmanns.com for recipes and tips to make the Best Ever Juicy Burger for family and friends this summer.
Tell me about your favorite burger recipe!
Did you have fun in the "kitchen" this week? Did you try a new food or a new kid friendly restaurant? Did your little ones use their snacks to count to 10? We invite you to share your experiences, photos, stories or recipes that include your #kidsinthekitchen!
Come join me and my co-hosts, Melinda at Look What Mom Found, Paula at Frosted Fingers and Sarah of Play2LearnWithSarah, each week by linking up a post, new or old, that features the theme Kids in the Kitchen. It doesn't matter what you are doing as long as you are doing it together, enjoying it and learning something along the way.
having a tea party
counting skills with m&ms
pouring from measuring cups
discovering a local restaurant that your kids love
Don't have a blog? That's ok! Just share an Instagram photo or Facebook update.