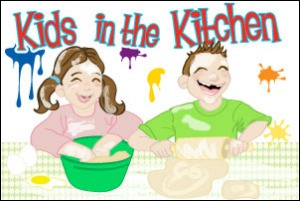 Just last week I was making dinner and Colin said, "I want to help you make the rest of dinner." I was thrilled to hear those words! But I didn't let him see my excitement. I responded with, "Cool! What would you like to help with?" And he helped me finish off the meal.
Not only was it nice to have someone helping me, I felt really good about continuing to teach Colin to be self-sufficient. But sometimes kids don't want to listen to their parents. (That can't really be true, can it?!) And that's why you can pay for services outside of your home. HEB cooking classes are now available for children ages four to eight years old. The 1 hour kids cooking class is taught by nutrition professionals and is designed to teach your children the basics of cooking while enabling them to make better food choices. Individual classes are only $10 during the month of October at participating stores*.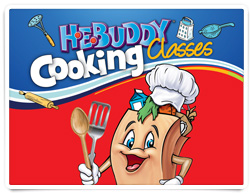 Class Schedule:
First week of classes – Super Snacks! A Focus on Fiber. Recipes: Creepy Crawly Grape Creatures & Apple Mouths
Second week of classes – Super Foods! A Variety of Vitamins. Recipes: Boo-Nanas & Clementine Pumpkins
Third week of classes – Pumpkins of Plenty! There is not a recipe in this class, but instead we are decorating mini pumpkins for Halloween.
I love being able to teach my kids, but seeing what they learn from others is so much fun! I don't know if we will do any of these classes (they aren't very close to our home), but I think James and Colin would have a blast!!
Have you ever enrolled your kids in a cooking class outside of your home?
*Participating H-E-B Stores: Austin 30, 1801 E. 51st Street, Brownsville 5, 2155 Paredes Line Rd., Corpus Christi 4, 5313 Saratoga, New Braunfels 2, 1655 Highway 46 West, San Antonio 9, 735 S.W. Military, San Antonio 41, 10718 Potranco
Did you have fun in the "kitchen" this week? Did you try a new food or a new kid friendly restaurant? Did your little ones use their snacks to count to 10? We invite you to share your experiences, photos, stories or recipes that include your #kidsinthekitchen!
Come join me and my co-hosts, Melinda at Look What Mom Found, Paula at Frosted Fingers, Jeanette at Ecoigcognito, Katie at Busy Bee Kate and Vanessa of VanessaBaked, each week by linking up a post, new or old, that features the theme Kids in the Kitchen. It doesn't matter what you are doing as long as you are doing it together, enjoying it and learning something along the way.
having a tea party
counting skills with m&ms
pouring from measuring cups
discovering a local restaurant that your kids love
Don't have a blog? That's ok! Just share an Instagram photo or Facebook update.