**Full Disclosure: I received product from Ragú to facilitate this post. All opinions are my own.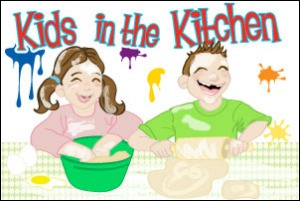 It's time for dinner and you really don't want to cook. What do you do?
I'll be honest, I usually want to order pizza. But that can add up quickly and become pretty expensive so it doesn't happen very often. Usually I suck it up, ask Colin to help and we find something saucesome to make.
Ragú is recognizing and celebrating everything that makes family mealtime Saucesome. From unique recipes to silly moments to crazy weeknights…it's all Saucesome with the delicious help of Ragú Sauce!
In addition to making something saucesome to eat, the time Colin and I spend together bonding in the kitchen is saucesome! I really hope he treasures those meal-making moments in the same way I do.
Last week we tweaked the Weeknight Skillet Lasagna by Ragú.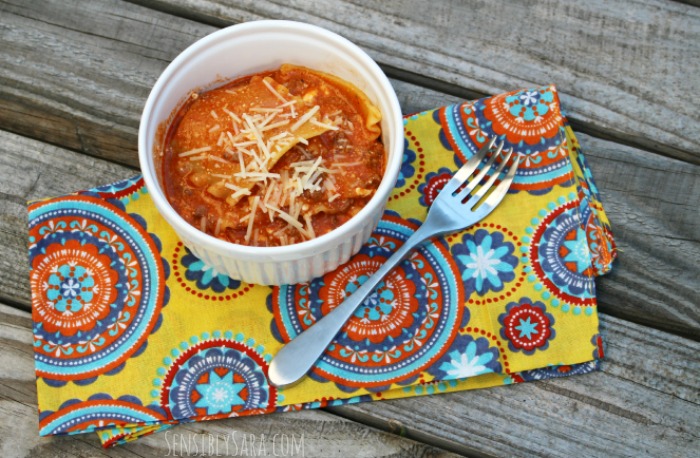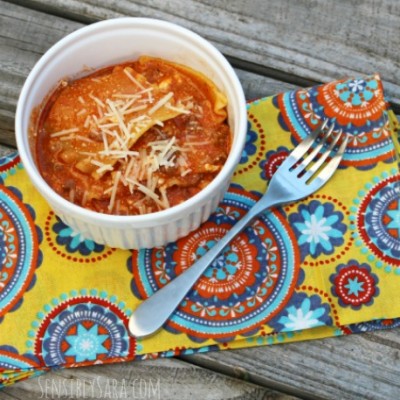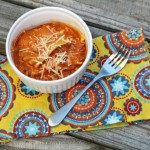 Kids in the Kitchen: Weeknight Skillet Lasagna with Ragú
Ingredients
1

lb.

lean ground beef or sausage

1

jar

1 lb. 8 oz. Ragú® Old World Style® Sauce Traditional

3

cups

water

12

uncooked lasagna noodles

broken into pieces

8

ounces

cottage cheese

4% milkfat, large curd

1/2

tsp

garlic

minced

2

tsp

dried parsley

2

TBSP

onion

diced

1

cup

Monterrey Jack cheese

shredded

3

TBSP

Parmesan cheese

shredded
Instructions
Brown ground beef, garlic, parsley and onion in 12-inch skillet over medium-high heat; drain.

Stir in sauce and water.

Bring to a boil and stir in uncooked noodles.

Cook covered over medium heat, stirring frequently to separate noodles, until noodles are tender, about 20 minutes.

Add cottage cheese, Monterrey Jack and Parmesan cheeses.

Simmer covered until cheeses are melted, about 5 minutes.

Serve and enjoy!
Recipe Notes
If you don't have a 12 inch skillet, use a large pan.
Colin and I started our Weeknight Skillet Lasagna in a 10-inch skillet and had to think on our feet when we started to add the sauce and water. We transferred everything into a large pot and continued to make dinner. Everything went as it should from then on.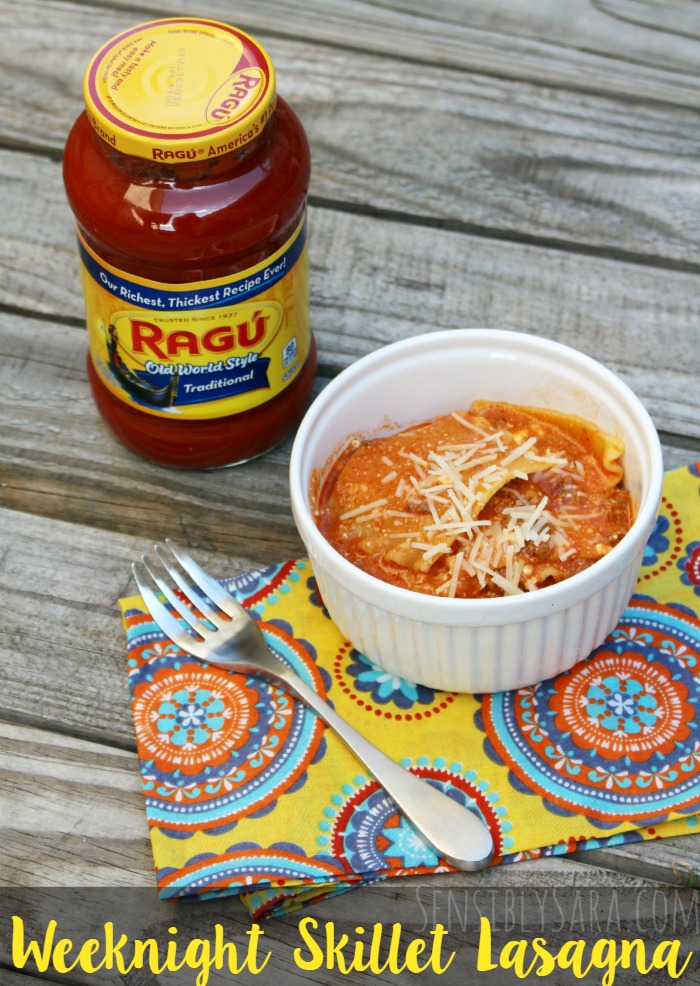 Ragú's Weeknight Skillet Lasagna is something your whole family will love because it's delicious! But make sure your noodles are cooked all the way through, otherwise you'll have an tougher-than-it-should-be dinner on your hands. When we make it again, I'll replace the lasagna noodles with Ravioli so it has a little more cheese.
Dinnertime is special in our house for lots of reasons – but most importantly, the time we all spend bonding over making a meal together, telling funny stories and silly jokes, etc.. I would like to say I wouldn't trade our mostly-homemade dinners for a meal I didn't make in a restaurant that will clean up after us, but that's not entirely true. I will cherish the sausesome family-time, though!
Ragú® has the Authentic Italian taste American family's love and a variety of great tasting, quick and easy to make family favorite recipes.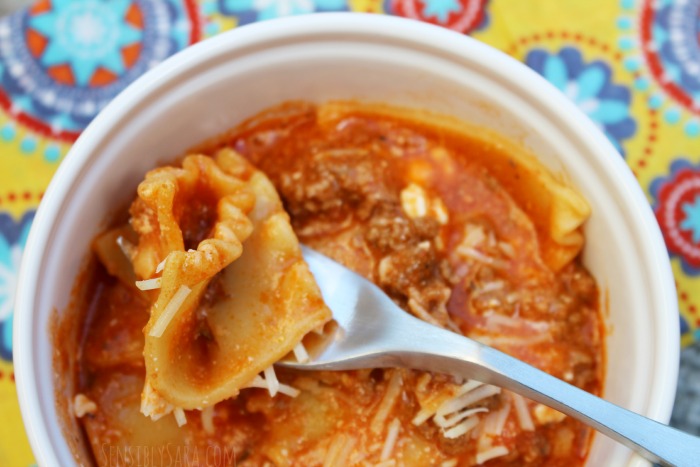 Make sure you enter the Saucesome Sweepstakes where you can vote for your favorite recipes and earn entries for the chance to win weekly $1,000 prizes and the $12,000 Grand Prize towards a Saucesome kitchen makeover!
How would you make this recipe even more sauceome?
Visit Facebook.com/RaguSauce for additional delicious recipe ideas!
Visit Pinterest.com/ragusauce for additional recipes mash ups and recipe ideas!
Check out Ragú® on Twitter @RaguSauce and #Saucesome Sauce!
Did you have fun in the "kitchen" this week? Did you try a new food or a new kid friendly restaurant? Did your little ones use their snacks to count to 10? We invite you to share your experiences, photos, stories or recipes that include your #kidsinthekitchen!
Come join me each week by linking up a post, new or old, that features the theme Kids in the Kitchen. It doesn't matter what you are doing as long as you are doing it together, enjoying it and learning something along the way.
having a tea party
counting skills with m&ms
pouring from measuring cups
discovering a local restaurant that your kids love
Don't have a blog? That's ok! Just share an Instagram photo or Facebook update.