When I was in high school (many years ago), the bigger the homecoming mum, the better. My mom always made mine and got great pleasure out of adding bells to them. But I wasn't fond of the big mums and I despised the bells. Tip: you can pull the center out of the bell or tape it down and it doesn't make anymore noise!
The past few years, I've made a mum for my oldest kid. He doesn't enjoy wearing the one I make as he'd rather wear one from whichever friend has given him one. Last year I made a full mum for his girlfriend but I also put together a Homecoming Mum Ring for her! I wish mum rings had been a thing in my day. Nevertheless, here we are. Are you ready to learn how to make a homecoming mum ring?!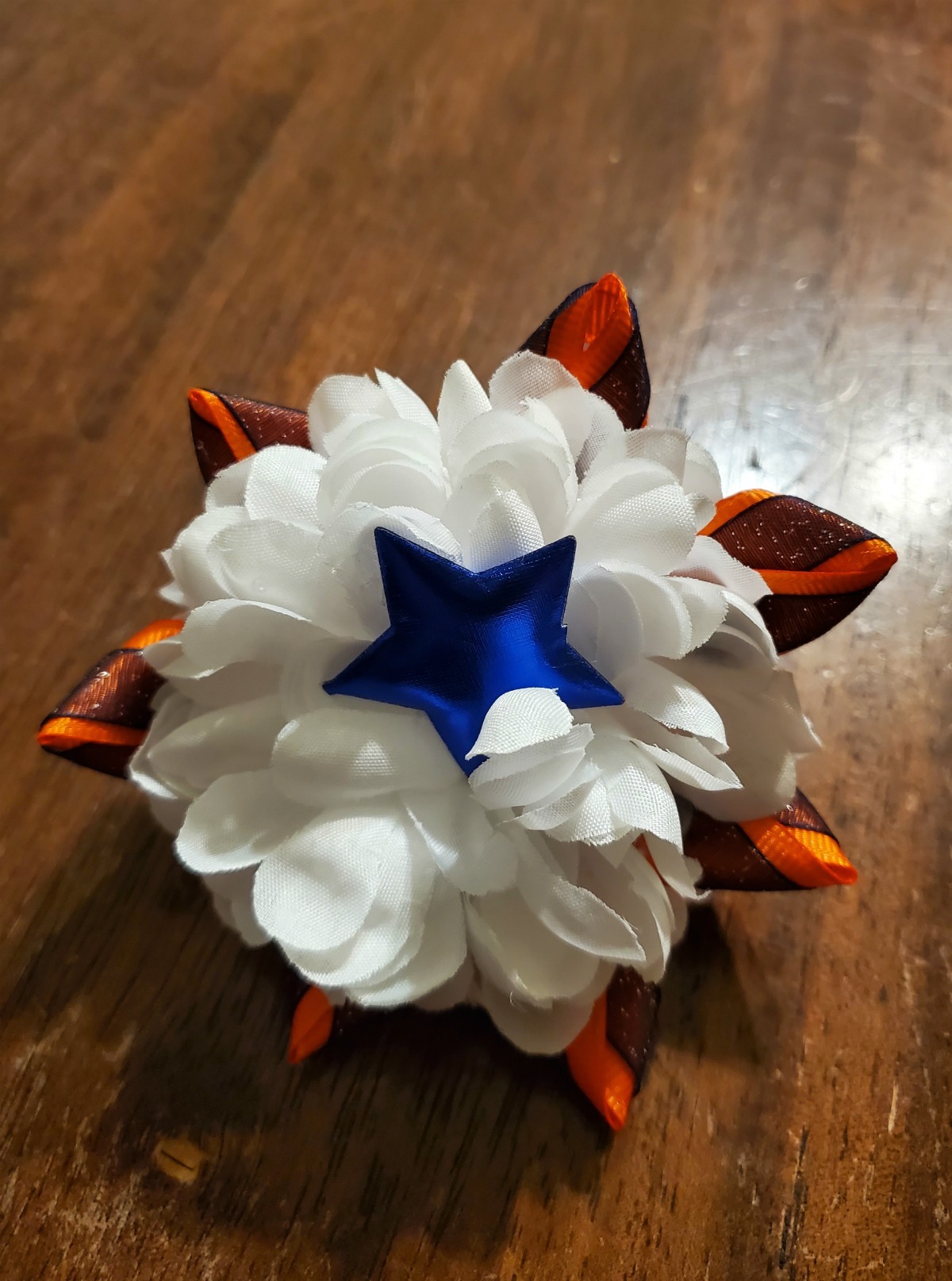 **Full Disclosure: This post contains affiliate links. I may earn a small commission at no cost to you.
How to Make a Homecoming Mum Ring –
Supplies:
Artificial Mum Flower
Ribbon (school colors)
Mum Decorations (available at your local craft store during homecoming season)
Hot Glue Gun
Scissors
Stapler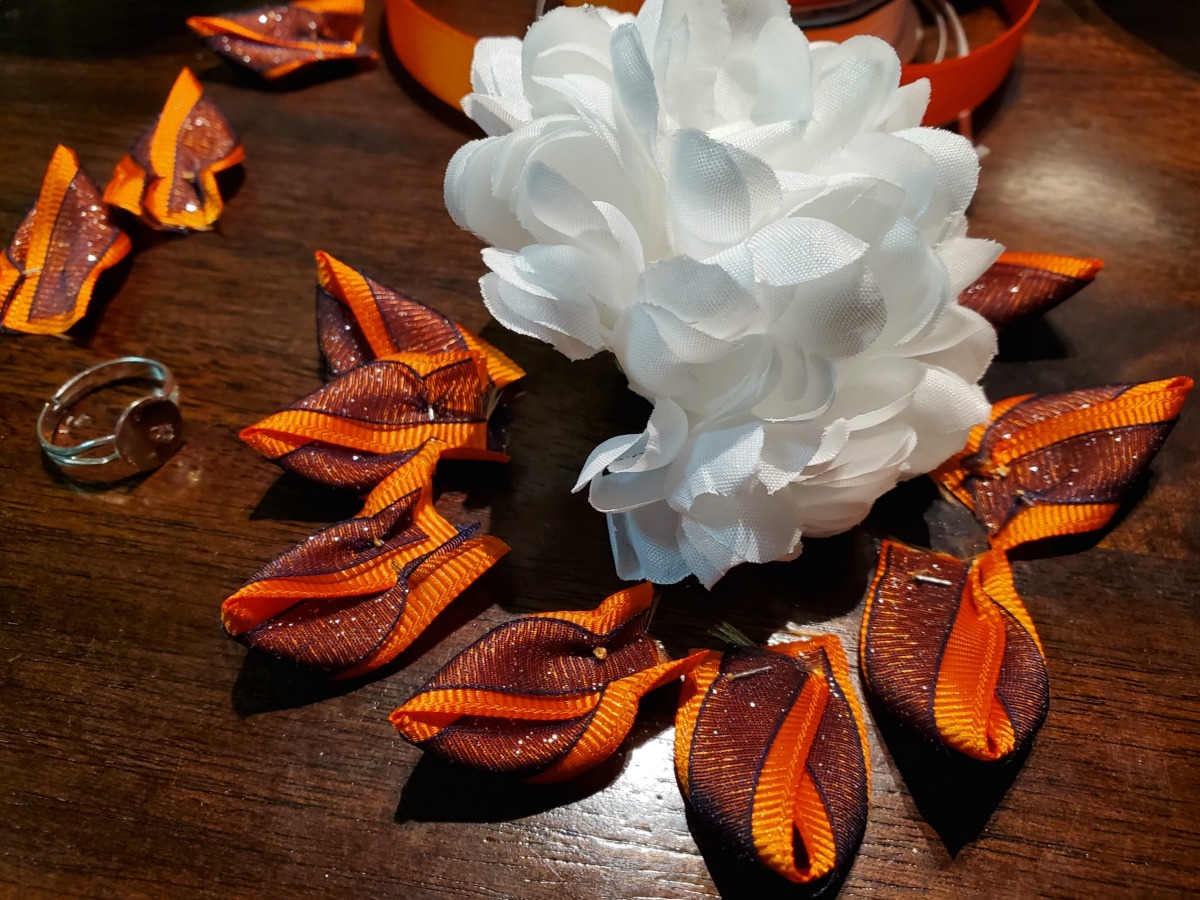 Directions:
Cut about 16 pieces of ribbon (8 of one ribbon color and 8 of the other) at about 2 1/2 inches each.
Flop the pieces of ribbon around to make loops. Staple them to hold the loop. TIP: Staple upside down so the staples don't get stuck on skin or fabric!
Cut off the plastic bottom of the artificial mum.
Hot glue the ribbon loops to the back of the mum petals.
Add a large amount of hot glue to the plastic mum piece and hold the adjustable ring on until it's set.

Once ready, add any decorations to the top of the mum.
Gift it to your favorite homecoming person!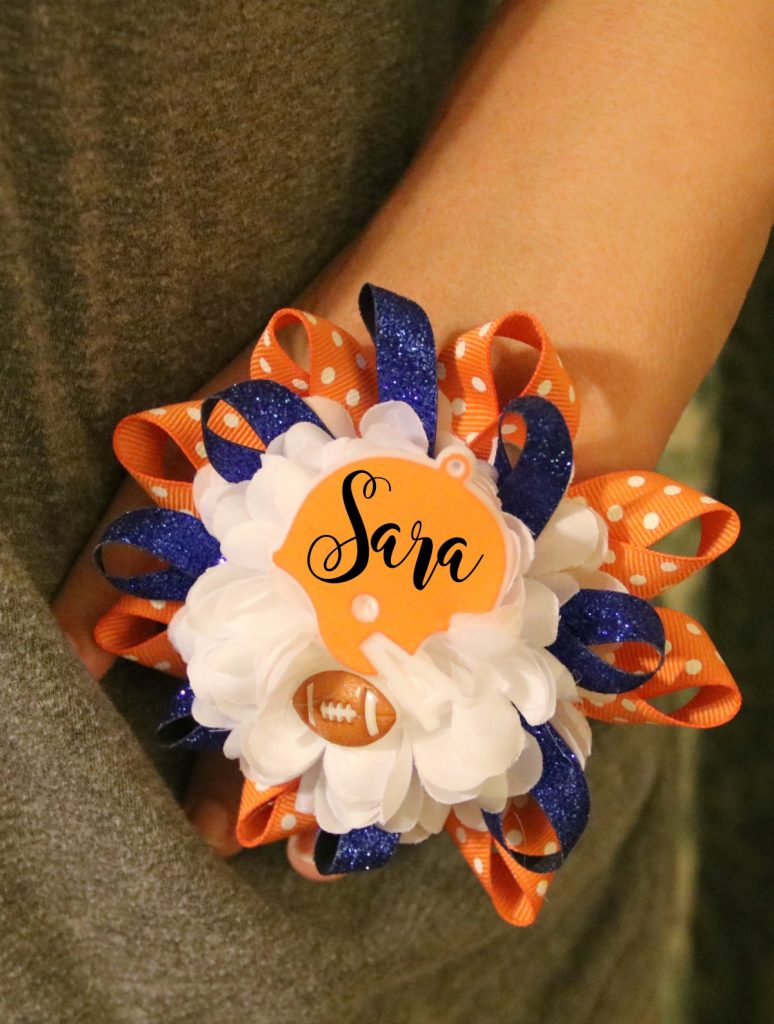 With COVID-19 blowing up plans left and right, I didn't think Homecoming would happen this year. There may not be a dance for these kids but there will be a Homecoming football GAME which has me beyond stoked because my son's school will be playing my alma matter! 
What is homecoming?
Homecoming is the tradition of welcoming back current and former high school and college students to an event – usually a football game. Students exchange mums as part of the tradition. Most of the time, girls give boys arm garters and boys give girls a large "pendant" which is usually worn on a shirt. Mums are elaborately decorated and can be as long as three feet and weighing up to 12 pounds. Typically, you'll see artificial chrysanthemum blossoms, ribbons, bells and trinkets denoting name, class and special interests on the floral decoration.
Sensible Tip: If you plan to wear a large mum on your shirt, hook the pin to your bra strap to give it extra support.