My kids have very vivid imaginations and I do all that I can to encourage that! I have read all kinds of things that say it's important for kids to engage in pretend play. Colin has plenty of ideas but when he starts to express himself, James says something along the lines of "NO Colin" … in an attempt to "correct" him and stop the imaginative thought. We have been working with James, he is learning not to stop the creative process.
When I got the box of Melissa and Doug toys from Gummy Lump, James was at school so Colin and I tore into it to see what we could play with!! 🙂 Gummy Lump sent the Chef Costume and the Play Food Brownie Set for my kids!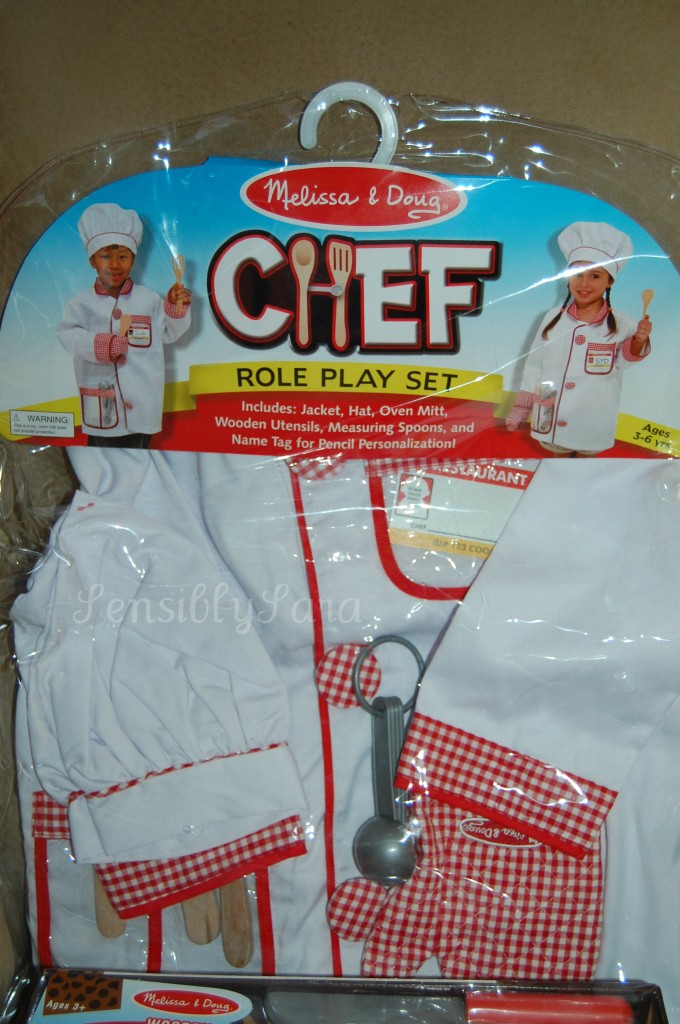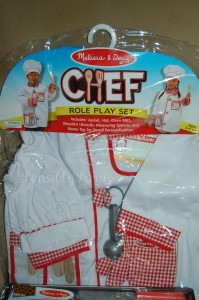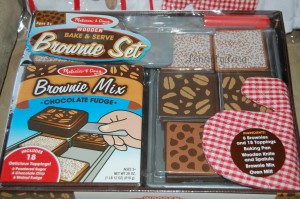 Since we opened it, Colin has served me brownies in his chef costume EVERYDAY (typically for lunch)! I love it! He knows that the "powdered sugar brownies" are my favorite, so that's the only one he brings me.
What I LOVE:
I LOVE the wooden toys! It's so easy to clean and it stands up to my wild & crazy kids.
I love that it comes with a brownie mix box, and the pieces can be put in said box.
The chef costume is easily washed, which is very necessary in our home! 😉
What I would change:
I wish the brownie mix box were plastic or wooden. Because it's cardboard, it's already losing it's stability. (This could just be my crazy kids.)
When we took the Chef costume out of the package, all the parts were attached with string, so I had to use scissors to detach them. A seam-ripper would have been better. I still haven't gotten the name badge part open! I think there might be better way to address this.
Would I recommend it?
YES, YES, YES!!! As I said before, toys that help kids with pretending and imagination are essential! The Melissa and Doug Chef Costume and play food provide awesome opportunities for kids to do just that.
Gummy Lump is running a
play food toys special offer where you Buy 3 Get 4th Free, up to $15.99 value! No coupon is necessary. Put at least 4 of the play food sets in your shopping cart and you will receive 1 free, up to a $15.99 value! One free item per purchase.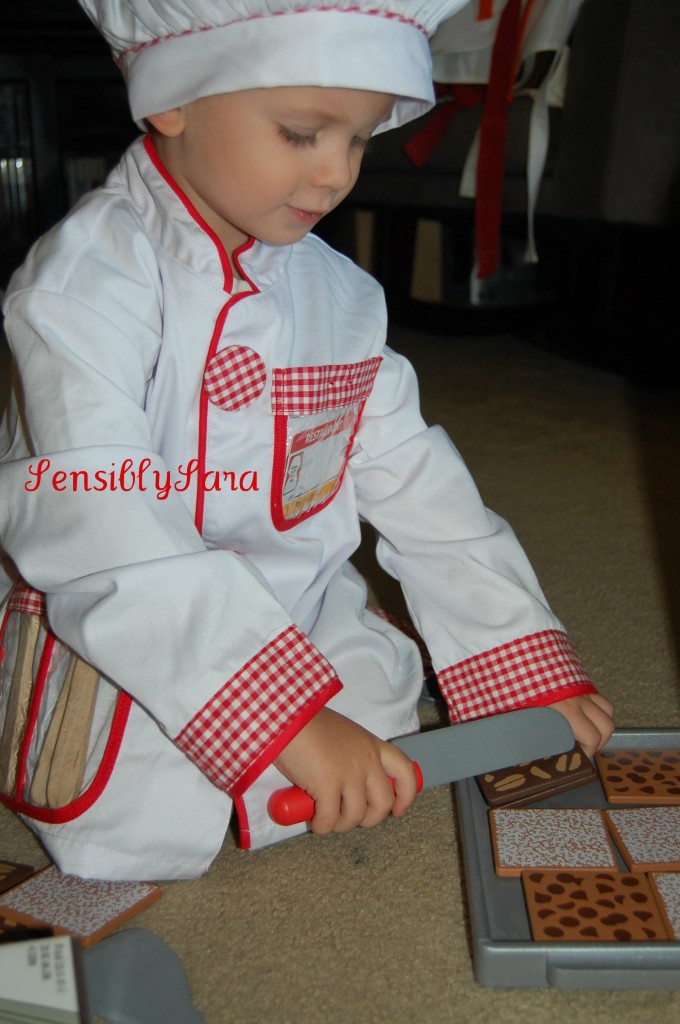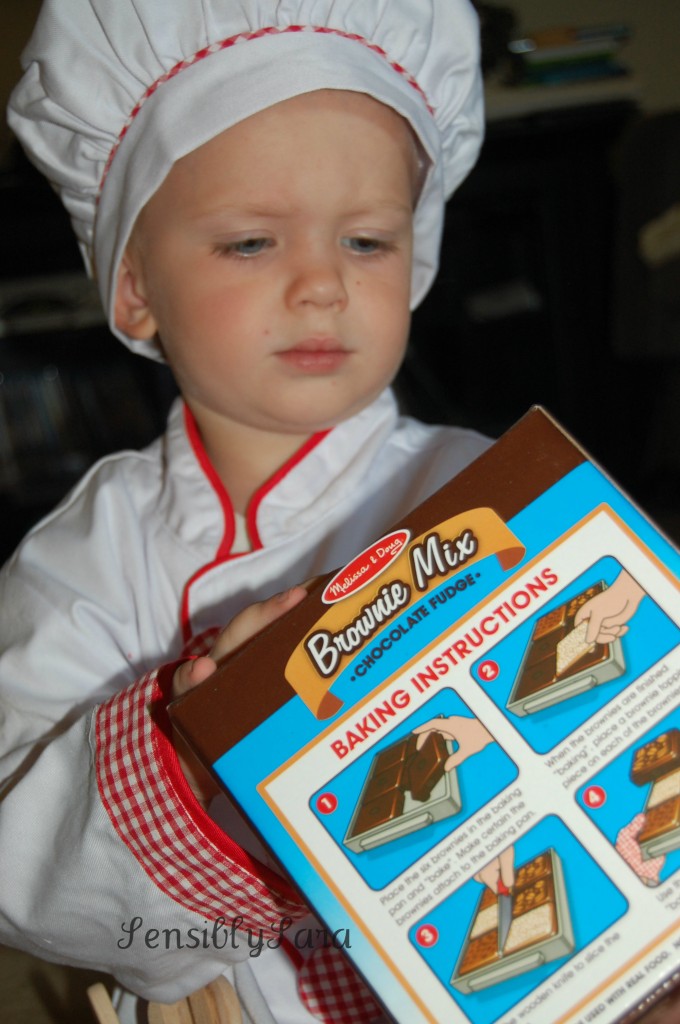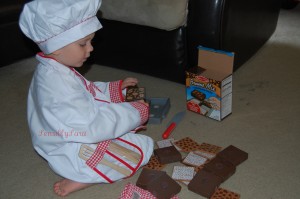 GIVEAWAY!!
(Prize: a Chef Role Costume and Play Food of winner's choice!)
Mandatory Entry: Tell me what are your kids' favorite dress up costumes?
Extra Entries: (These will be deleted if you don't do the mandatory entry first. Please post a separate comment for each entry.)
1. LIKE Gummy Lump on facebook.
2. Follow Gummy Lump on twitter.
3. Follow me on twitter!
4. LIKE me on facebook!
5. Tweet and/or Facebook this giveaway (make sure you leave the link)! You can do this 2 times a day (please, at least one hour apart) for a total of 2 entries per day.
#GIVEAWAY!! You could #win a kid's costume & play food from @GummyLump & @SensiblySara https://sensiblysara.com/?p=1328 ! Ends 5.10
6. Follow my Networked Blogs (in the sidebar)!
7. Subscribe to my blog's newsletter (in the sidebar)!
8. Subscribe to GummyLump's newsletter!
GOOD LUCK!
Only one person per household/IP address may enter. Also, only one win per household per campaign is allowed. While you are encouraged to enter as many as you want, you can only win from one blog. This giveaway is open to US residents only and will run through midnight CST on Thursday, May 10, 2012. The winner will be randomly chosen using random.org and an email will be sent. The winner must respond within 48 hours or a new winner will be chosen. The giveaway items will be shipped directly to the winners from the sponsor.
**Full disclosure: I received the Chef Role Costume and Play Food for review purposes. I did not receive monetary compensation for this post. All thoughts and opinions are my own.