**Full disclosure: This post contains affiliate links.
Admittedly, Harry Potter is not my favorite series. However, my husband and kids are entertained by the books and really enjoy the movies so I've seen at least parts on occasion. I do think, though, that a trip to Wizarding World of Harry Potter would be a blast – especially because I'd get a chance to try Butterbeer four different ways! I have a love affair with French macarons so I created this recipe that my family and I could all enjoy: Butterbeer Macarons!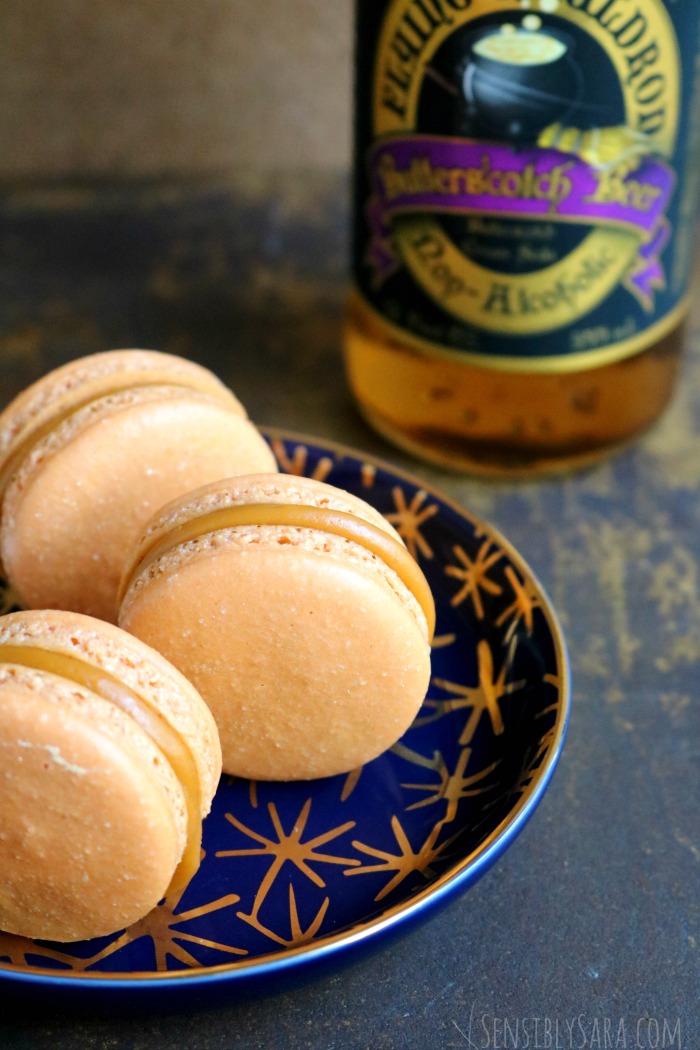 How to Make Butterbeer Macarons –
Ingredients:
Cookies –
3 large Egg Whites, room temperature
1/4 cup Extra Fine Granulated Sugar
1 3/4 cups Powdered Sugar
1 1/4 cups Almond Flour
1 tsp Butterscotch Flavor
1 tsp Vanilla Extract
1/4 tsp. Cream of Tartar
Pinch of Salt
Optional: 3 – 4 drops gel food dye and 1 tsp edible luster dust
Filling –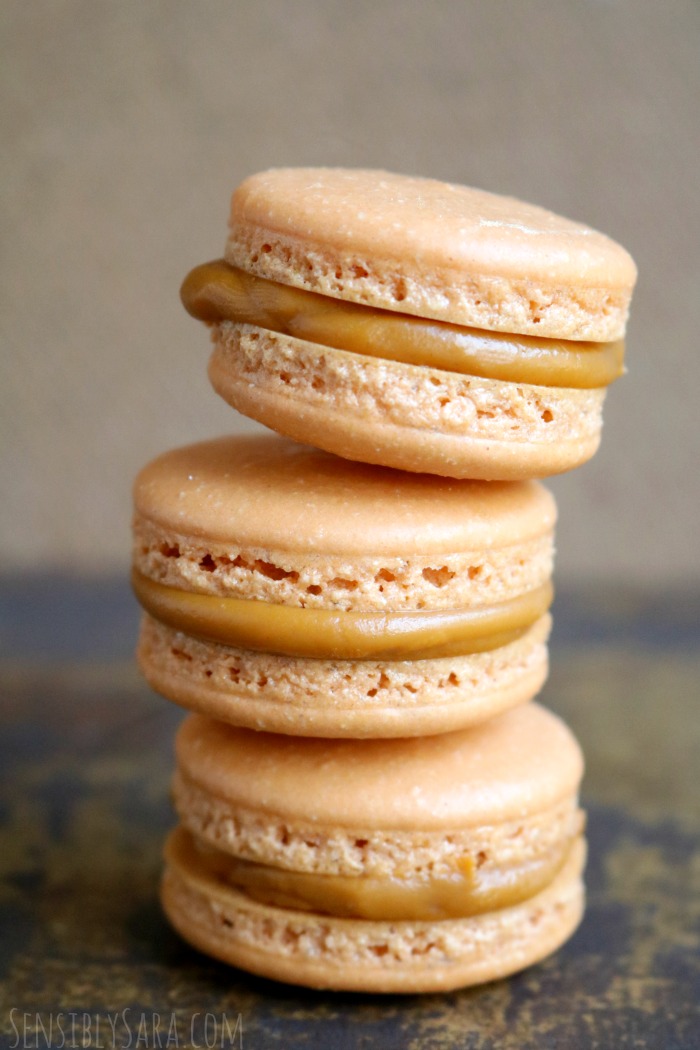 Directions:
Cookies –
Line baking sheets with a Silpat.
Sift powdered sugar and almond flour together – set aside.
Whisk the egg whites with a mixer until frothy.
Add in the vanilla extract, butterscotch flavor, salt, cream of tarter and optional gel color and continue whisking until soft peaks form.
Add the extra fine sugar a little at a time and continue to mix until stiff peaks form. It should be very thick and glossy.
Fold the powdered sugar/almond flour mixture into the egg white mixture. (Be careful not to over or under mix!)
Fill a pastry bag with the batter and fit it with a round-shaped tip.
Pipe quarter-size circles onto the Silpat.
Let the macarons sit out and dry for about 45 minutes or until a hard shell forms. If desired, and optional luster dust gently to the tops.
Preheat the oven to 275 degrees F.
Place the macarons on the center rack of the oven. (If desired, put an empty baking sheet on the top rack to keep the shells from getting too dark.)
Bake for about 20-24 minutes.
After about 10 minutes in the oven, check the macarons. If they're cooking unevenly, turn the tray around.
Allow time to cool before filling.
Serve and enjoy!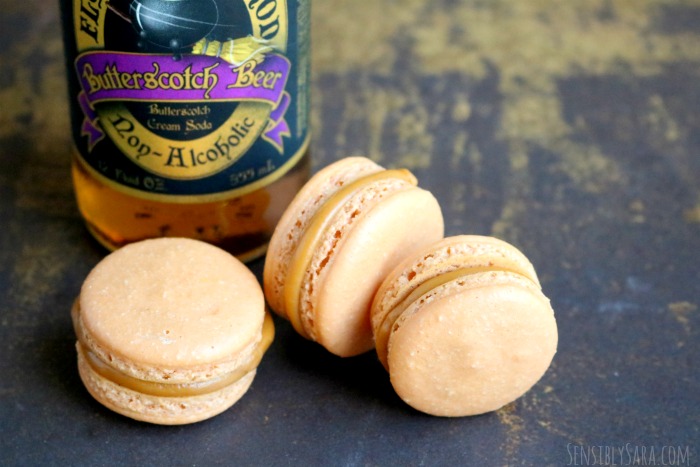 Filling –
Put heavy whipping cream in a microwave-safe bowl. Heat for 2 minutes.
Pour in the butterscotch chips, caramel sauce and vanilla extract. Mix until smooth.
Pipe onto a cooled macaron.
Serve and enjoy!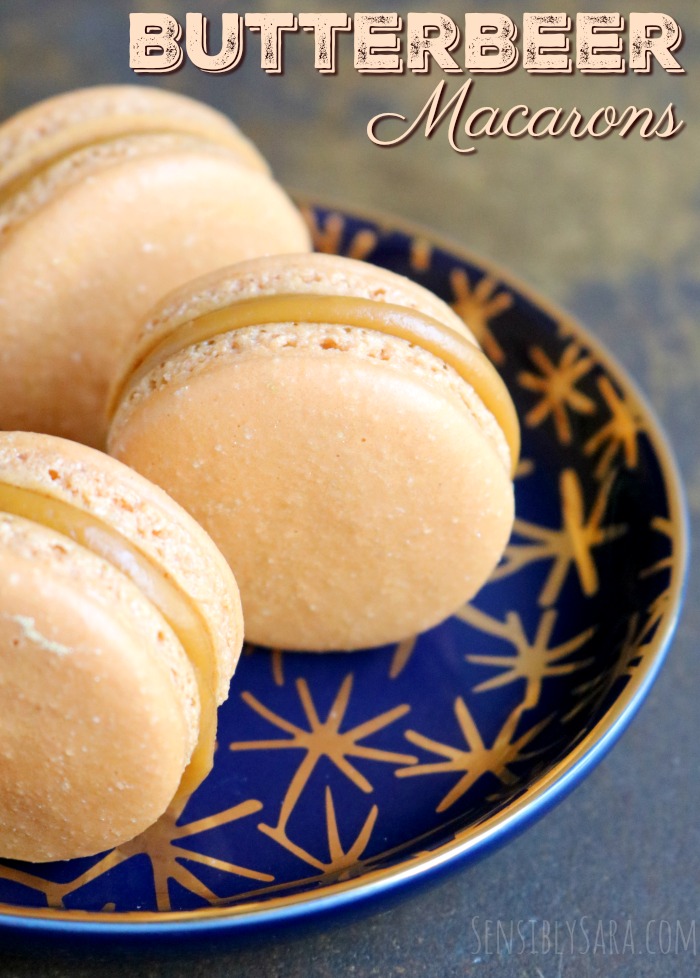 Macarons are incredibly finicky but worth the trouble. I hope you'll give these a try!
What do you think of my Butterbeer Macarons?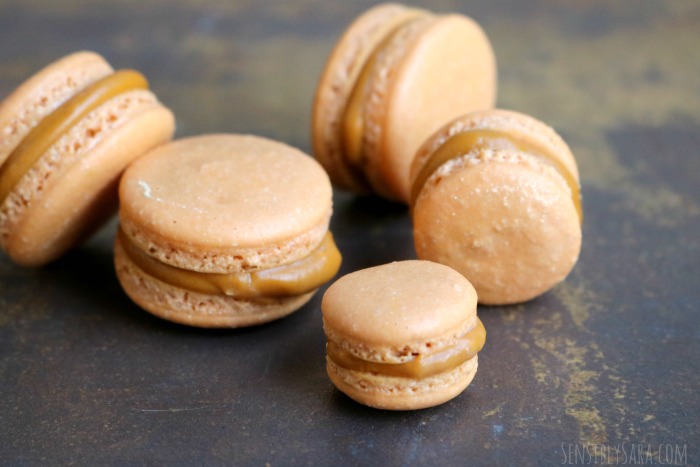 Next time you visit Hogsmeade at The Wizarding World of Harry Potter, send some mail from the Owl Post!
Make some Butterbeer Lip Balm for your next Harry Potter themed party: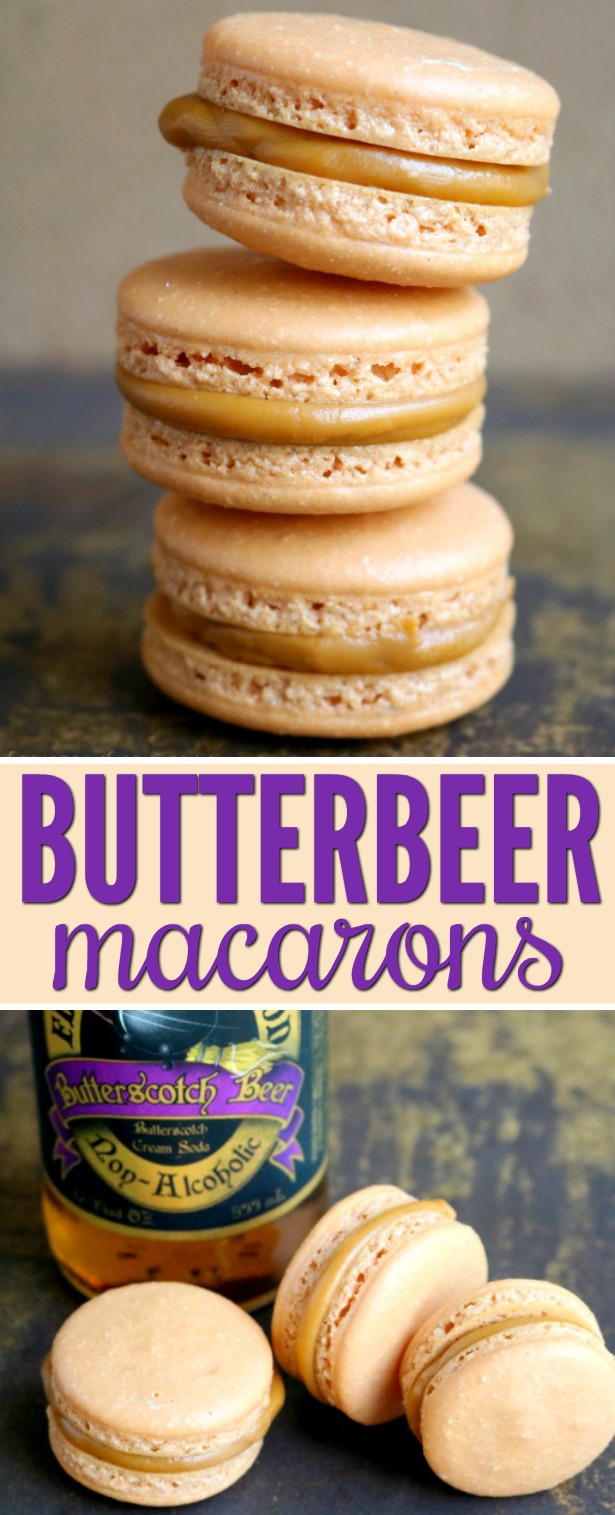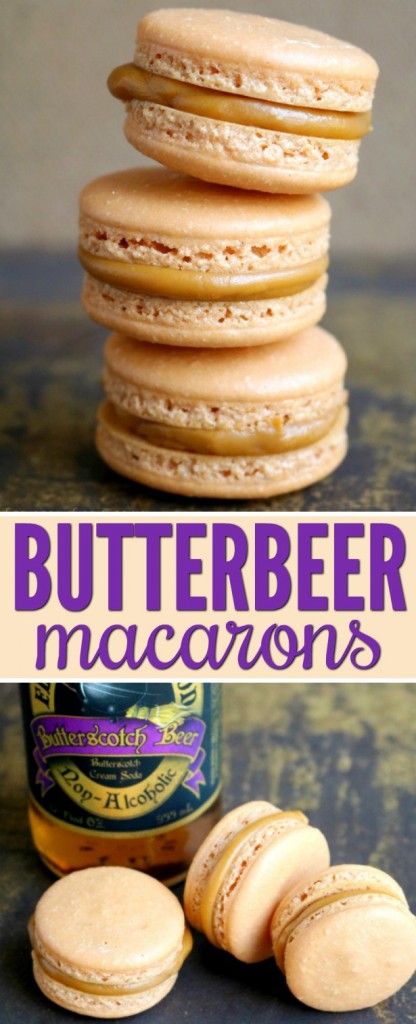 Do you know someone with a nut allergy? Try these Allergy-Friendly Macarons:
Other Must-Have Harry Potter Items: