**Full Disclosure: I received a gift card to facilitate my review. All opinions are my own.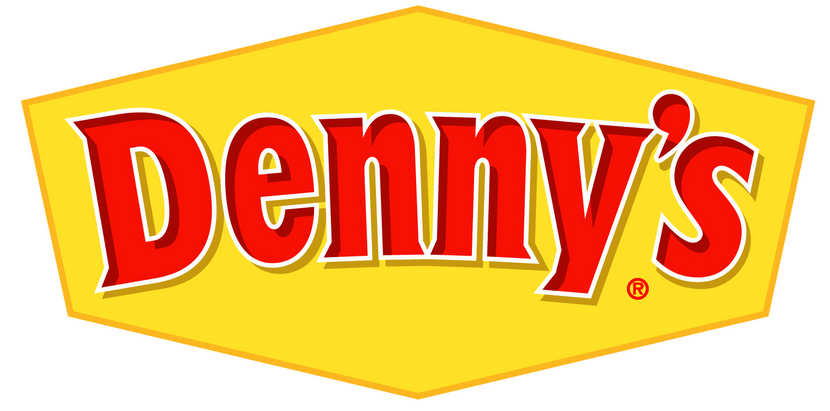 If you've read this blog for very long, you probably know that my family and I enjoy breakfast foods and eating out. Dining at Denny's combines those two things for a pretty good meal – and one that I don't have to cook!
During the month of August, Denny's offered a 'Build Your Own Pancakes' special.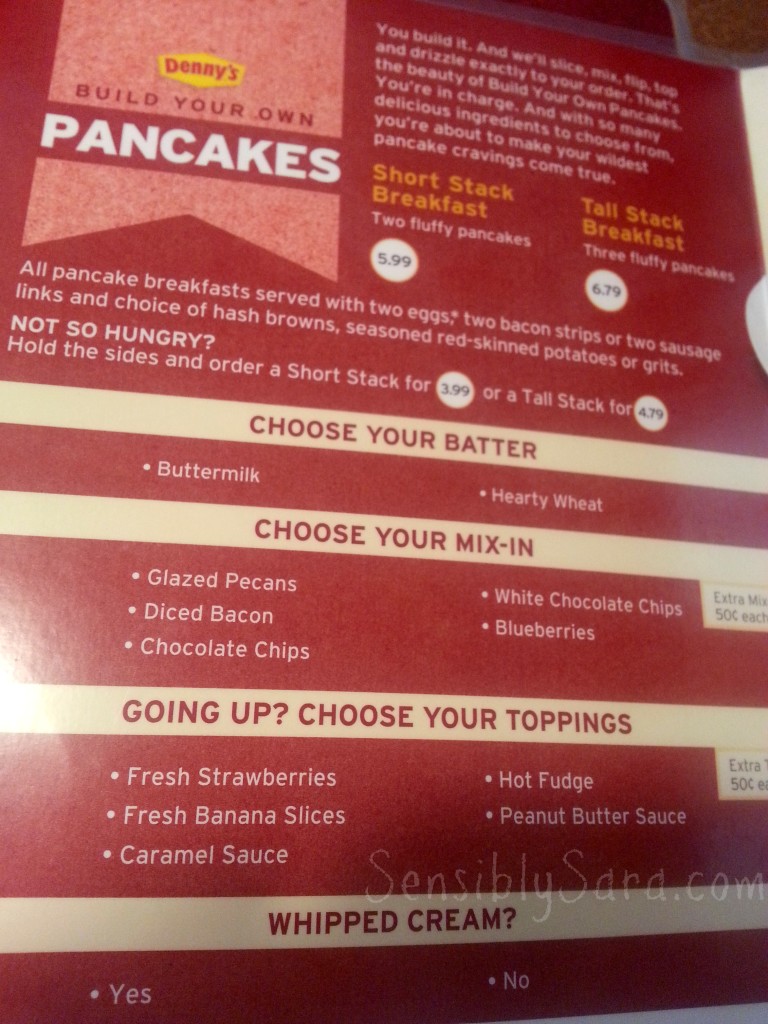 My husband, kids and I checked out the 'Build Your Own Pancakes' special about a week before it ended. We had a good time chatting at the table, but our waitress wasn't very friendly. James needed a refill on his drink, so I set it at the end of the booth. Then I proceeded to accidentally knock it off while we were ordering. I picked it up and the waitress took it with her when she left our table, but she never brought another drink back for him. We had to ask for another one when our food was delivered to our table.
The kids each ordered the 'Build Your Own Jr. Grand Slam,' my husband ordered the Santa Fe Skillet and I ordered the 'Build Your Own' Chocolate Chip Pancakes with Caramel Sauce and whipped cream.
My boys loved their kid's meals. My husband said his skillet was delicious and it looked just as it was pictured in the menu. My pancakes were a different story. The chocolate chips weren't spread throughout the pancakes, they were concentrated in the center. I expected the caramel sauce to taste fresh and homemade, but rather, it tasted an ice cream topping you'd buy at the grocery store. Also, they weren't topped with whipped cream like they should have been.
I was under the impression that I would be charged 50¢ more (per mix-in) if I wanted more than one, but I was charged an extra 50¢ per pancake for my chocolate chips. I was a little disappointed that the first mix-in wasn't included in the base price. Kids ate free on the night we were there, so that was nice!
This experience won't deter us from eating at Denny's again.
For the month of September, Denny's is offering a 'Build Your Own Omelette.'
Connect with Denny's on Facebook and Twitter!