The holidays are all about spending time with the ones you love, but sometimes it can quickly become frantic and hectic with all of the responsibilities of cooking. If you're looking to skip the traditional day of cooking and baking for your holiday dinner so that you can spend more time with family, you are in luck! To save families the hassle of cooking during the holidays, there are many restaurants that will take care of the cooking for you and deliver your holiday meal allowing you to stress less and spend more time with your family.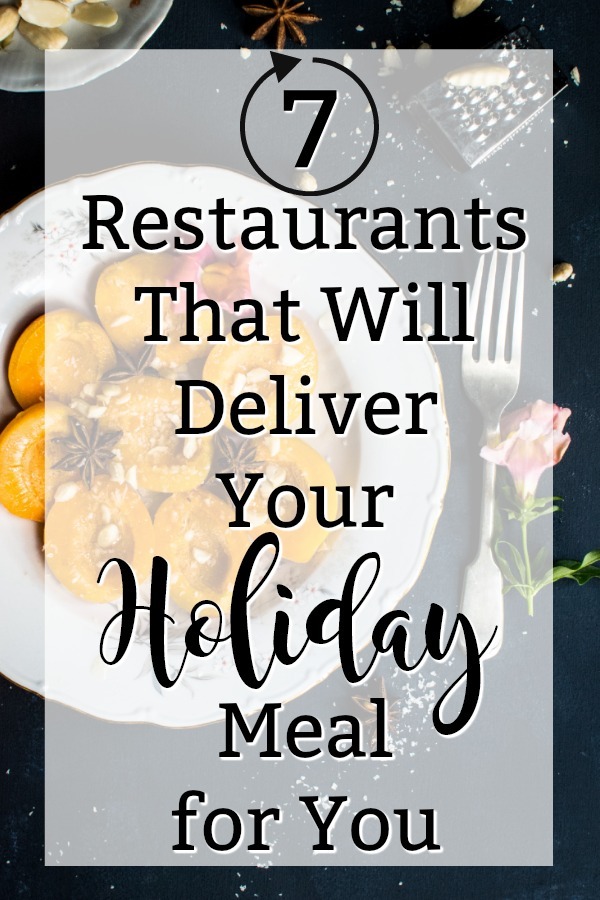 7 Restaurants That Will Deliver Your Holiday Meal
Your local Cracker Barrel offers a Holiday meal kit that comes with everything needed for a delicious holiday meal. The meals are already cooked but they are chilled, so you just need to reheat the already prepared food.
The meal comes with everything from ham and dressing to dessert and even a gallon of Iced Tea and is enough to feed up to 10 people. You'll want to check with your local Cracker Barrel to see if delivery is available, pick up is available in all locations but delivery may be in selected areas.
Participating Boston Market locations throughout the country are open on Christmas Day so families can enjoy a delicious hot holiday meal. Each year they have a special holiday menu with traditional holiday food.
Those Boston Market locations that participate on the holiday meals are open throughout the day, can prepare your meal for pickup and some locations may deliver but you will have to check your area to see what is offered at your local restaurant because only select locations will deliver.
Denny's, the 24-hour chain, is open on Christmas Day as well as on Christmas Eve. They also have special holiday themed meals that are served during these times. They've also recently started delivering and from what we've seen, many will also be delivery holiday meals this year, but you will need to check with your local restaurant to see if delivery is available in your area.
Meal Delivery Services
Things have changed drastically in the delivery business with companies like GrubHub and UberEats. These companies bring your favorite local restaurant foods to you every day of the week, even on the holidays.
While there may be fewer drivers to delivery food during the holidays, the option is still available. You can order from your local open restaurants and the delivery service will bring the food directly to you. So, whether your craving Italian food or Chinese, your holiday meal will be hot and ready to put on the table.
Local Chinese Restaurants
Many Chinese restaurants are not only open during the holidays, they are also delivering. If you're looking for an alternative to the traditional ham or turkey or just enjoy Chinese food, your favorite Chinese restaurant may be able to help.
There are many restaurants that are open during the holidays and many also deliver straight to your door. Keep in mind that restaurants may change their holiday hours and services, so you will want to check with your favorite local stores to see what holiday options they will be offering.
The Surf Brothers Teriyaki restaurant is known for it's fresh and healthy food selection. Located in San Diego, the restaurant makes it easy for families during the holiday season through their catering program.
The restaurant offers multiple locations for you to pick up your order but if you're wanting to have it delivered, they will do that to. During the holidays you can place your order online, visit any of the local restaurants, or call their Christmas Catering coordinator so that you can place your order.
Once you've placed your order, your holiday dinner will be delivered to you on Christmas Day and cleanup will be a breeze because everything is placed in disposable containers.
Fresh Cut Catering and Floral, located in Florida, can create Christmas dinners and desserts that can either be picked up or delivered right to your home. Orders are accepted up until the middle of December, so you'll want to be sure you get your order in before the cut off time.
Not only can the catering company help get your Christmas dinner on the table, they also offer holiday décor and flower arrangements to compliment your dinner table.