**Full Disclosure: I was invited to a media preview of the newest Texas MedClinic and was compensated for this post. All opinions are my own.
Have you ever needed to get in to see your doctor only to be told that her day is booked and she can't see you until at least the next day? It's happened to me on more than one occasion. My doctor is amazing but it's incredibly difficult to get in to see her at the last minute. Last year I got an infection once a month for several months in a row. It was miserable but, thankfully, Texas MedClinic was able to help each time!
Earlier this year, my oldest son was at football practice when he was tackled and injured his shoulder. It was still bothering him after a few days so I took him to Texas MedClinic. Why? Because they have an x-ray machine in their office so it would be a one-stop (one co-pay) visit for us. Luckily, it was just a sprained shoulder and he just needed rest.
Texas MedClinic offers an online check-in service which allows you to pick the location closest to you, with the shortest wait or both!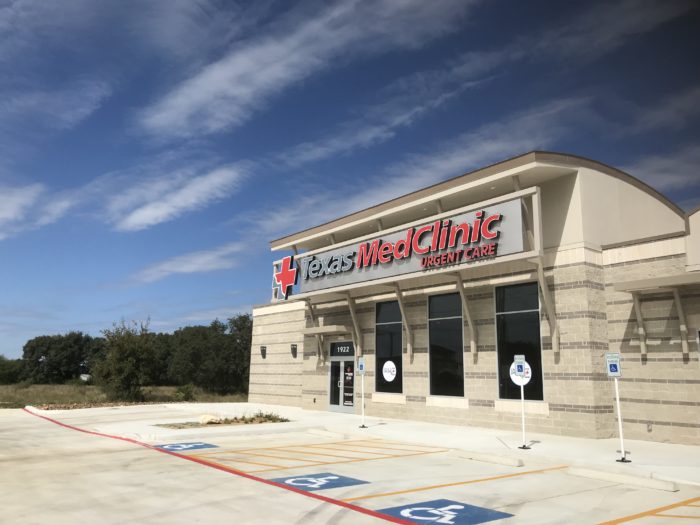 Most people visiting an emergency room only need minor emergency care and don't need to be at a full-blown ER, so Buddy Swift decided to fill a need by starting the Texas MedClinic. Celebrating 35 years in business, Texas MedClinic is has just opened their newest location (the 18th) at Oak Run in New Braunfels!
Urgent care centers and emergency rooms have the same top 15 – 20 diagnoses. Texas MedClinic is prepared to handle many situations including: stitches, sprains, bruises, broken bones, allergies, minor burns, stomach bug, dehydration, strep throat, UTIs and more.

How do you know the difference between an urgent care facility and an emergency room?
Look at the title – If the word 'emergency' is anywhere in the title, it's a free standing emergency room.
Call and ask – It's better to know before you go!
Did you know that free standing emergency rooms will cost you, on average, 10 – 15 times more than an urgent care facility like Texas MedClinic?
It's important to know how much a visit will cost you out of pocket and if that cost is worth it to you.
Try Texas MedClinic for your urgent care needs!