**Full Disclosure: This is a sponsored post but all ideas and opinions are my own.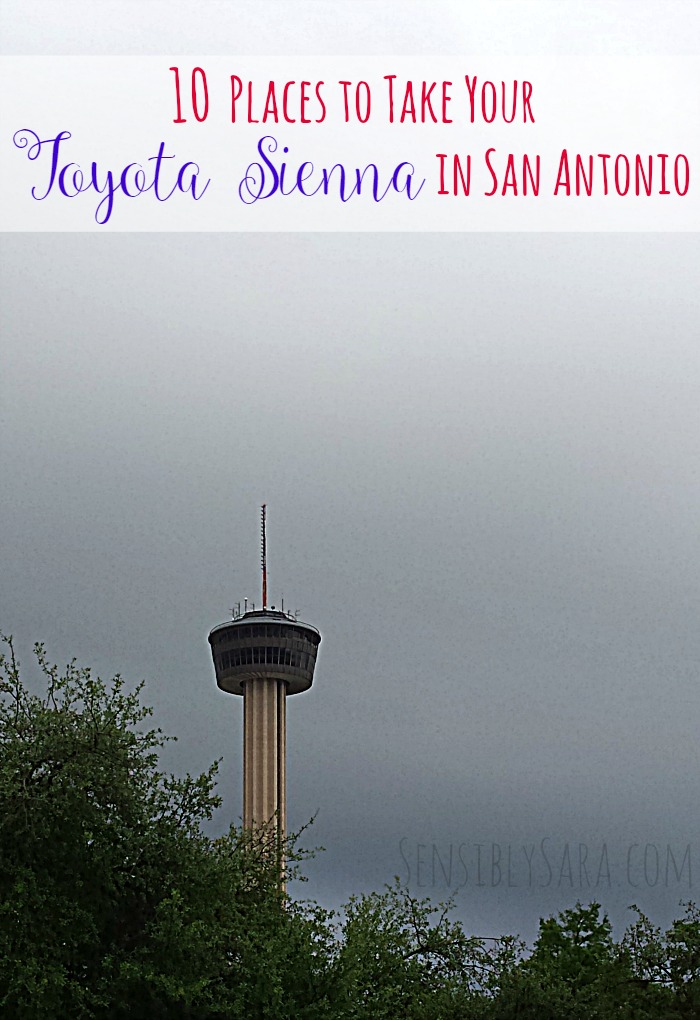 Whether you are visiting San Antonio or live here, there's lots to see and do! If you are visiting, perhaps you don't know which places are 'must-do's' and what attractions you can combine or skip altogether. Maybe you've lived here your whole life (like myself) or you've just moved here but want to explore some 'touristy' locations. I don't think these suggestions are overly touristy, but rather places I'd visit with my family any day. Either way, I'm sharing a few of my favorite places to take your Toyota Sienna. You'll notice that I haven't been to a couple places on this list. If they aren't my personal favorites, they come highly recommended from people I trust.
10 Places to Take Your Toyota Sienna in San Antonio:
Any of the five Missions – The Alamo, San Jose, Concepcion, Espada or San Juan – They are just beautiful, full of history and free to visit. The missions are day-use only and close at 5pm. Recently the Missions were given World Heritage status, which is pretty cool! If you want to visit all the Missions, plan to spend the entire day.
The Riverwalk – While you'll have to park the Sienna to enjoy the Riverwalk, it's absolutely worth it! Along the river, you can find shops and restaurants. You can also enjoy a boat tour of the river while listening to the guide give lots of great information! Depending on what you want to do at the Riverwalk, it could take all day.
Pearl – Started as a brewery in 1881 and is now a neighborhood full of restaurants, shops and housing. The history and architecture are stunning. You'll find a Farmer's Market at the Pearl on Saturdays and Sundays – rain or shine. While you are exploring, I would definitely recommend a stop at Bakery Lorraine! You should allow a couple of hours for this stop.
King William Historic District – Drive through the attractive neighborhood and take in all the gorgeous old homes. I've never used a guidebook, but I'm sure it would be helpful in understanding some of the background. There is a virtual resource available. The King William Historic District shouldn't take more than an hour or so.
Enchanted Rock – Okay, okay, technically Enchanted Rock isn't in San Antonio but it's not far and your Toyota Sienna will thank you! Give your party an entire day to climb the rock and enjoy the view!
Natural Bridge Wildlife Ranch – Also not technically in San Antonio, but close, the Natural Bridge Wildlife Ranch is a blast! Drive through the park once (or as many times as you'd like) while you watch and/or feed the animals. Word to the wise: get there when they open for more active animals & keep your windows up when you are near the ostriches! Even if you circle the park multiple times, you'll likely be out of the ranch by lunch time.
Morgan's Wonderland – I've never actually been to Morgan's Wonderland but I've heard great things about what an amazing, family-friendly place it is. Pack up the Sienna and head over for the day. Admission is $17 for adults and $11 for kids older than 3.
The Guenther House – Step back in time and enjoy a meal at the historic 1860s home! If you dine on the patio, you might have a view of the river. Their menu is outstanding but they are only open for breakfast and lunch.
Little Red Barn – This is my dad's favorite restaurant. The Little Red Barn has been a go-to steakhouse since 1963 and now seats up to 800 people! Their prices are reasonable and their food is scrumptious!
Where will you take your Toyota Sienna?
Really, it doesn't matter where you take your Toyota Sienna as long as you have fun! If you are in the market for a new car, Toyota of Boerne is the place to go.