**Full Disclosure: This post contains affiliate links. If you make a purchase, I get a teeny-tiny percentage at no cost to you.
Unicorns and rainbows are incredibly popular and everywhere right now! What's a better way to enjoy the trend than with Unicorn Cinnamon Rolls, right?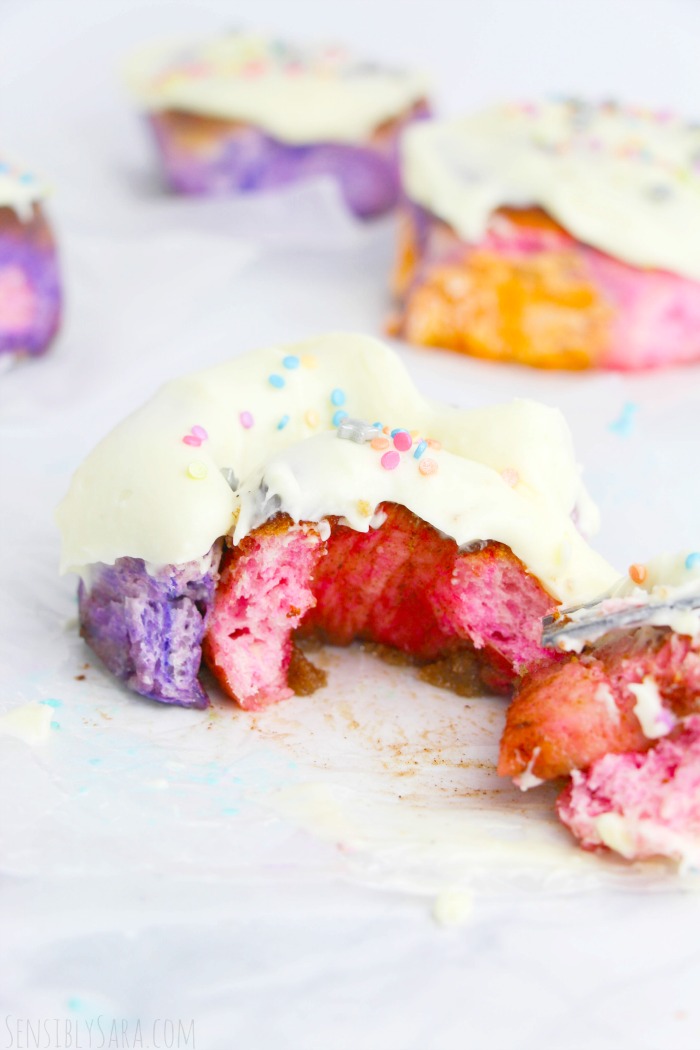 How to make Unicorn Cinnamon Rolls –
Ingredients:
1 box Funfetti Cake Mix
2 pkg. active dry yeast
2½ cups warm water
1 tsp. salt
1 tsp. vanilla
5 cups bread flour
Pink, purple and orange gel food dye
Cinnamon Roll Filling:
3/4 cup butter, softened
1 1/2 cup brown sugar, packed
2 Tablespoons cinnamon
Cream Cheese frosting:
¼ cup butter, softened
1 package cream cheese, softened
3-4 cups powdered sugar
1 teaspoon vanilla extract
3-6 Tablespoons milk
PLUS Unicorn-inspired sprinkles
Directions:
Add the warm (almost hot) water to a large mixing bowl and stir in the yeast. Let set for 5 minutes until frothy.
Add the cake mix, salt, vanilla and bread flour and knead for 2 minutes.
Cover with plastic wrap and let rise for at least an hour.

Punch the dough down and divide into 3 parts.
Dye one third of the dough purple, one third pink and the last third orange.

Place back in the bowl and let rise a second time, approximately an hour.
Meanwhile, combine the filling ingredients and set aside.
Grease and flour two 9 x 13 casserole pans and set aside.
Flour a large surface (like your counter or a cutting board) and roll out to the dough to 1/2″ thickness in a rectangle.

Spread the filling all over the dough and then roll from one long side to the other.
Mark 2″ indentations on the cinnamon roll "log" and then cut.
Place the cut cinnamon rolls in the greased casserole dishes and let rise one final time, approximately 30 minutes.

Preheat the oven to 350 and then bake each casserole tray for 15-20 minutes.
While the cinnamon rolls are baking, prepare the frosting by combining the butter, cream cheese, vanilla and 3 cups of the powdered sugar.
Add in a couple tablespoons of milk and then adjust as needed with either more milk or sugar.
Spread the cream cheese frosting on the unicorn cinnamon rolls while they are still warm and add copious amounts of unicorn-inspired sprinkles.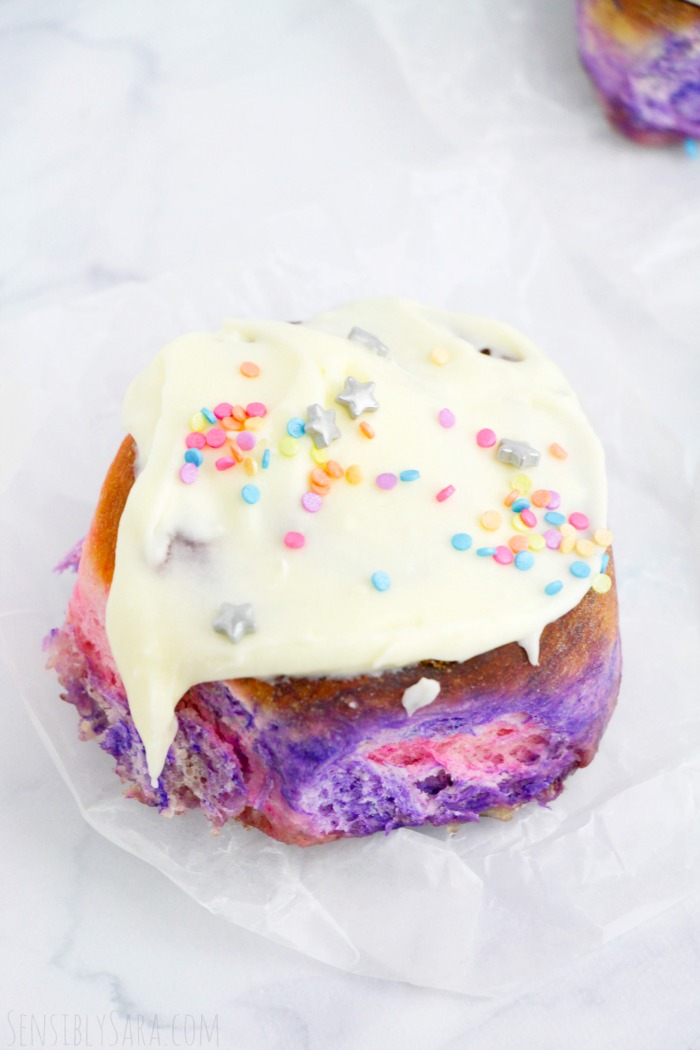 Will you make Unicorn Cinnamon Rolls?!