I enjoy traveling and exploring all the things that new cities have to offer – from food to fun and everything in between. Having grown up in Texas, I'd been to all the major cities long before I was old enough to drive. Once I was on my own, I started visiting the lesser known cities & towns that bump up against the big names. Most recently, I took a trip to Pearland (just south of Houston) and I've concluded that there are five reasons everyone should visit Pearland, Texas.

**Full Disclosure: This post was part of a sponsored project in conjunction with members of the Texas Travel Alliance to feature their members. The partnership included lodging, food & beverage, and compensation for the trip. The opinions reflected are honest and based upon the individual blogger experience. 
While Pearland doesn't have a designated downtown area and is a little more spread out than I'd pictured in my mind's eye, there is quite a bit to do and see. I recommend planning out a rough itinerary before your visit so you don't waste any time trying to plan your trip once you arrive or as you go.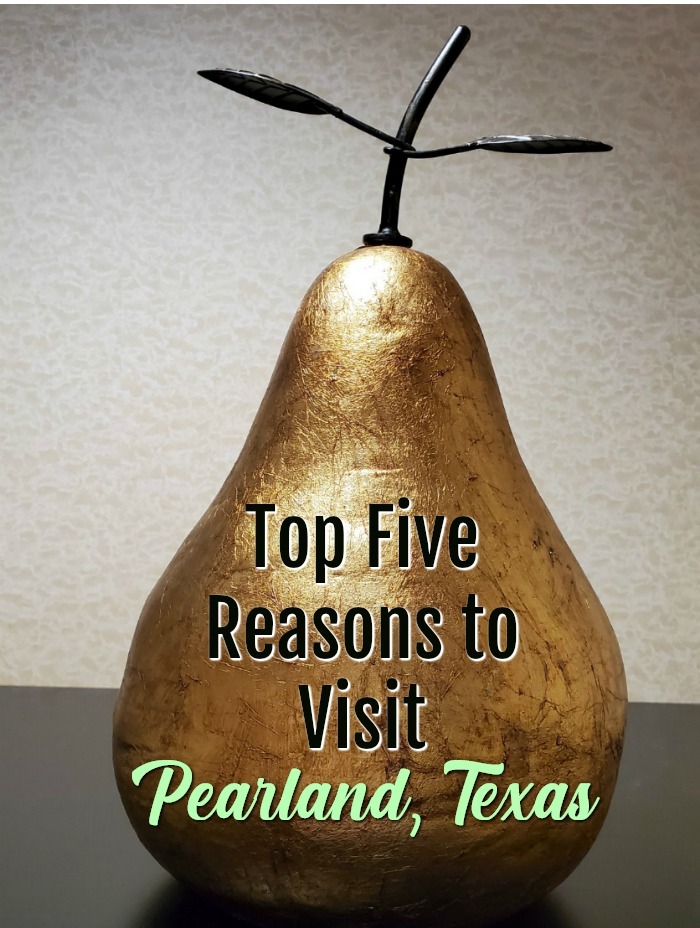 Top Five Reasons to Visit Pearland, Texas
1. Locally Owned Businesses
Supporting locally owned businesses is important to me so I tend to seek them out. I was pleasantly surprised by the number of locally owned businesses in Pearland. There are far too many for me to list so instead, I'll give you some of my favorites! Find a full list of locally owned Pearland restaurants on their website.
AJ's Snowcones – Try the Rainbow snowcone!
BrowsAroun' Antiques
Busy Bee's Cafe
Grazia Italian Kitchen
Pena's Donut Heaven & Grill – Try the Chicken and Waffles!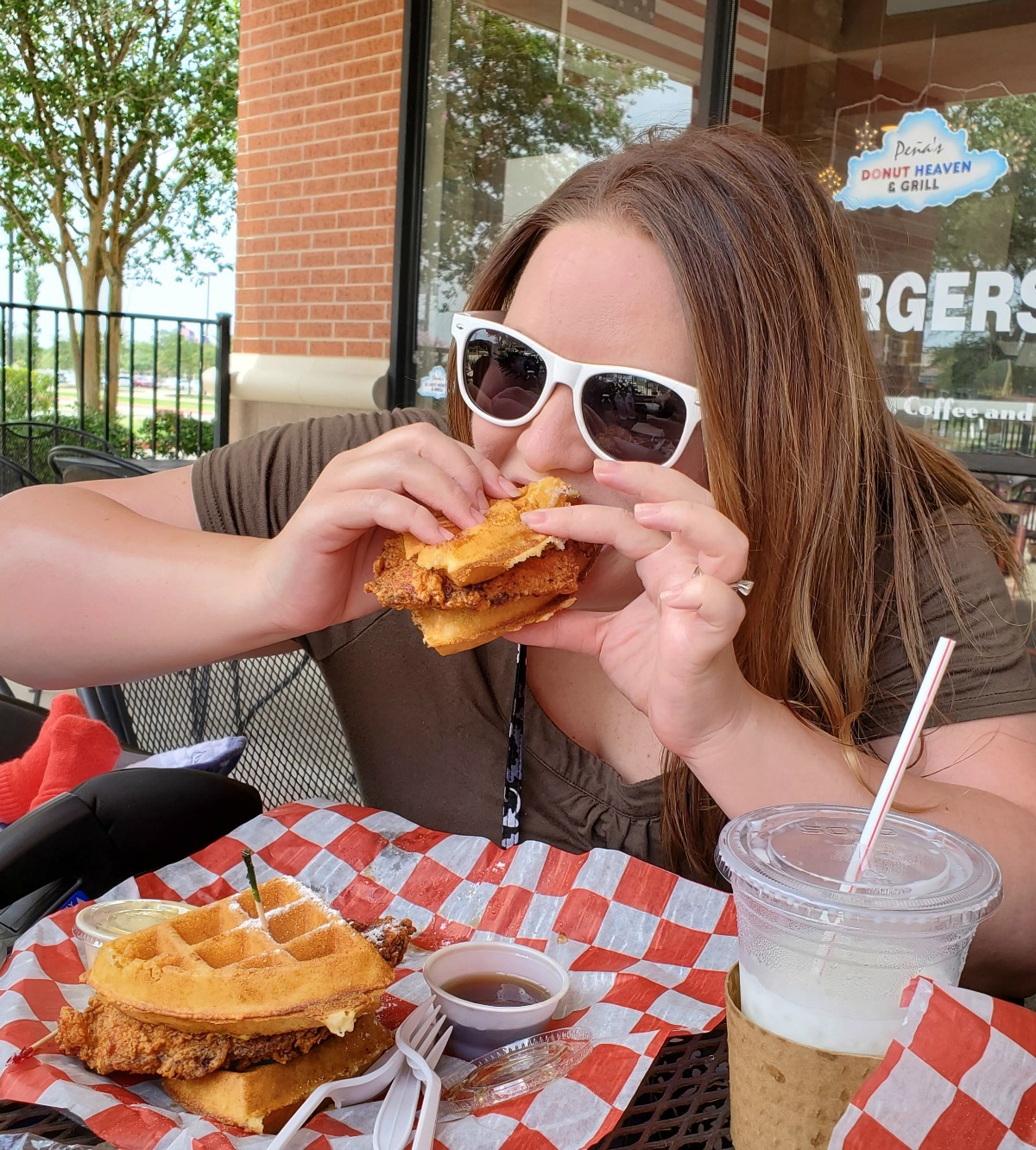 2. Art in Unexpected Places
Pear Sculptures: When you follow the Pear-Scape Trail, you'll find 20 pear-shaped public sculptures in ten places all over the city! Pearland has a list with a map on their website.
Pearland Murals: There are several murals around the city, but my favorite is the PEARLAND mural on the side of a building at 3532 Broadway Street.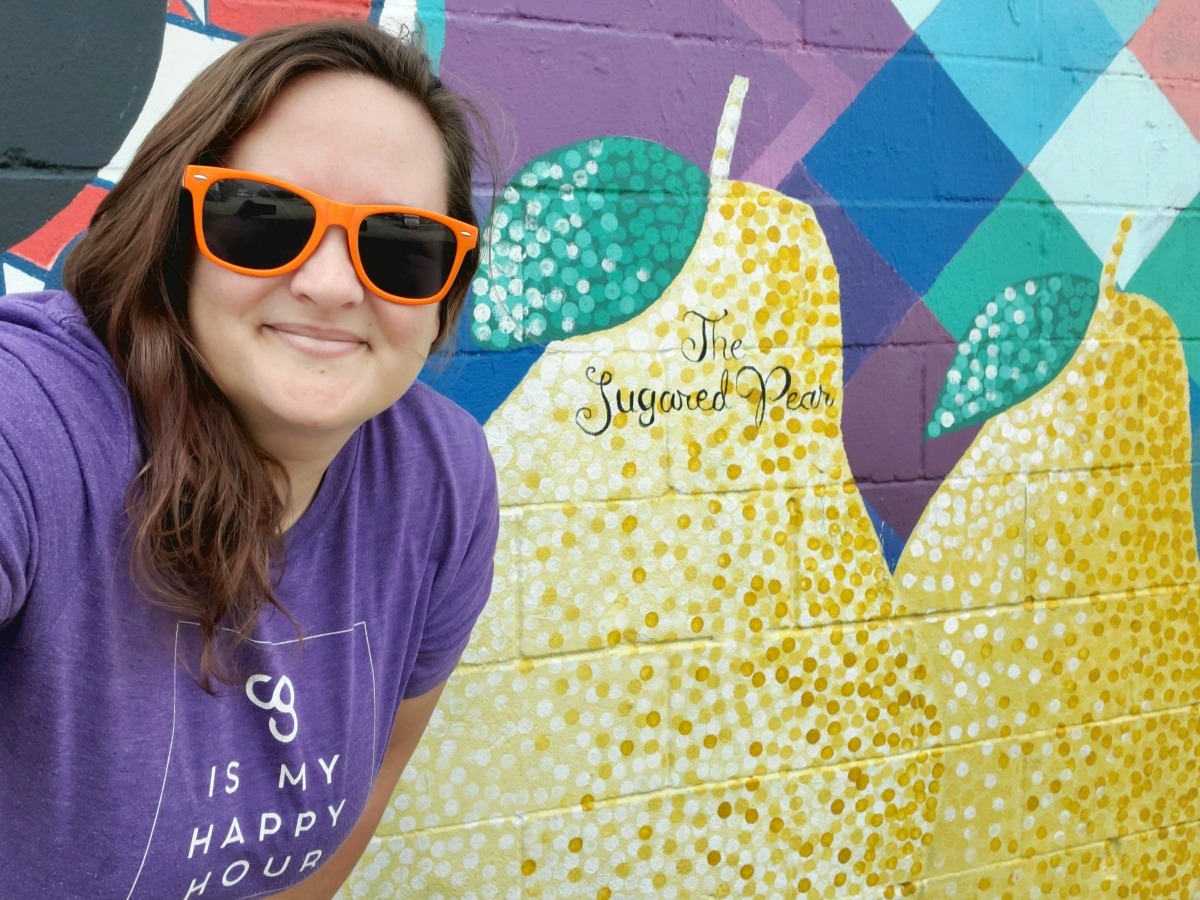 3. Birding Hot Spots
Pearland is in the Great Texas Coastal Birding Trail and sits in the Central Flyway which means that a variety of migratory birds can be seen during the spring and fall migration seasons. Pack your binoculars and camera for birding fun when you visit!
Shadow Creek Ranch Nature Trail

In Winter months: Sparrows, Blue-winged teal, Yellow-rumped warbler, Herring Gull, Cedar Waxwing can be seen.
Early spring is a great time for birding in Pearland with sightings for the Sandhill Crane, Pectoral Sandpiper and the Crested Caracara.
Year round, Killdeer, Herons, Egrets, Red Shouldered Hawks, Mottled ducks can be seen.

John Hargrove Environmental Complex

Year round, a wide variety of Herons, Egrets, Roseate Spoonbill, Ring-billed Gull, Ibis, Blue Jay, and American White Pelicans can be found. Bald eagles can be spotted in this area as well.
During the winter months, you will likely see Cedar Waxwing, Killdeer, Yellow-rumped Warbler, and American Coot.

El Franco Lee Park

Popular species in the Winter/Spring- northern shoveler, gadwall, green winged teal, northern harrier, wilsons snipe, eastern phoebe, vermillion flycatcher, house wren, American robin, orange crowned warbler.
During the Summer months you will be able to see Yellow-billed Cuckoo, Common Nighthawk, Purple Martin, Chimney Swift
In the fall season, Warblers are a common sight.
The following species can be viewed year round – Eurasian Collared-Dove, Rock Pigeon, European starling, Woodpeckers, black bellied whistling duck, Barred Owl.

Tom Bass Park

Kinglets, Chickadees, Eastern Blue Bird and Pie-billed Grebe

Christina Adair Park

Cardinals, Goldfinches and Blue Gray Gnatcher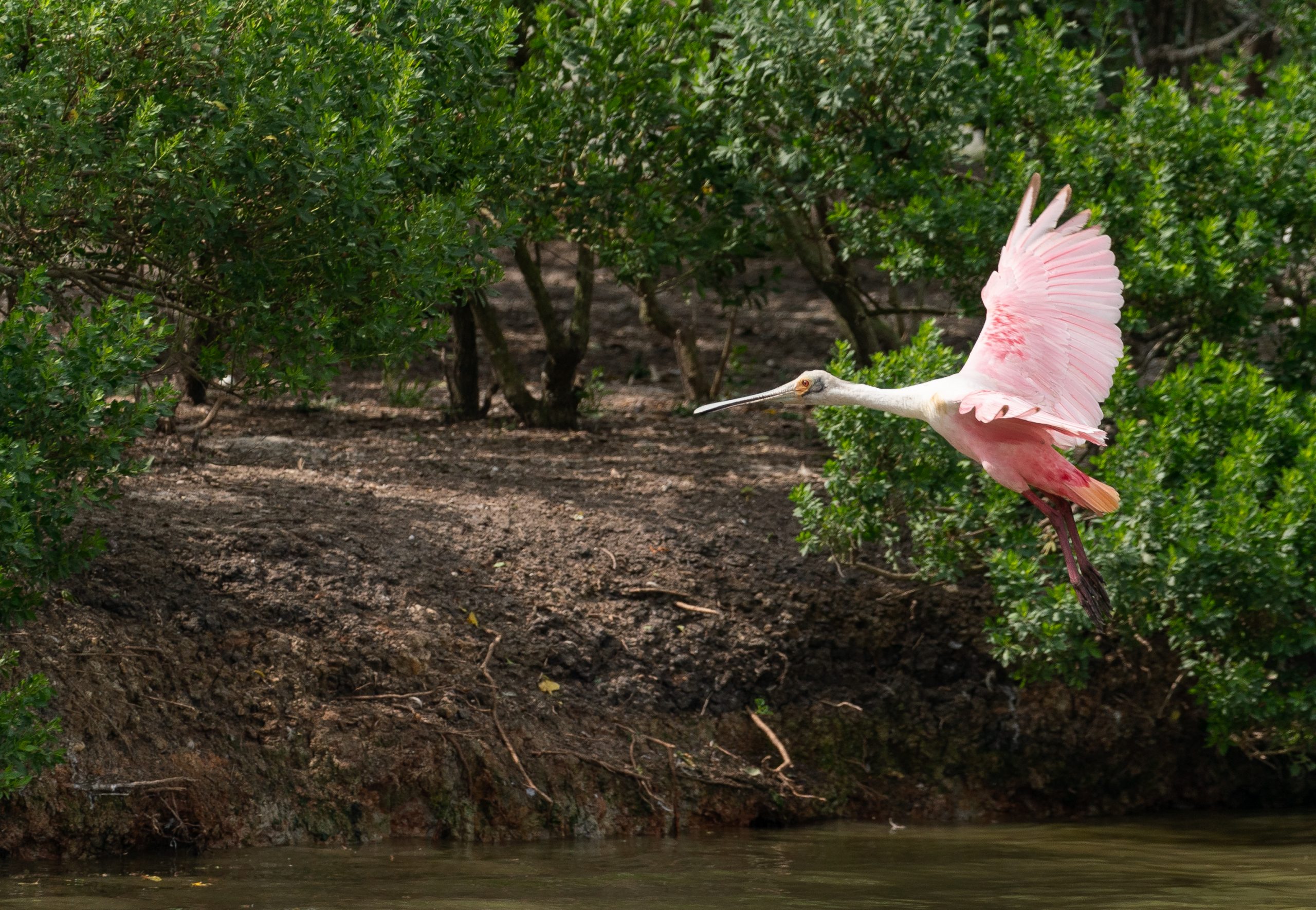 4. Beaches within Driving Distance
When you visit Pearland, a day trip to the beach is a must! Seabrook is only about 30 minutes away and Galveston is about a 45 minute frive from Pearland.
5. Houston-Area Fun Nearby
Downtown Houston is about 30 minutes from Pearland so a visit to the Houston Zoo, Space Center Houston or Houston Aquarium aren't out of the question, given you have the time!
6. Bonus: Historical Sites & Museums
I usually seek out small cities that are chock-full of historical sites & museums. I wouldn't say Pearland is full of those types of adventures but there are a few – the Old Settler's Cemetery and Sri Meenakshi Temple. I wanted to visit both but I didn't make time for cemetery and, thanks to Covid-19, the Temple was closed to visitors.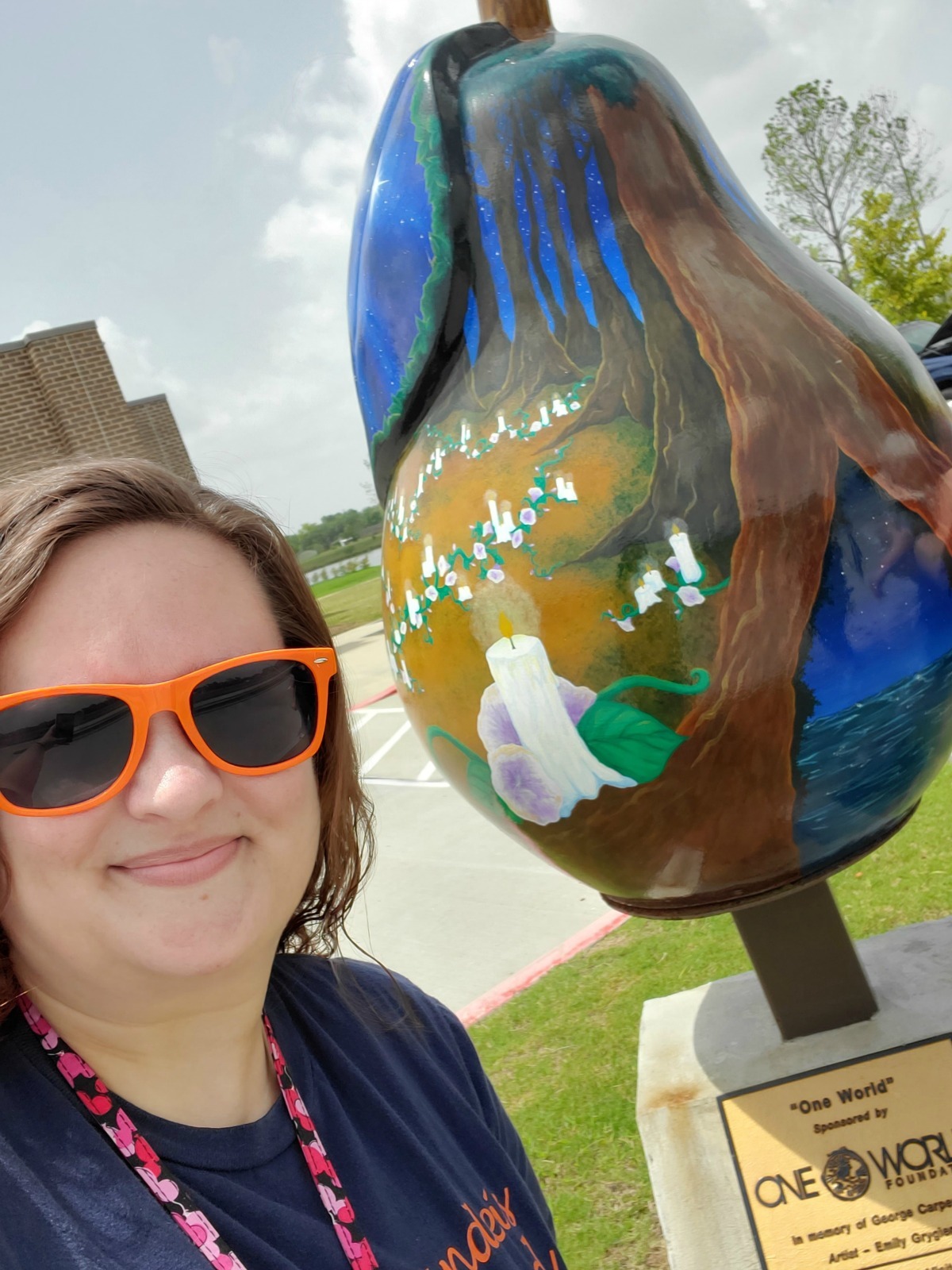 Y'all. If you get a chance to visit Pearland, make it happen. It's a great city to get away to – big enough to have plenty to do but small enough to feel like you've gotten away from home.