So, I voluntarily signed up for the Stonewall Kitchen Mustard Recipe Contest … and now I am thinking I was CRAZY to have done so.  You see, the challenge was to create a recipe using Stonewall Kitchen Mustard … ALONE!  No help, no recipe card … just me, my groceries and the mustard.
I can create recipes on my own but they usually don't turn out.  As you may have heard me say, I don't measure when I am "creating" … so IF something turns out, I don't know how to recreate it!
After sitting down and putting some thought into what to make, I decided that I needed to do something with chicken and my slow cooker.  Great.  But, what's next?
My ingredients list:
4 TBSP Bourbon Molasses Mustard, my choice from Stonewall Kitchen
1 lb. Chicken – cut into strips
6 TBSP cream cheese
3/4 Cup Coca-Cola
Throw all ingredients in the slow cooker and cook on low for 4-6 hours.
What I did:
I threw everything into my slow cooker, closed the lid, said a prayer and turned it on.  (I really thought it would turn out great!)
I made some noodles and green beans to go with the chicken (which still hasn't been "named").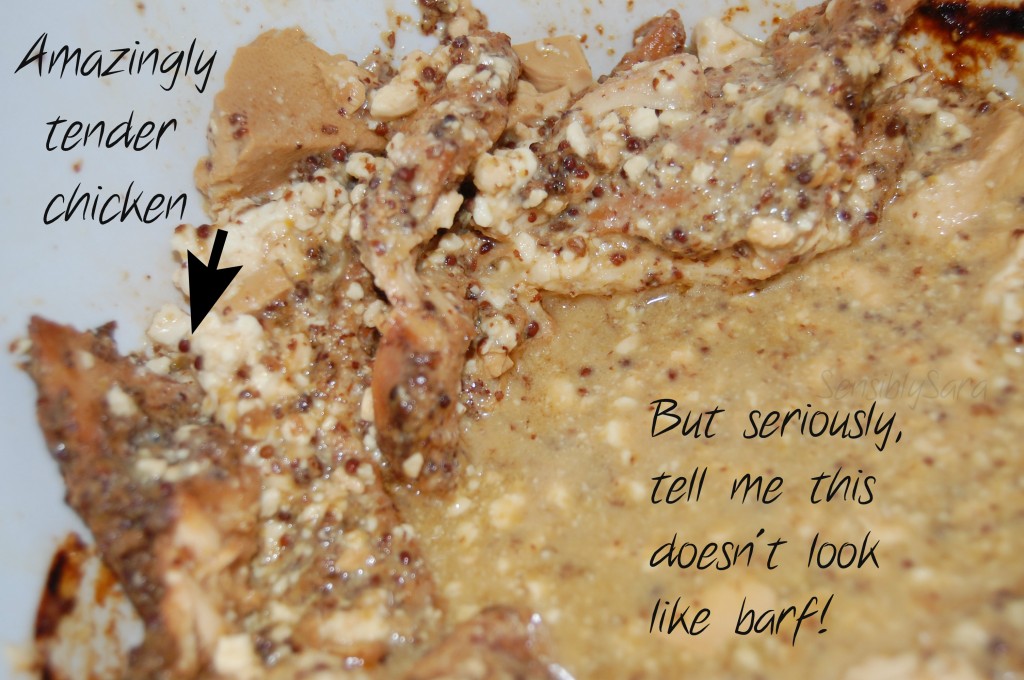 So, I plated it.  I thought maybe it would taste better if it LOOKED better …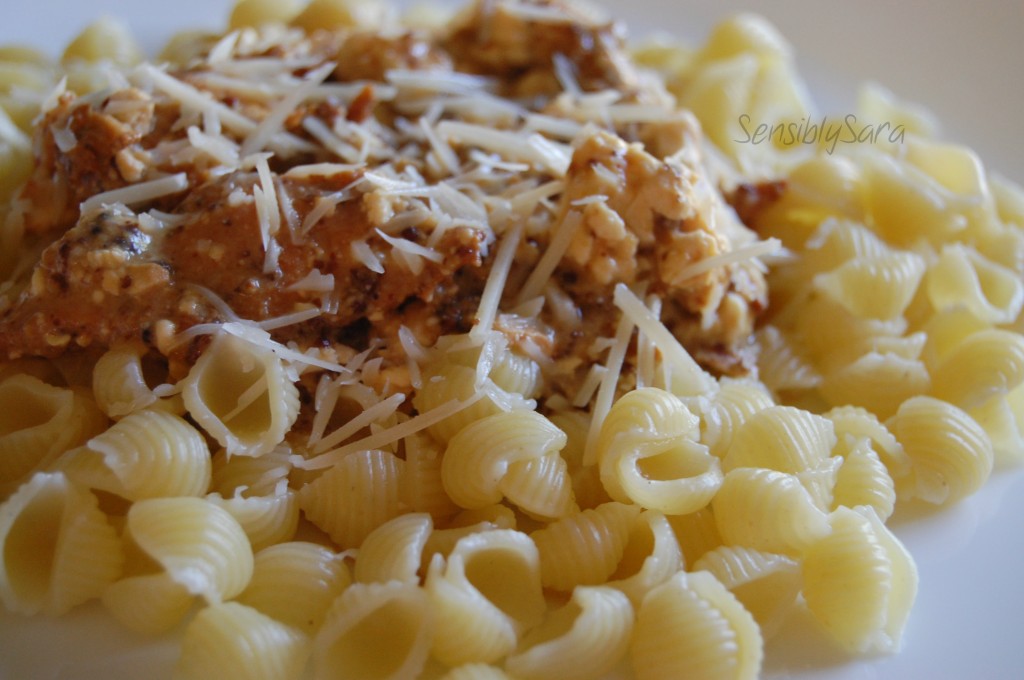 But, I was wrong … 🙁
Our thoughts:
James: "DISGUSTING!"  (I really thought he was going to throw it up as he tried to force himself to swallow it.)
Colin: "Yum, can I have more noodles – no chicken!"
Larry: "It's not SO bad … it tastes like burnt caramel popcorn.  We can still eat it."
ME:  I thought it was HORRIBLE!  I wanted to spit out the bite and brush my teeth to get the flavor out of my mouth.
NOW WHAT?!  
When it's THAT bad, you throw it out (if you have a one, you can feed it to the dog) and go OUT for dinner.  You don't even want to smell the aroma!
I often don't care for the things I make – it's a visual thing.  I've watched the process, it's hard for me to get passed that and enjoy the flavor (if it's actually good).  
If I had had more time, I would have attempted to make another (MUCH BETTER) meal.  I will probably get around to it next week.
 Have you ever messed up a meal so bad that you couldn't salvage it?
What would you have created with the Bourbon Molasses Mustard? 
**Full Disclosure:  I received product for review purposes and to create my own recipe.  I did not receive monetary compensation for this post.  All thoughts and opinions are my own.