**Full Disclosure: This is a sponsored post as part of the Shaklee Corporation blogger program. I have received free products, online support and incentives for participating in the Shaklee Corporation blogger program. My thoughts and opinions are mine. I am also a Shaklee Independent Distributor.
People following the weight-loss portion of the Shaklee 180™ Program can expect to lose 1-2 pounds per week.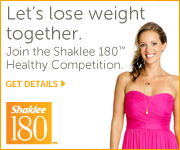 Next week, I'll share the second month's official numbers, but for this month's vlog, I am talking about the Shaklee180 Meal-in-a-Bar:
I felt a little more confident while doing this vlog – it only took 3 takes as opposed to last month's 10! 😉 But after watching it, I've decided my arms are still chubby and I need to keep from talking with my hands as much!
Thank you all so much for your continued support!