**Full Disclosure: As Sea World's VIP guest, I received free admission to Howl-O-Scream, a Quick Queue pass, and dinner. All opinions are my own.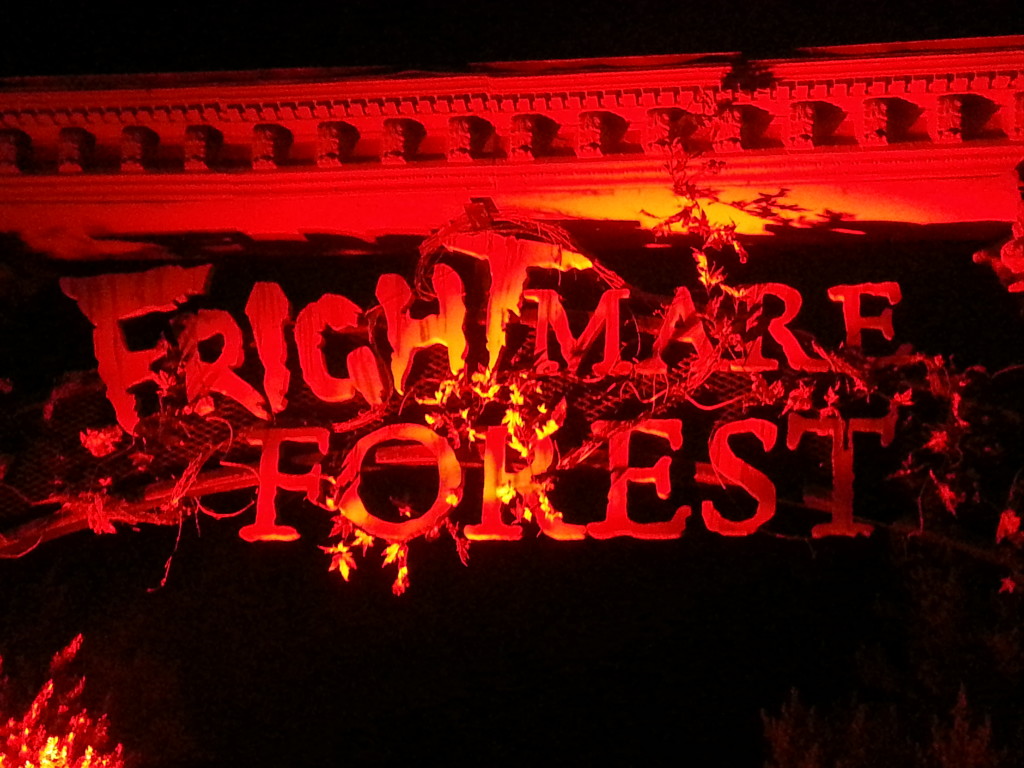 Confession: I am a scaredy-cat! But when Sea World asked if I'd join them as a VIP for Howl-O-Scream's opening night, I knew I had to say yes. My husband would have been so bummed if I'd said no. Plus, it would be a scarily fun date night and I'd get to attempt to conquer my scaredy-cat-ness.
And in all honesty, when we arrived at the park, I wasn't sure I'd even attempt any of the haunts, let alone be able to make it through them!
My husband and I caught up with Colleen and Kristina (two other bloggers) and their guests at the Blood Thirsty Vampire Bar. While we were here, Colleen was taken by vampires!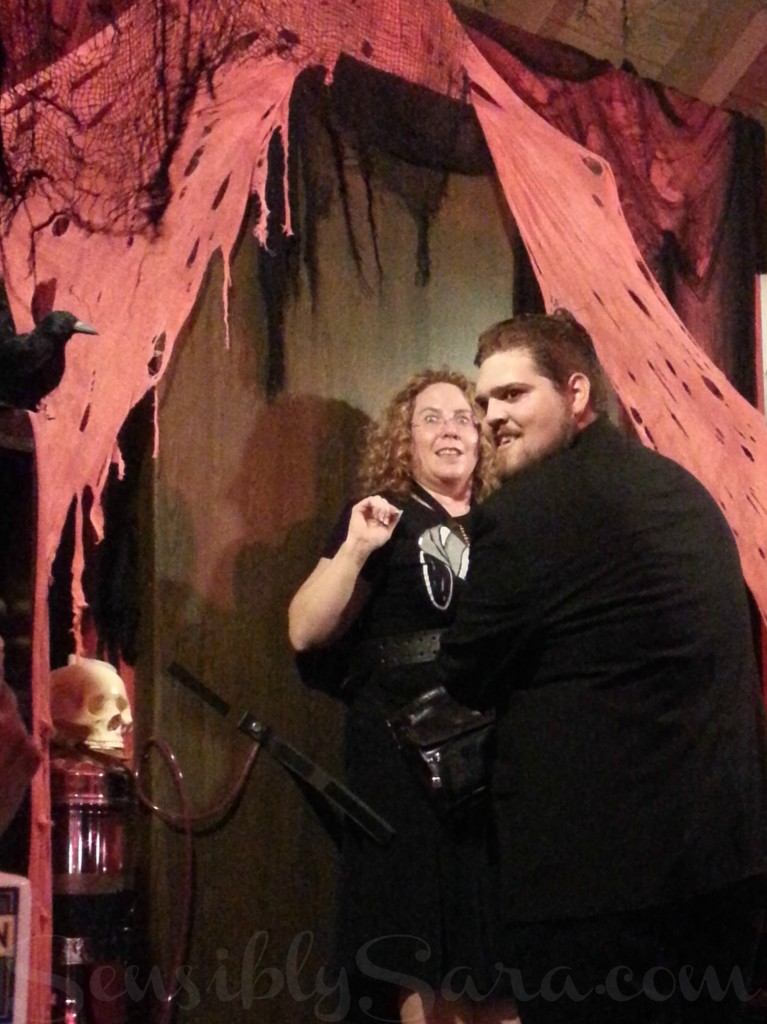 When Colleen safely returned, we'd made a plan to start with the most scary haunts so that by the end of the night, we wouldn't be as freaked out. (We didn't stick to our plan.) So after Blood Thirsty, we went and started the haunts (in order of visitation): Frightmare Forest, Prey: Where the Hunter Becomes the Hunted, S.O.S. Maze: Clowns in Control and finally Den of the Departed: Zombie Takeover.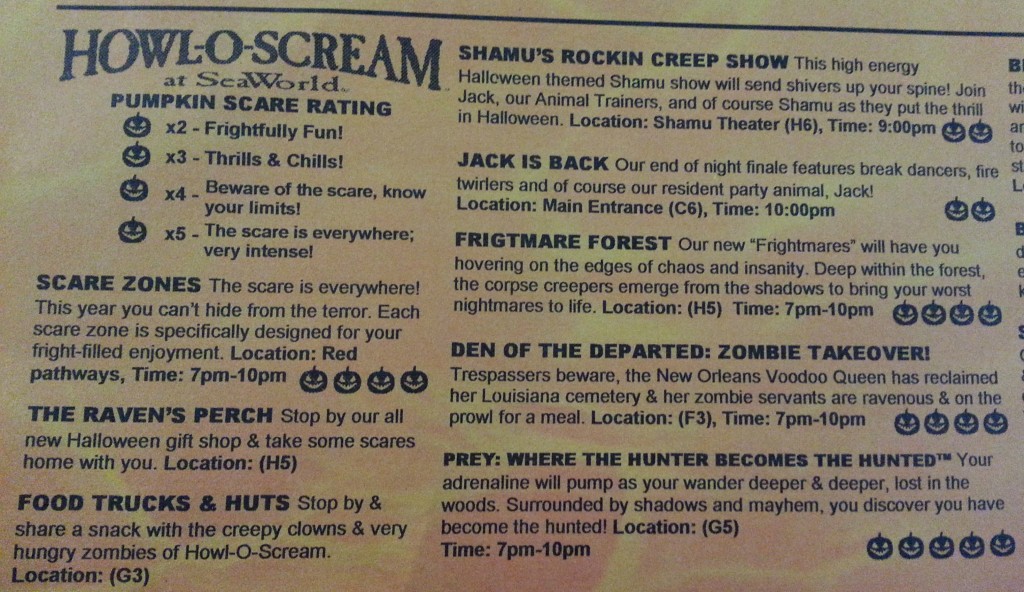 Starting at $14, Sea World sells three Quick Queue pass options for Howl-O-Scream. With the Quick Queue pass, you'll save time by going straight to the front of the line! If you are a scaredy-cat like me, you'll want the Quick Queue pass so you don't chicken out!
I've mostly blocked out the haunts. But I do remember being FREAKED OUT – thank goodness for Colleen, my husband and their hands!! Frightmare Forest seemed to last forever (I am sure it was really only less than 5 minutes) and I couldn't wait to get out of there. While Prey: Where the Hunter Becomes the Hunted was a creepy – I remember telling my husband we wouldn't be going camping for at least 6 years – it didn't seem nearly as long as Frightmare Forest! At one point, though, they want you to go through this relatively short 'house' but the walls are REALLY close and you have to walk sideways through it. I couldn't do it. After a minute or two of freaking out, the zombie let me go through the MUCH larger section. Next we moved on to S.O.S. Maze: Clowns in Control which has a REALLY cool entrance – just be prepared to feel awkward! I was feeling brave in this haunt because when one clown jumped out and said "Peek a boo," I countered with "Back atcha!" When we were making our way through Den of the Departed: Zombie Takeover, Colleen told me she felt me squeeze her hand – so something must have scared me more than it did her!
All in all, the haunts are fun in a creepy-ish way, but I could not have done it without my husband & friends! Would I do them again? Maybe. But I am not one to seek out the heebie-jeebies.
Be warned that any of these creepy people can get really, REALLY close to you, but they can't intentionally touch you.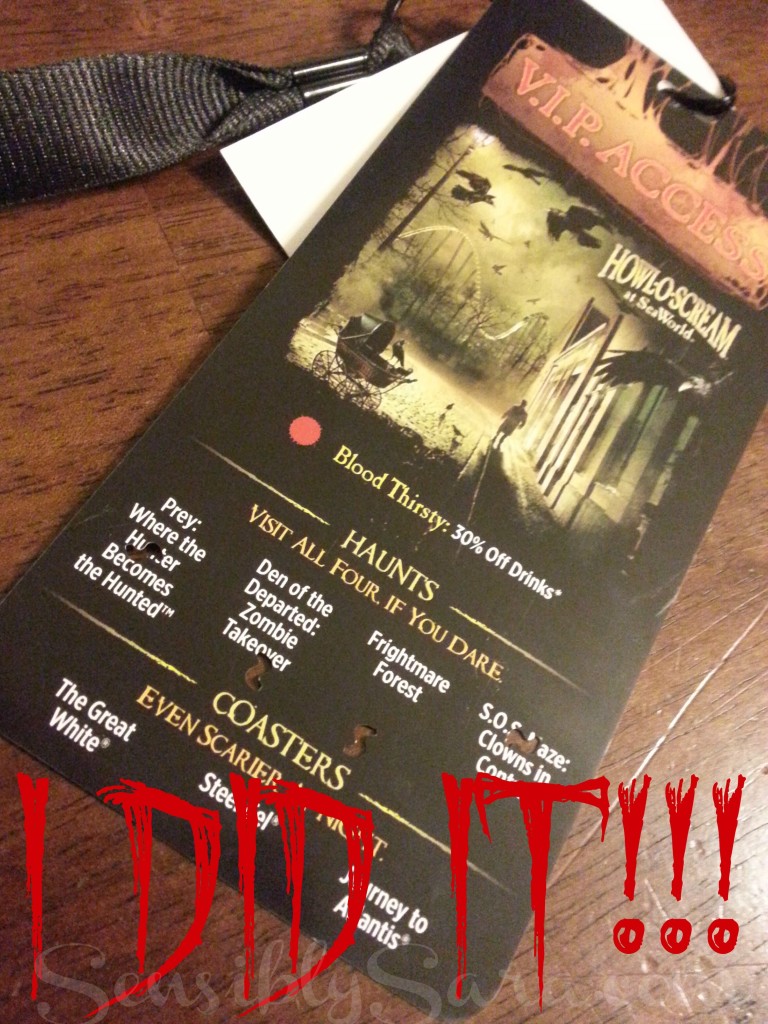 Before you leave, you can join Jack at the main entrance promptly at 10pm for his 'Jack is Back' show!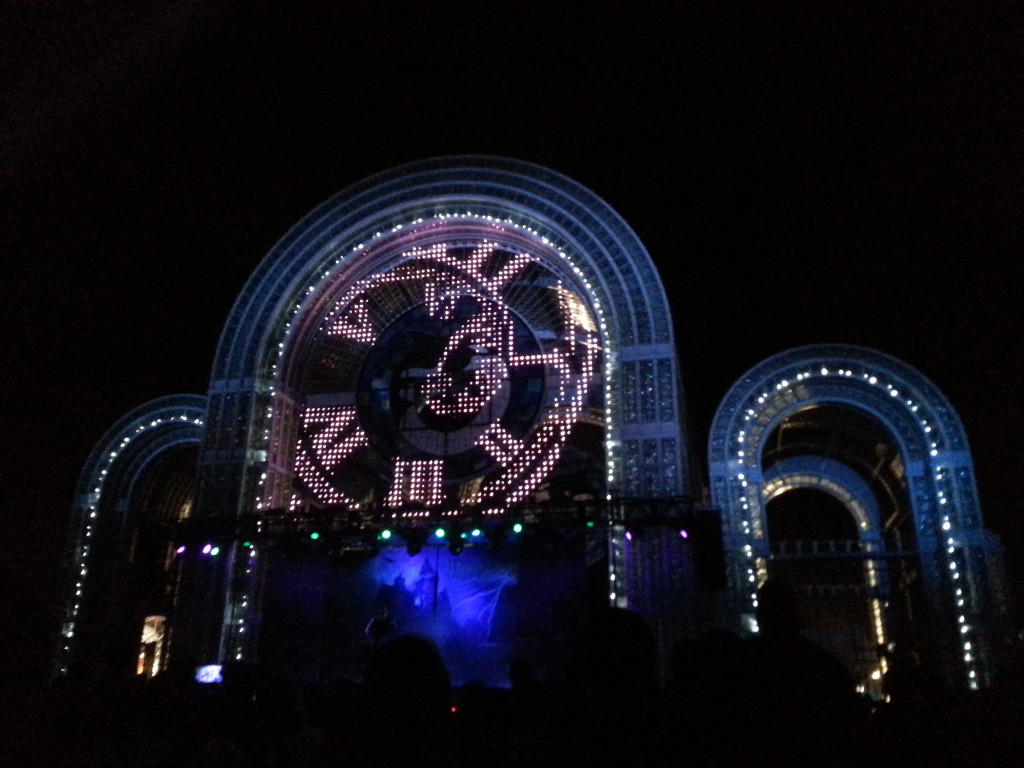 Friday, September 27 was opening night for Sea World San Antonio's Howl-O-Scream. It is open Friday and Saturday (9/27 – 10/27) as well as Sunday, October 13 from 7-10pm. Please don't take kids under 13 – the park warns us that the scare level is not intended for small kids! Howl-O-Scream is included with your park admission. If you don't have a Season Pass or Fun Card, admission is just $25 when you enter the park after 6pm. Read more about Howl-O-Scream.
Are you a scaredy-cat like I am? Or do you like the thrill of a good scare?