Walt Disney World, located in Florida, is comprised of 4 theme parks, 2 water parks and several hotels/resorts. According to the 2018 TEA/AECOM Theme Index and Museum Index, Magic Kingdom was the World's Most Visited Theme Park in 2018, with 21 million guests. Magic Kingdom is divided into 6 themed areas – Liberty Square, Main Street, U.S.A., Adventureland, Fantasyland, Frontierland, and Tomorrowland. There are a ton of not-so-hidden Magic Kingdom Secrets all around the park, but here are a few of my favorites!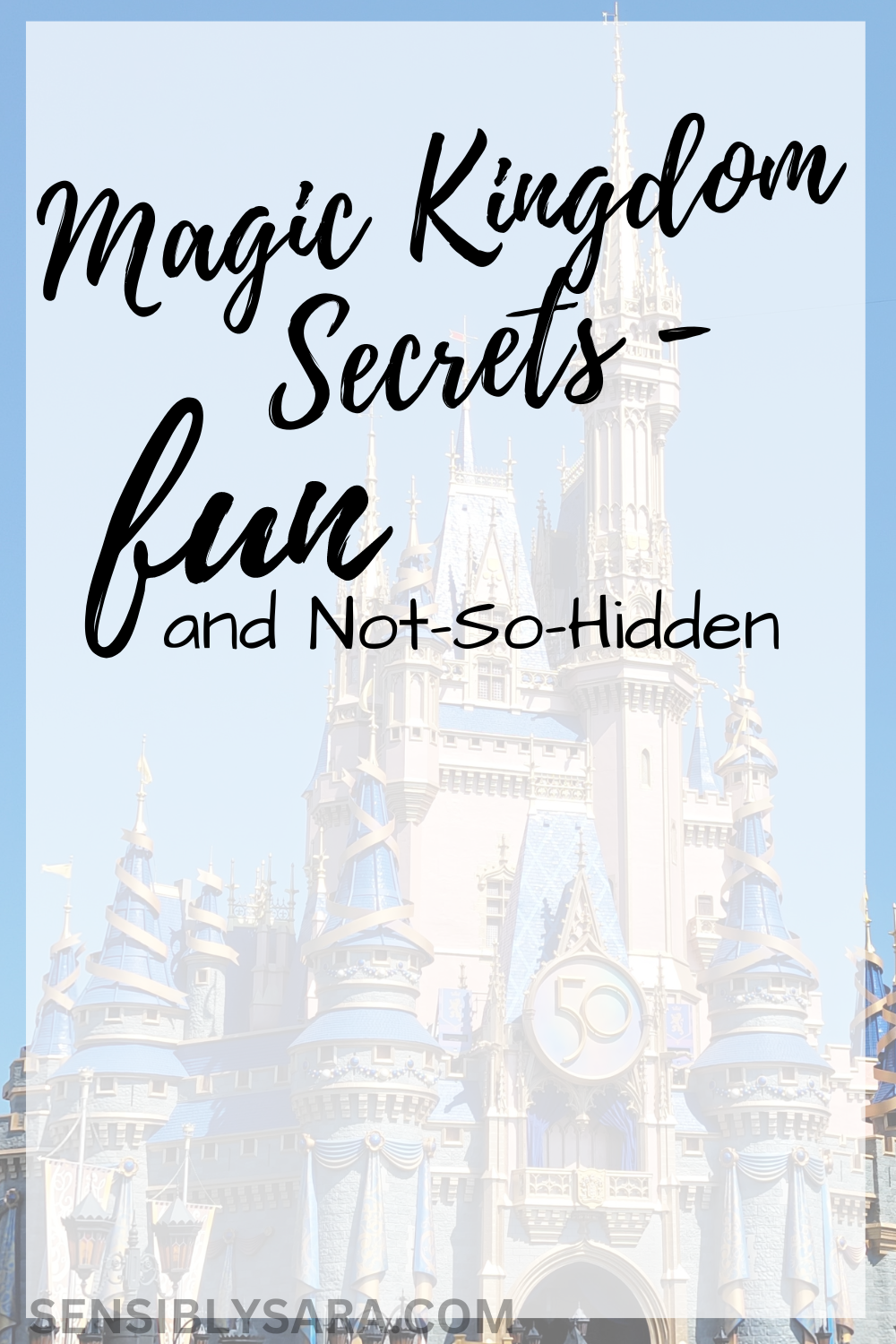 Find These Not-So-Hidden Magic Kingdom Secrets –
ADVENTURELAND
Skeleton Stalemate – In the queue for the Pirates of the Caribbean dark ride attraction, be on the lookout for two skeletons who are playing a game of chess. The pirates have turned into skeletons because they have been playing the game so long and the game is actually in a stalemate, meaning neither player can ever win the game.
FANTASYLAND
Willie the Giant – When you're in Sir Mickey's Gift Shop, look up at the ceiling. See if you can spot Willie the Giant, from the 1947 Disney cartoon – Mickey and the Beanstalk, peering down at you from under the roof.
FRONTIERLAND
Mountain Train Names – Located at the far end of Frontierland, behind Splash Mountain, the Big Thunder Mountain Railroad is an Old West-themed, rustic, mine train roller coaster that takes riders through an abandoned mine town. Each of the six trains has a clever, unique name- I.B. Hearty, I.M. Brave, I.M. Fearless, U.R. Bold, U.R. Courageous and U.R. Daring.
LIBERTY SQUARE
Ballroom Scene – Inside The Haunted Mansion dark ride attraction there is a ballroom scene. Within the scene, you may notice a familiar face – an old lady sitting in a rocking chair. She is an animatronic duplicate of the Grandmother from the Carousel of Progress, a revolving stage, animatronic attraction, located in Tomorrowland.
MAIN STREET, U.S.A.
Fake Flags – Along Main Street, there are flags that look like real American flags, but this is not the case. They are not true American flags and if you look closely, they are missing a star or a stripe. This is because according to the United States Flag Code, real flags need to be flown at half-staff during certain times and need to be taken down or lit up at night, something too tedious for cast members to do each morning and each night.
**RETIRED** Sorcerers of the Magic Kingdom – In this interactive scavenger hunt, Hades has an evil plan to make Magic Kingdom park his new summer home. He's enlisted a brigade of Disney baddies—Cruella, Scar, Jafar, Maleficent, Ursula, Yzma, Ratcliffe and Dr. Facilier—to help track down 4 enchanted crystal shards, which are hidden throughout the park. It's up to you to foil their plans and save the day. Bonus: Be on the lookout for limited time offering cards sometimes available during park special events.
TOMORROWLAND
Mysterious Kugel Ball – While many visitors have probably noticed the huge black kugel ball, located near the Merchant of Venus, most have no clue what it is or what it does. Weighing 13,227+ pounds, a kugel ball is a large granite sphere, floating on an extremely thin plane of water, which is pumped from underneath, lubricating the sphere and creating a pressure that causes it to easily rotate.
Do you have any favorite not-so-hidden Magic Kingdom secrets?