**Full Disclosure: This shop has been compensated by Collective Bias, Inc. and its advertiser. All opinions are mine alone. #FrenchsDippingSauces #CollectiveBias
I LOVE soft pretzels but I don't really enjoy spending money on them so I recently taught myself how to make Homemade Pretzels. Y'all. You'll never go back to store-bought soft pretzels. These are SO much better!! But when you snack on them with French's® Dipping Sauces from HEB, homemade pretzels become an out of this world treat.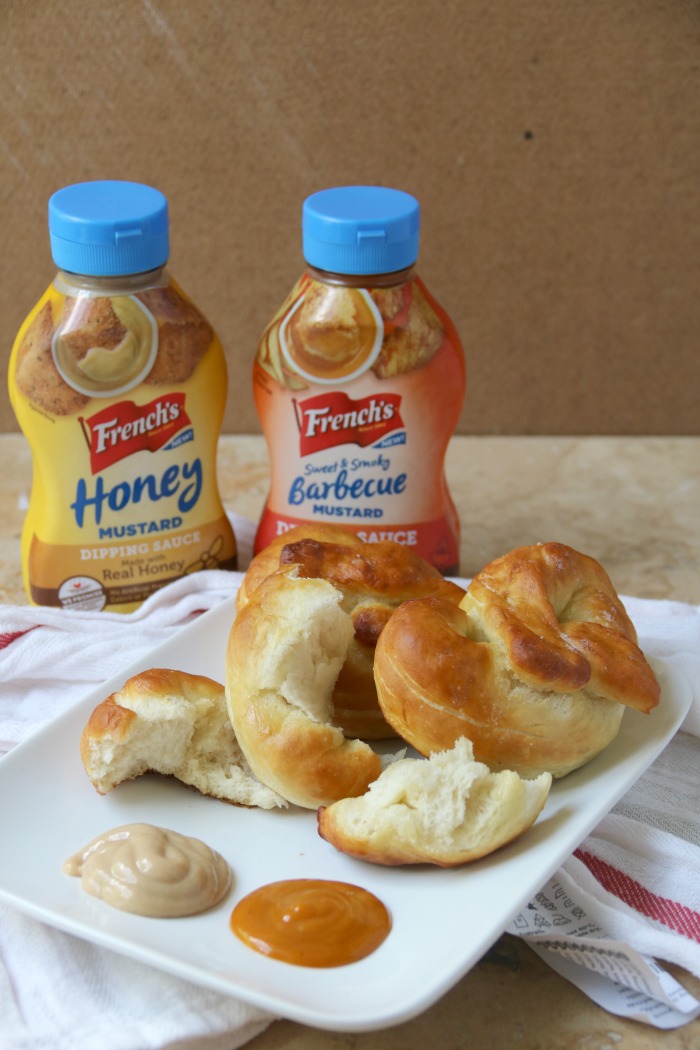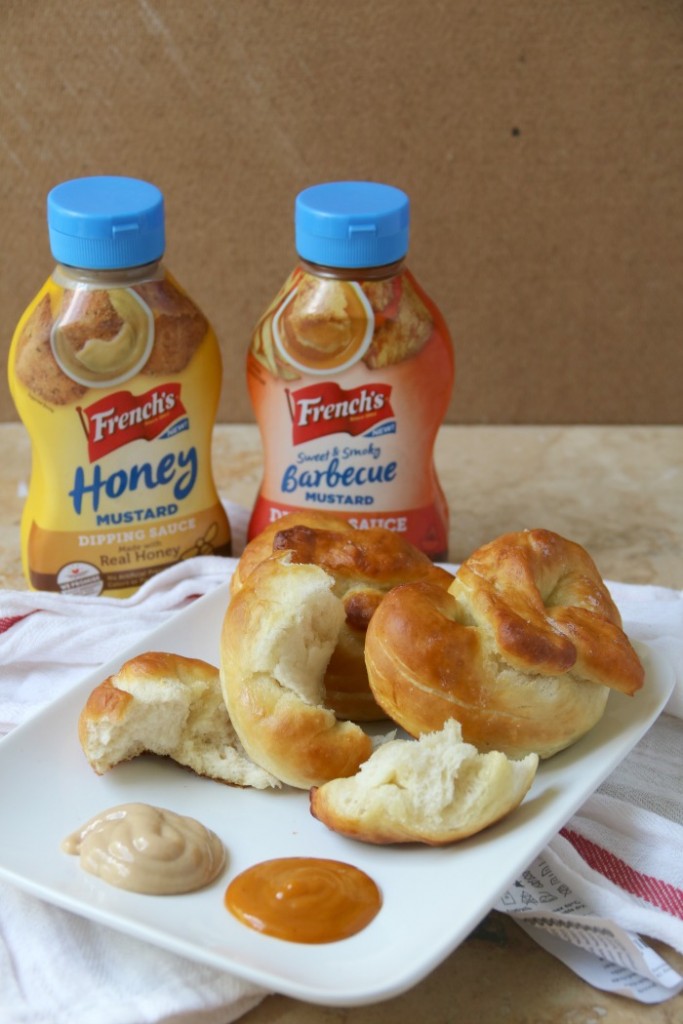 HEB is my favorite grocery store because they carry all the cool, new items at reasonable prices. French's® Dipping Sauces is one of those things. It can be found in the condiment aisle at your favorite HEB store for less than $3 per bottle. The dipping sauces come in a variety of bold flavors without any bad stuff –
Honey Mustard Dipping Sauce: No High Fructose Corn Syrup; No Artificial Flavors; Made with Real Honey
Sweet & Smoky BBQ Dipping Sauce: No High Fructose Corn Syrup
Sweet Buffalo Dipping Sauce: Made with Frank's® RedHot; No Artificial Colors
Save $1 on one bottle of French's ® Dipping Sauce! The HEB digital coupon will be available now through 7/6/19. Coupon machines will be in the aisles between now and 7/14/19.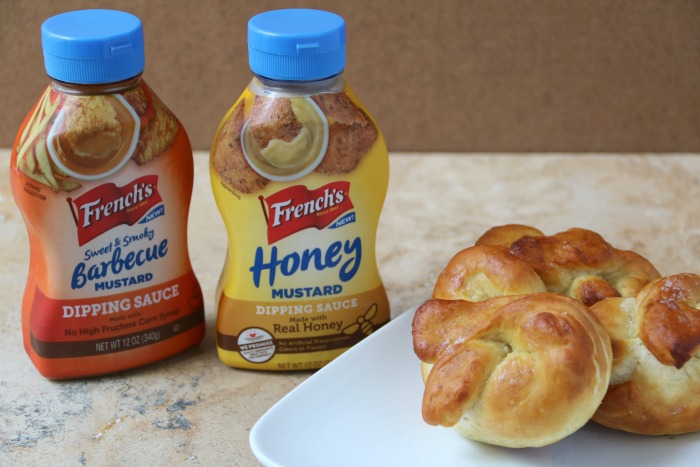 Homemade Pretzels –
Ingredients:
1 standard packet (or 2 1/4 tsp) active dry yeast
1 cup warm water
1 TBSP unsalted butter, melted
1 tsp sugar
1 tsp salt
3 cups all-purpose flour (plus 1/4 – 3/4 cup more, if necessary)
2 cups water + 4 TBSP baking soda
6 TBSP salted butter, melted
Coarse salt, optional
Directions:
Combine yeast with warm water and sugar in a stand mixer bowl using the hook attachment.
Mix until frothy.
Add in salt and unsalted butter until incorporated.
One cup at a time, add in the flour until a dough forms and the mixture is no longer sticky.
When stop the mixer and press your finger into the dough, it should bounce back. At that point, mix the dough for about 3 more minutes.
Remove the dough from the bowl, form it into a ball and place it back in the bowl for 15 minutes.
Preheat the oven to 475 degrees.
Now boil water and baking soda to create a pretzel bath.
Once the baking soda is mostly dissolved, pour the water into an 8×8 baking dish and allow the water to cool off a bit.
When 15 minutes is up, take the ball of dough and flatten it with the palm of your hand. It should still be pretty thick.
Cut the dough into eight equal sections like you'd cut a pizza.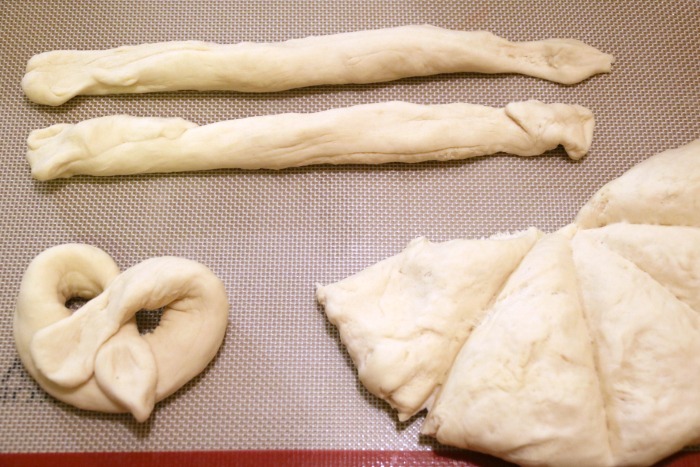 Take one triangle, roll it into a rope and form a pretzel shape.
After each of the sections is formed, set the dough in the baking soda bath. Ensure that the whole thing is covered and let it soak for about two minutes.
Gently pick up the pretzel and set it on a lined baking sheet.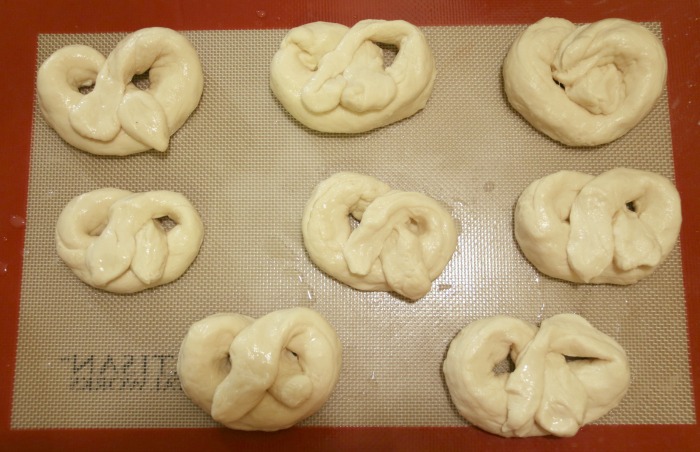 Optional: Sprinkle coarse salt on the pretzels before baking.
Bake the pretzels for 8 – 9 minutes or until golden brown.
Immediately remove them from the oven and smear with salted butter.
Serve warm with French's® Dipping Sauces and enjoy!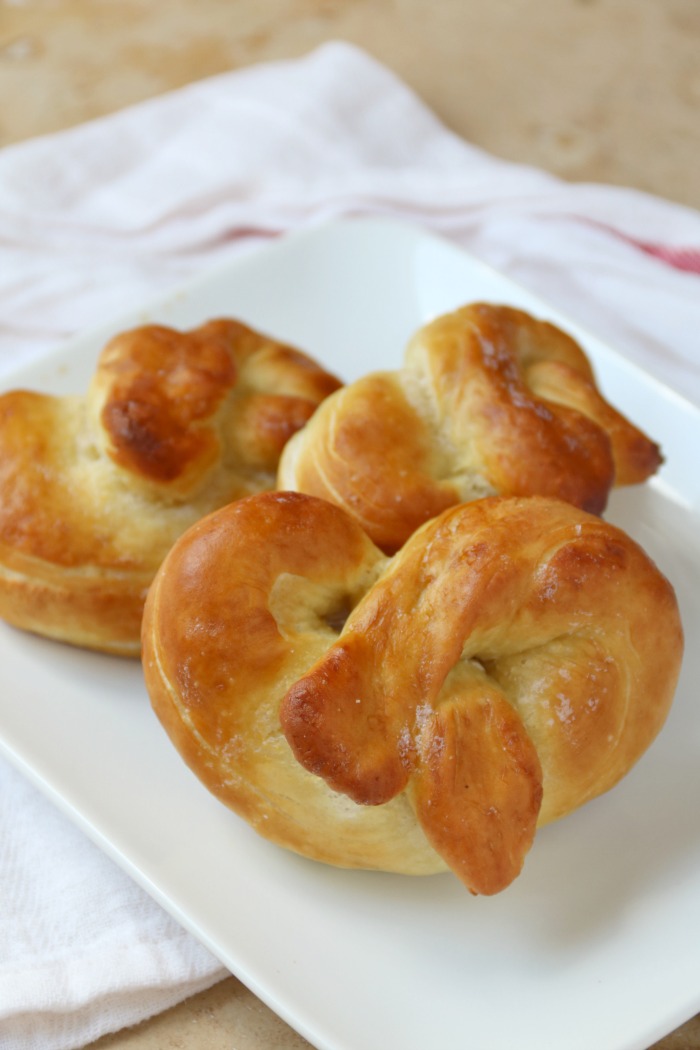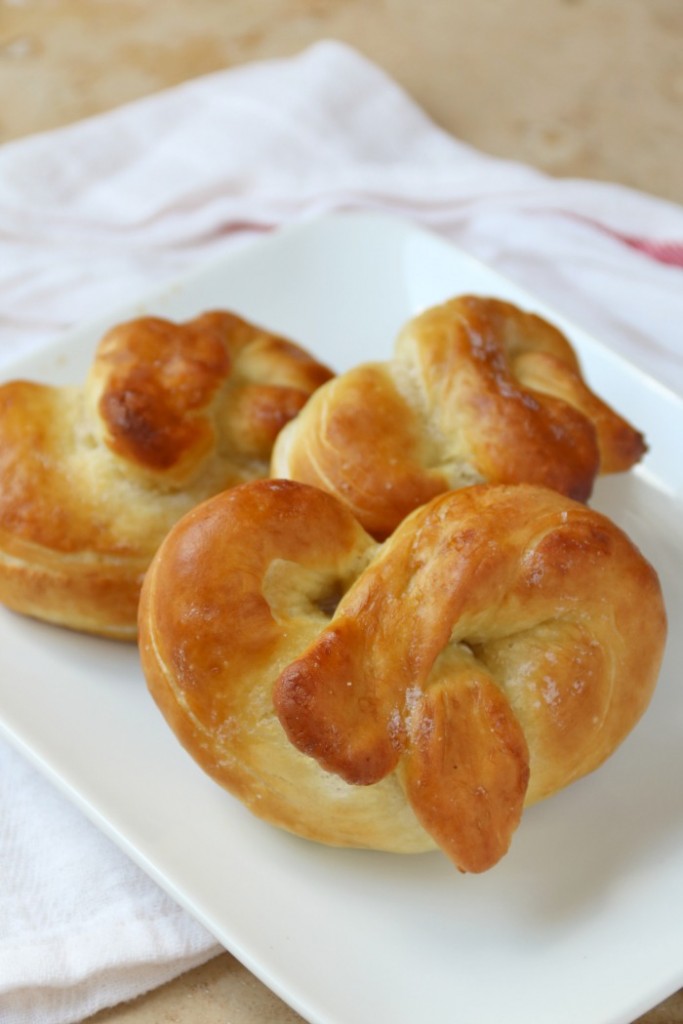 I had some definite doubts about how well my pretzels would turn out but it was far easier than I'd anticipated. And while I used the dipping sauces for my delicious homemade pretzels, French's® dipping sauces also pair perfectly with veggies, wings and more. It would be good in my kids' lunch boxes, as an after school snack, or for having friends over for a game night, too. The possibilities are endless!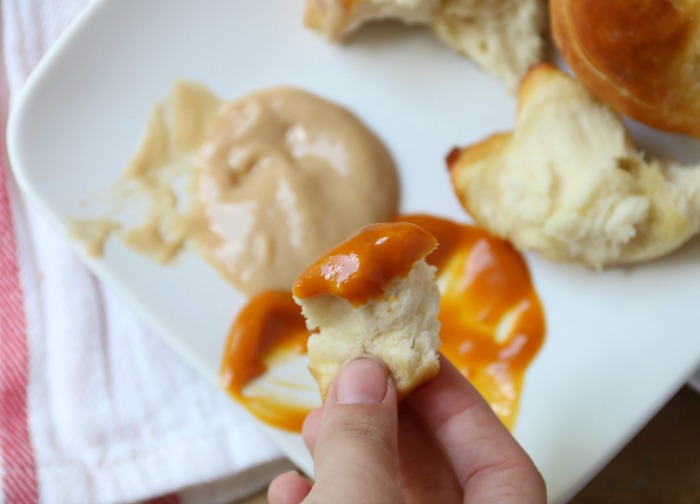 I could have eaten all eight pretzels but I shared a few with the office staff at my son's school, Colin and I each had one and then I saved the rest to re-heat the following day. I much preferred the Honey Mustard Dipping Sauce but Colin said the Sweet & Smoky BBQ Dipping Sauce was better. Either way, we enjoyed our after school snack together!
Will you make pretzels for after school or summer snack?