Have you ever taken your kids to a pool or water park? My boys love it when we go anywhere with water. They have an amazing time and don't ever want to leave. All good things must come to an end, though. And when it's time to go, I help wrap towels around their little bodies and we walk to the car. About thirty seconds later, the towels fall down or off and I get stuck with them.
I needed a towel that would stay put and still do its job. A towel poncho. Brilliant, am I right? I can't take full credit for this. I saw something similar when I walked past a little shop at a water park. I knew I could make my own (and save quite a bit of money by doing so).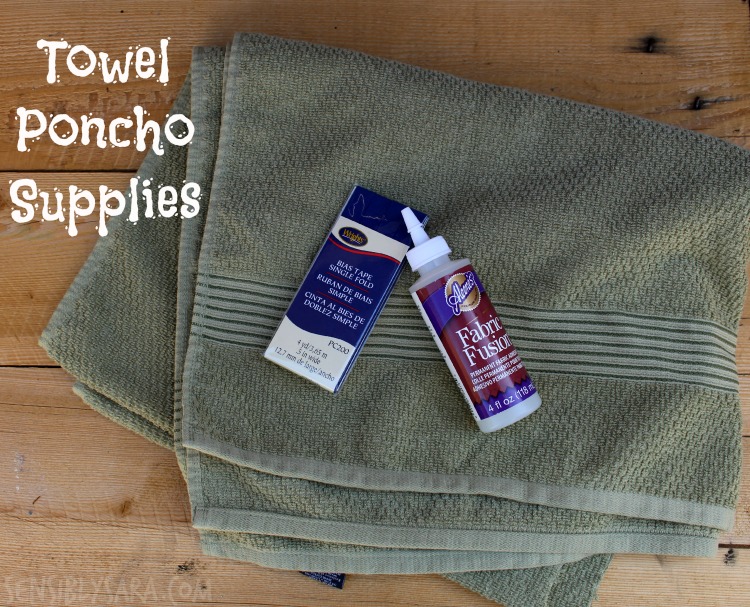 I bought the towel at Kohl's for $5.99. The bias tape ($3.99) and Fabric Fusion ($7.99) came from a Joann Fabric & Crafts store. I used coupons on every item purchased.
What You'll Need:
Scissors
Towel
Tape measure
Cardboard or wax paper
How To Make a No-Sew Towel Poncho:
If the towel is new, wash and dry it.
Fold it 'hamburger style'. Make sure it's even.
Measure the fold from one side to the other. Make a small slit in the very center.
Enlarge the slit by measuring 5-6 inches down the middle of the towel and cut.
Cut two pieces of bias tape the same length as your slit.
Wrap the bias tape around the right side of the slit. Using the Fabric Fusion, glue down one side of the tape. Once that side is dry, glue the other side. Then move to the left side of the slit and repeat.
Let everything dry for 24-48 hours.
Use & enjoy!
Note: You could sew the bias tape down (it would be a lot smoother and look prettier!).

You could make the towel poncho in any color combination – which is great so that it can be customized to fit each child's personality!
Initially, James and Colin weren't convinced that the towel poncho was a good idea. I quickly proved them wrong! And, bonus? I didn't have to carry the towels back to the car!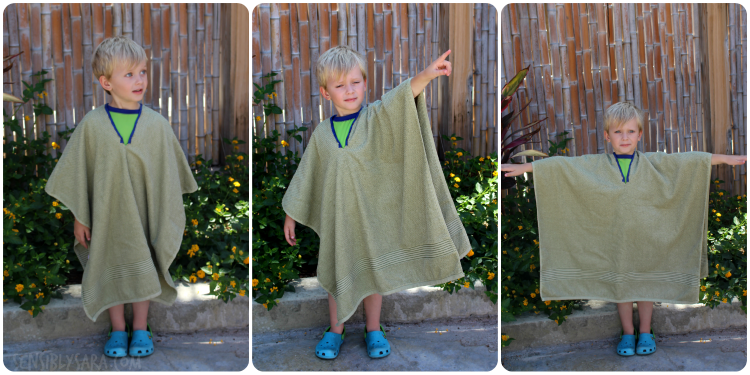 Will you make a towel poncho?
*There may be affiliate links in this post.