**Full Disclosure: This shop has been compensated by Collective Bias, Inc. and its advertiser. All opinions are mine alone. #YouGottaBeKittenMe #CollectiveBias
Our cats all have their own personalities but Mordu has the 'hot mess' personality!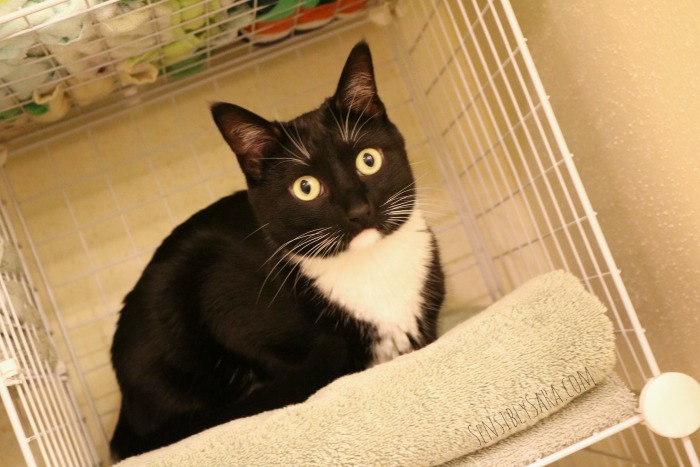 A friend found Mordu before his eyes were open in a field by her house. She couldn't just leave him so she took him home and bottle-fed him. She posted the cutest photos on her Facebook and Instgram accounts and I knew I had to have him! I finally convinced my husband and we brought Mordu home when he was 6 weeks old.
Little did I know what I was in for, though! Mordu is into everything all the time (but, of course, I wouldn't have it any other way). Mordu climbs the bunk bed ladder so he can sleep in Colin's bed, from there he'll jump on the curtain rod and chew on the metal finial. He jumps up on the fridge and knocks the magnets off. He jumps on top of the towel rack in the bathroom and then looks at me like, 'What?! I'm allowed up here!' He bites my toes while I'm trying to sleep and Mordu playfully attacks my husband's arm while he watches TV.
Just last night, I caught Mordu sleeping on the towels. Today he was pulling round chocolates out of their open box on the table and then batting them around like toys.
image
We have the cats' food, water and cat litter in our bathroom. I finally purchased a water dish with a rubber bottom so Mordu couldn't knock it over as easily. I was wrong. He hits the side of the dish just right and water flies across the bathroom. The food and cat litter are no different. I am constantly cleaning up messes! In an effort to keep the cat litter contained to the litter box, I decided I'd make a cat litter box curtain.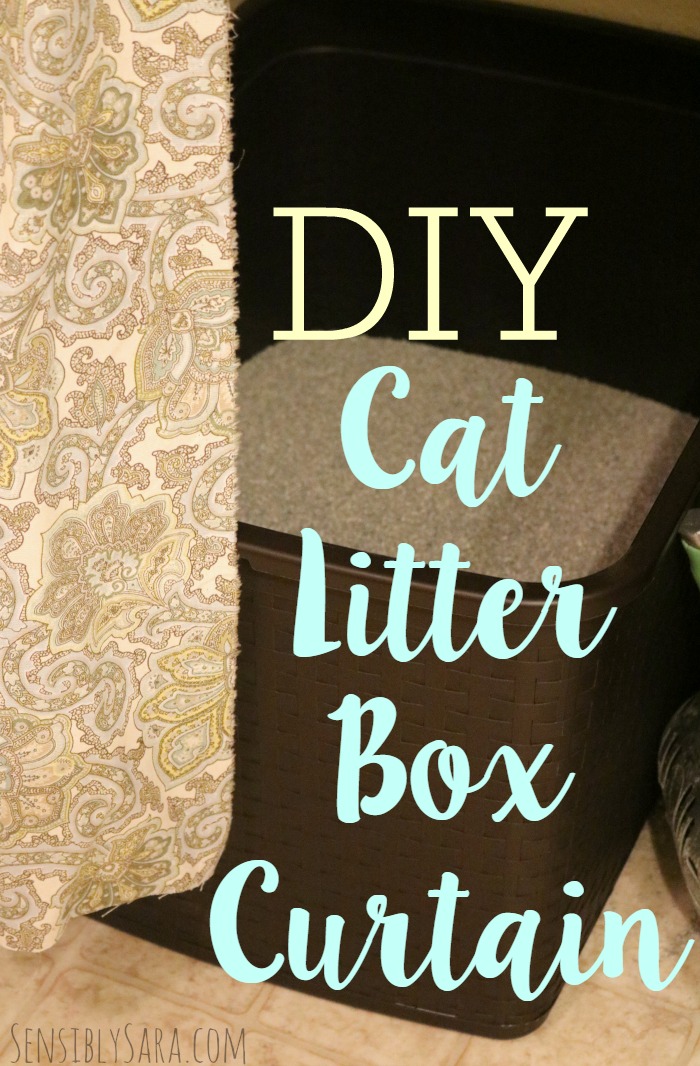 It's far easier than it sounds, I promise, as it's a no-sew project!
You'll Need:
Fabric (enough for your space)
A Tension Rod
Fabric Glue
Scissors
Storage Tub(s)
Fresh Step Total Control with the Power of Febreze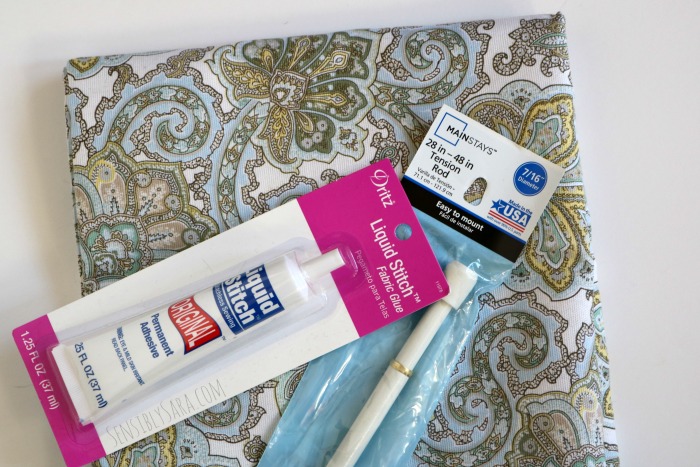 Directions:
Fill the storage tub(s) with the Fresh Step Total Control with the Power of Febreze.
Cut the length of fabric 2 inches longer than it'll hang – that will be for the opening for the rod.
Run a line of fabric glue 3 inches from the top of your fabric.
Fold 2 inches of fabric over to form the sleeve for your tension rod.
Press the fabric into the glue and let dry.
After the glue is dry, run the tension rod through the opening.
Hang the curtain in front of the cat's litter box.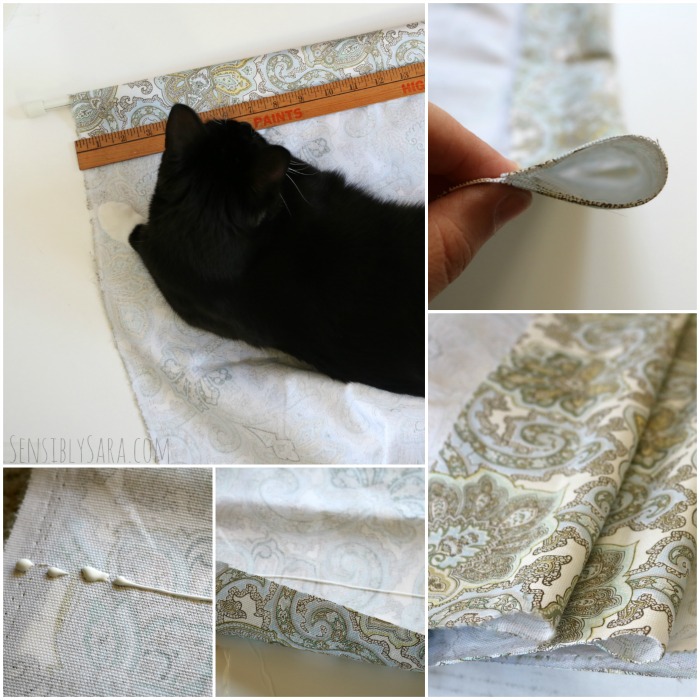 Do you want to see a before/after of our 'cat bathroom'?!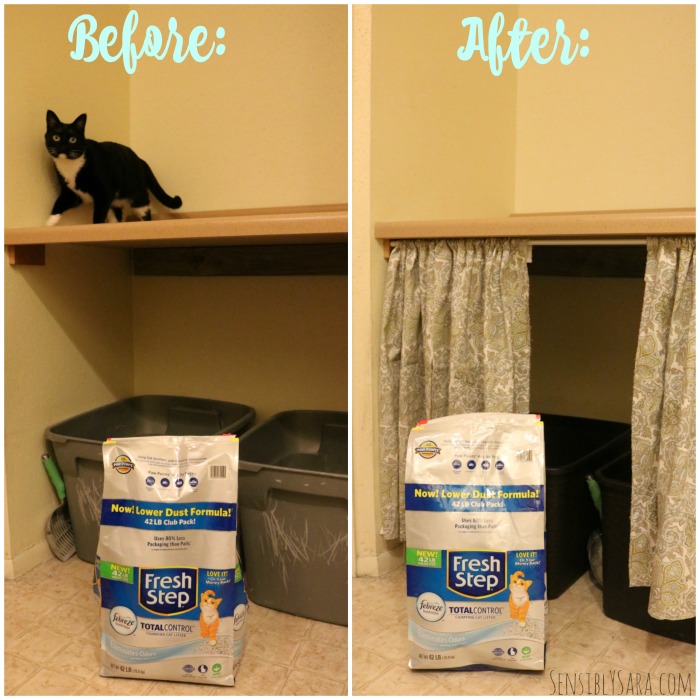 Of course, Mordu knocked down the curtain as soon as I installed it. I quickly put it back up and tightened the rod a little better. As soon as that was fixed, Mordu was in checking things out! I like how it looks – it's far better than looking at ugly storage tubs!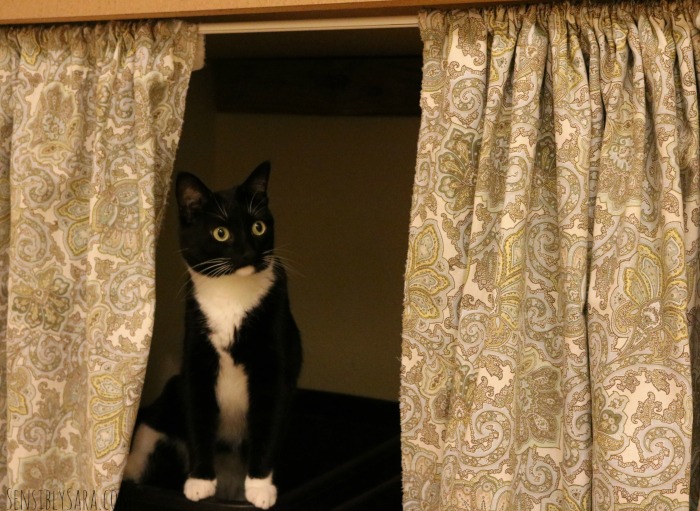 Fresh Step Total Control with the Power of Febreze is only available at Sam's Club. The 42 pounds package of cat litter is easy to move and store, too.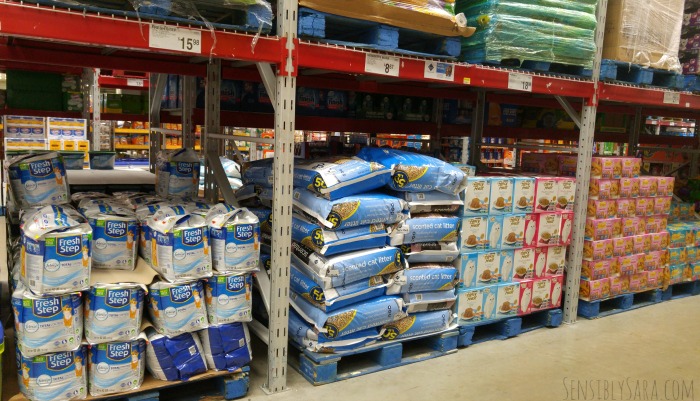 Fresh Step has always been our go-to cat litter but I'll stick with Fresh Step Total Control with the Power of Febreze from now on! It includes Borate Technology for superior ammonia control which means it inhibits the growth of odor-causing bacteria!
To share my love of Fresh Step Total Control with the Power of Febreze, I donated $100 to San Antonio Pets Alive. I know they'll use that donation for good and they were very appreciative!
Buy it! Fresh Step Total Control with the Power of Febreze is $3.50 off at Sam's Club from 5/11 – 6/5 with the May Instant Savings Book.
Does your cat litter box have a curtain?