We attend a Chili Cook-Off at our church each year. It's a ton of fun but I usually don't eat much because most of the recipes are very spicy and I'm a spice wimp! This year I decided to enter a chili that I'd actually eat – a mild chili recipe made with BUSH'S® Chili Beans.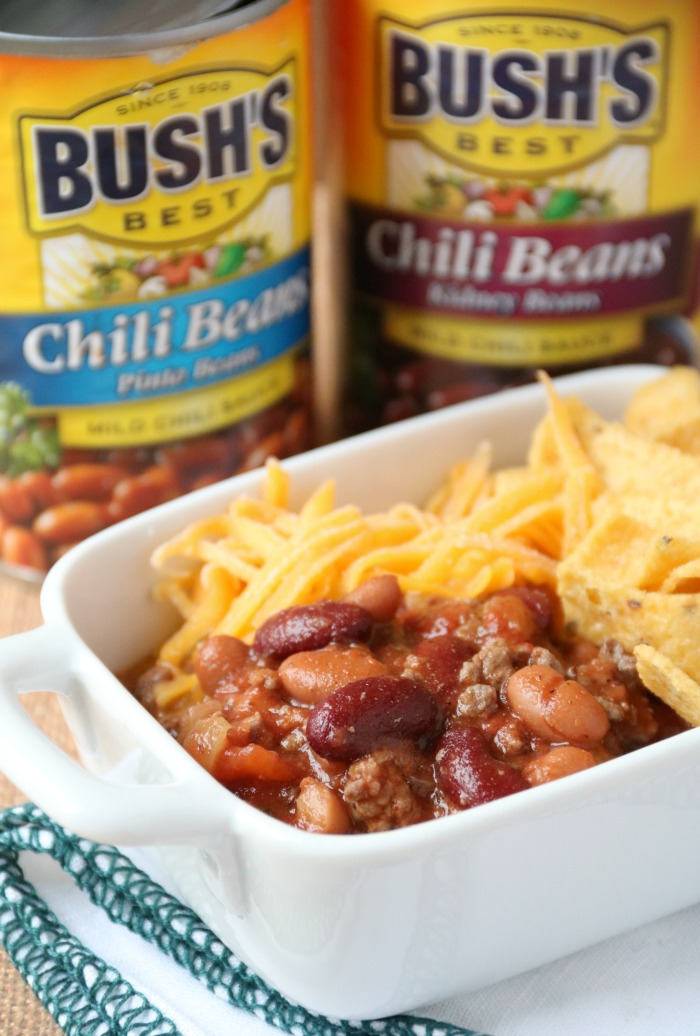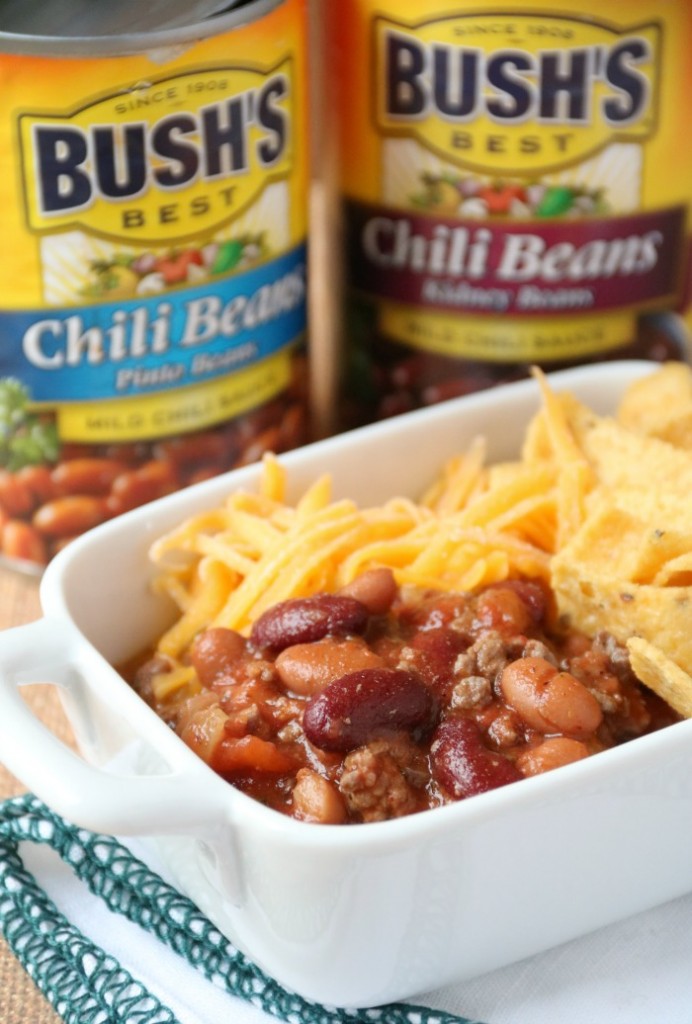 **Full Disclosure: This post is sponsored by Savings.com
BUSH'S® Chili Beans are simmered in their original chili sauces, made with a special blend of chilies, spices, garlic and onions. They will give your chili even more chili flavor with a cooked slow-simmered flavor right out of the can.
Mild Chili Recipe –
Ingredients:
1 pound ground beef, cooked
1/4 onion, chopped
1 tsp garlic, diced
1 tsp chili powder
1 tsp salt
1 tsp oregano
Pepper to taste
1 can crushed tomatoes
1 can BUSH'S® Mild Pinto Chili Beans with liquid
1 can BUSH'S® Mild Kidney Chili Beans with liquid
Directions:
Brown the ground beef with the salt, pepper, onion and garlic.
Drain.
In a large stock pot, stir together the BUSH'S® Chili Beans, crushed tomatoes, chili powder, oregano and beef mixture.
Bring to a boil.
Cover and simmer for an hour, stirring occasionally.
Serve (with your favorite chili toppings) and enjoy!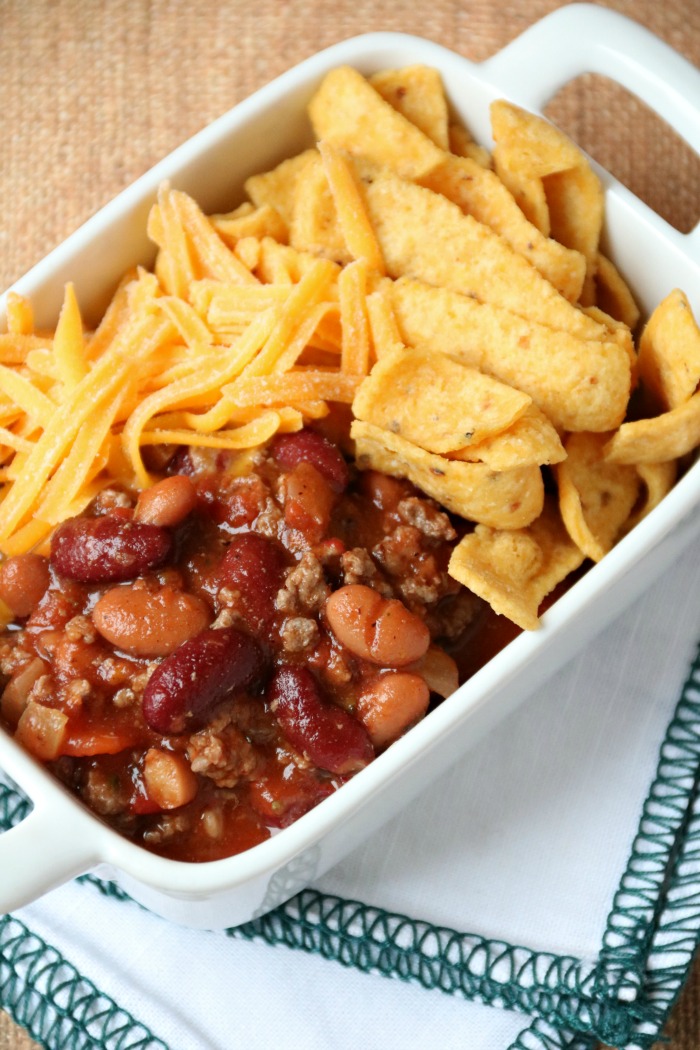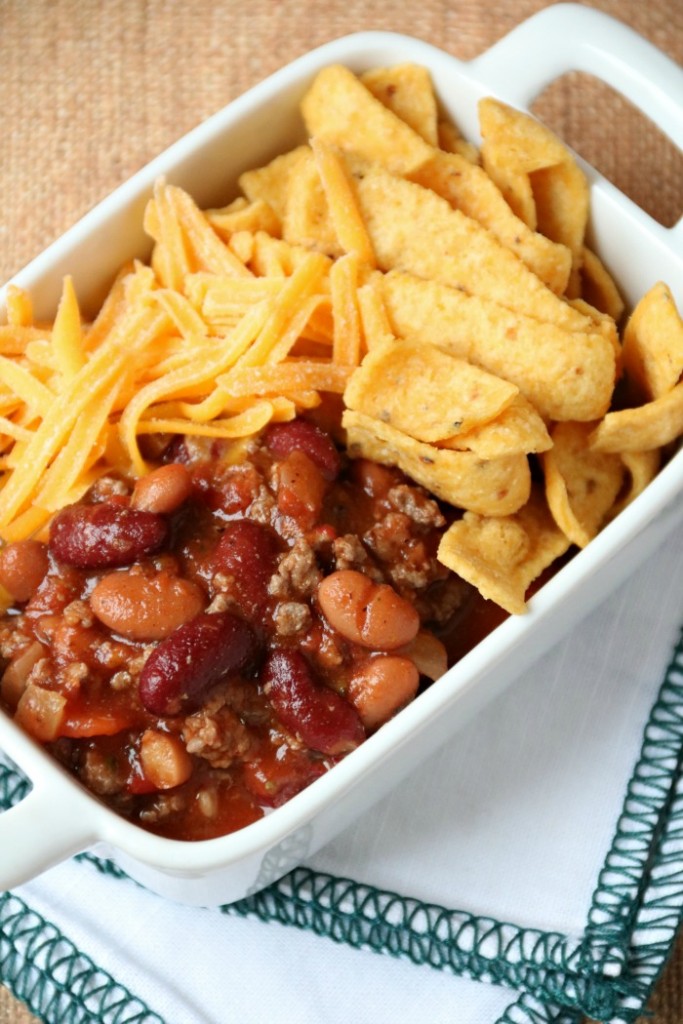 This recipe is hearty & flavorful but not overly spicy. Of course, you could change it up to fit your desires since BUSH'S® Chili Beans offer the variations and flavors to satisfy your chili cravings – pinto, kidney, black, white, red or mixed beans in mild, medium or hot sauce!
Save $1 on two cans of BUSH'S® Chili Beans at Walmart:
When I have time, I make this recipe a day in advance so the flavors have extra time to marinate. The chili is still just as delicious if I don't get around to making it ahead of time. My whole family enjoys this recipe and they often come back for seconds!
Try this delicious mild chili recipe!
Contest: Enter the $500 #BUSHSChiliBeans giveaway hosted on Savings.com.