**Full Disclosure: While #EmeraldCoasting during Brandcation, I ate at LuLu's Destin at no cost to me.  All experiences and opinions are my own.
I adore good food. Recently I came across a food passport on Pinterest and I am itching to make one for all the great restaurants I find. LuLu's Destin will definitely be in my food passport because the food was delicious and the view was amazing!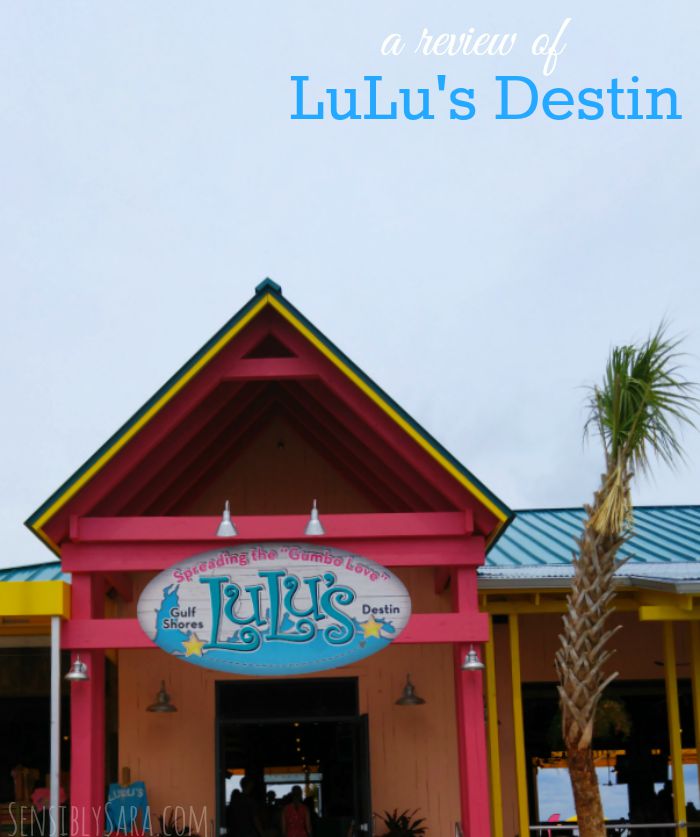 LuLu's is a huge, open building with seating indoors and outside. It'd have to be in order to serve over 4,000 people a day during the summer season! The restaurant is positioned right on the water with a beautiful view of the Intracoastal Waterway. I couldn't stop staring out at the white sand and enticing water. LuLu's opens daily at 10:30 a.m. and is only closed Thanksgiving, Christmas Eve, Christmas Day & New Years Day.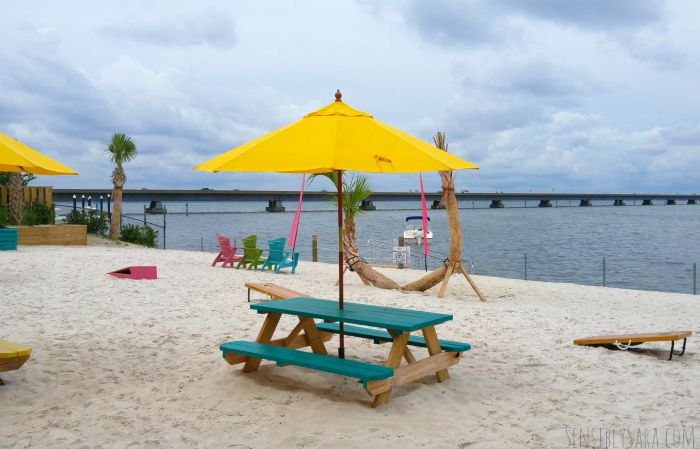 LuLu's has games on the sand for kids of all ages – the Fountain for Youth, Corn Hole and Hula Hoops. They also have live music almost nightly.
There are so many delicious options on the menu – fish, burgers, sandwiches and more. They have a special allergy menu for those that need dairy free, egg free, soy free, gluten free, shellfish free or seafood free.
Because I was there with a group of bloggers, there was plenty of food at our table, including the Smoked Tuna Dip and Fried Green Tomatoes. I'm not a fan of seafood so I only tried the tomatoes. I don't love tomatoes, so they weren't my favorite but they had a fantastic coating. I ordered a Crazy Sista's Burger for my entree and it was phenomenal! They burger had the perfect amount of seasoning and it was cooked to my liking. I was really blown away by the bun, though – I've never had one nearly as good!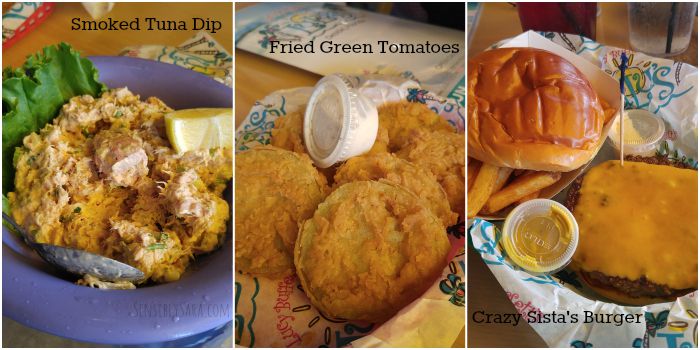 Like I said before, I don't eat seafood, so it doesn't really matter to me how fresh it is or where it came from. However, LuLu's participates in Fish Trax which is a program that allows you to get more information (where, when, what boat, and more) about your meal via a QR code. Neat, huh?!
What would you eat off LuLu's menu?
LuLu's is located at 4607 Legendary Marina Drive Destin, FL 32541.