**Full Disclosure: This post is sponsored I received product to facilitate my post. All opinions are my own.
Update:
Last year I told you all about PackagefromSanta.com and how impressed Colin was with the package. (Read all about that below.) But this year, I want to share a different special moment with a video from Santa! I'm excited to keep Colin's Christmas spirit alive for a bit longer with the help of a video from Santa himself.
The movie quality was great, it didn't take long to make and I really liked the story line I picked which made for an extra special gift. It won't be long before Colin knows who Santa really is but in the mean time, I really enjoyed watching his face light up as he watched the video that made him feel so unique.
What makes PackageFromSanta.com so special and set apart from any other company is THEY DO IT ALL (packages, letters, calls and videos from Santa and so much more…) With EVERY Package From Santa sold comes one free call and one free video.
Every Package From Santa includes a free personalized video from Santa:
Movie-Quality Personalized Videos From Santa
Multiple Storylines with Naughty/Nice Verdict
Featuring Your Child and The Real-Bearded Santa
Includes Your Child's Name, Photos, Age and More
Proprietary Technology with SAFE Delivery Method
Web-Based, iOS and Android APPS
Save 25% on any package from PackageFromSanta.com with code RED1830. The package will be sent directly to your child from the North Pole!
---
Last year we traveled to Oregon so we could spend Christmas with my husband's family for the very first time in our nearly 13 year marriage. My husband didn't grow up believing in Santa Claus so I was incredibly worried that his family would ruin it for our boys. Looking back I don't think they did – not even by adding extra things to the things Santa had set out. As we start the month of December, I wanted to bring a little extra magic to our home with PackagefromSanta.com.
PackagefromSanta.com offers the choice of 3 bundles to choose from – gold, silver or platinum – ranging in price from $24.95 to $97.95. Each contains special Santa goodies. The website is impressively easy to use. Simply choose your price point, personalize the package and wait for it to arrive! Your child will also receive a free personalized phone call and video from Santa with any of the packages.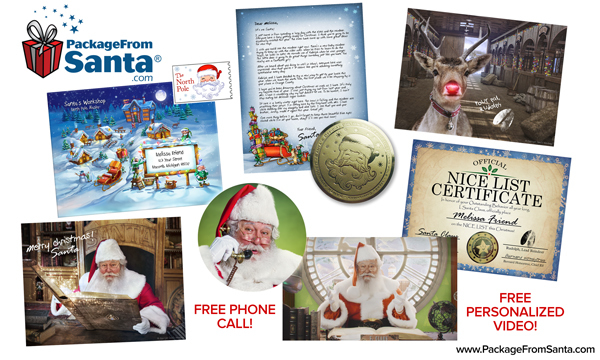 I ordered the platinum package for Colin. It arrived several days before I told him about it, though. I finally sat him down, asked him to close his eyes and let him open the box. Watch to see what happened:
I was blown away by how excited Colin was with the package which came from Santa's North Pole address. I almost expected Colin to be a little skeptical because he's never received anything like this but every ounce of emotion was pure joy!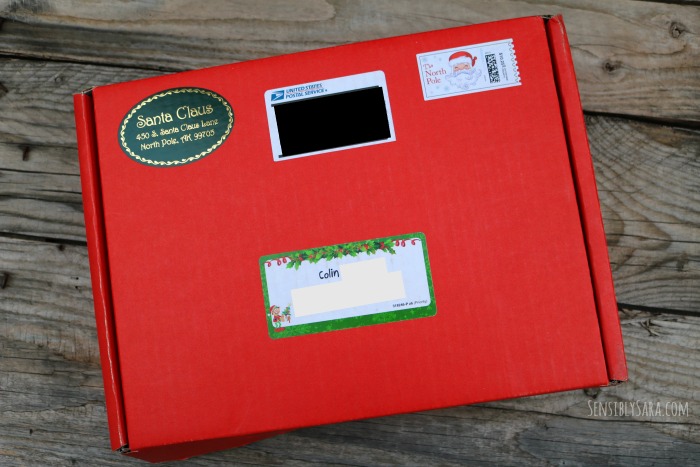 PackageFromSanta.com coupon code: 25% off with RED1830
Do your kids still believe in Santa?