**Full Disclosure: This post has been sponsored by 

Pfizer

 Consumer Healthcare. All thoughts and reviews are my own.
A tickle in the throat, a runny or stuffy nose, and sneezing. Or maybe a sore throat, cough, headache, mild fever, muscle aches, and loss of appetite. None of those things sound like fun but it's cold & flu season and we have to be prepared! Pfizer pediatric products are just a few of the things we keep on hand during cold & flu season.
What to Keep on Hand During Cold & Flu Season:
Pfizer Pediatric Products – 

Children's Robitussin® Cough and Chest Congestion 

Is formulated just for kids 4 years and older. The non-drowsy daytime formula helps break up chest congestion.

Children's Advil® 

Eases aches and pains while reducing a child's fever fast. A great solution for kids as young as 2 and up to 11. Children's Advil® comes in several great-tasting flavors, including: Sugar-free Dye-free Berry, Bubble Gum, Grape, Blue Raspberry, Fruit and Dye-Free White Grape flavors.

Children's Dimetapp® Cold & Cough 

Tackles a child's most bothersome stuffy and runny noses while working to relieve coughing. For ages 6+.

Hand Soap & Sanitizer –

Washing your hands frequently makes it harder for germs to stick around. The first option would be to wash your hands with soap and water but if you are on-the-go, the next best choice is to use hand sanitizer.

Tissues –

Covering your nose and mouth when you cough or sneeze is essential to stop the spread of germs. Make sure you toss the tissue and wash your hands when you're done!

Thermometer –

Keeping an eye on your temperature will help you to know if it's time to head in to see a doctor or not.

Soup and Warm Liquids – 

Drinking fluids (soup, warm tea, etc.) is a great way to help ease your sore throat and cough but it will also help to prevent dehydration.

A Backup Childcare Plan –

Trying to figure out who will watch your kids the day the come down with a cold or the flu can be tough! Have a plan in place so you don't have to worry about it the day it happens.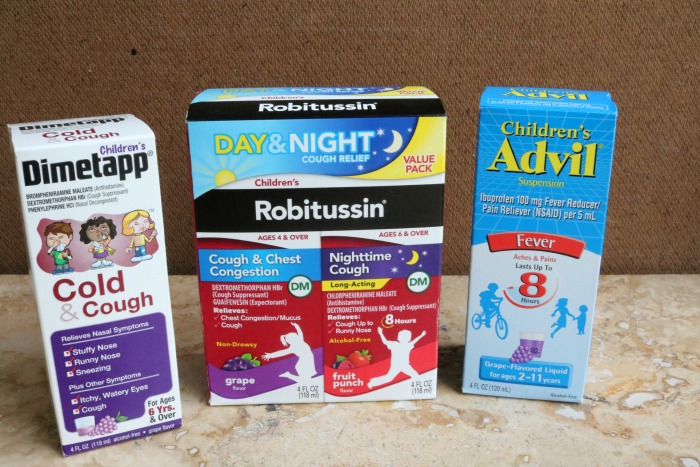 What do you keep on hand for cold & flu season?
*NOTE: It is important to remember to always read and keep the cartons for complete warnings and dosing information on Pfizer Pediatric products and to use as directed.