**Full Disclosure: This is a sponsored post which also contains affiliate links. If you make a purchase, I get a teeny-tiny percentage at no cost to you. All opinions are my own.
So, you have decided to travel by car with your pet! While this is an exciting adventure, it can also be somewhat of a challenge at times. One of these challenges includes keeping your pet calm, happy and entertained while on the road. Here are some ways to help your pet pass the time when traveling by vehicle.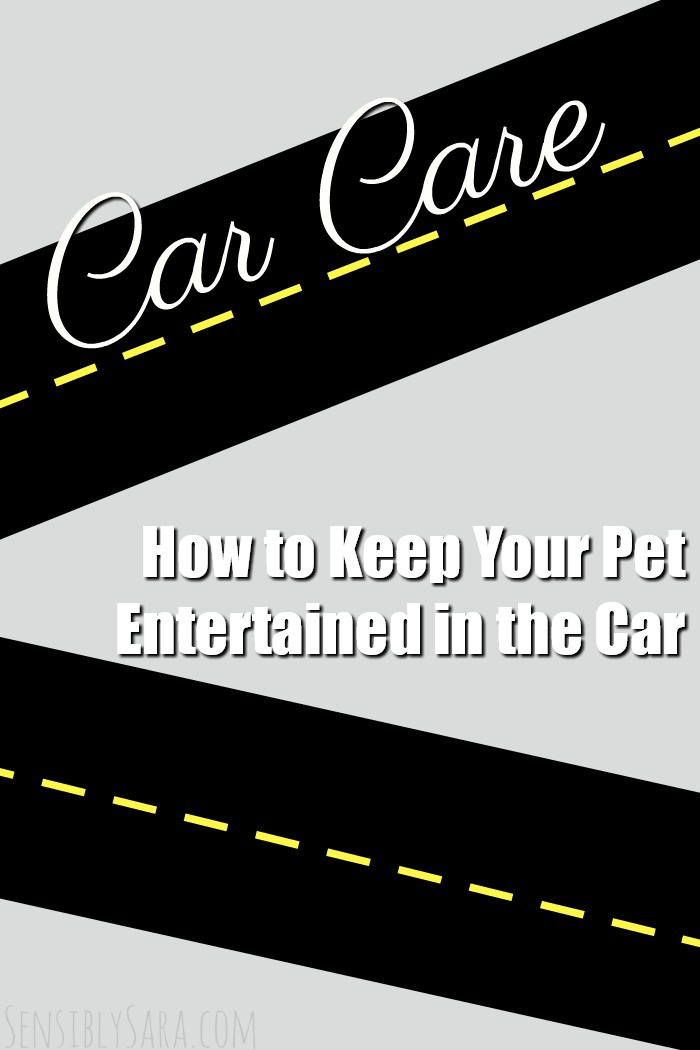 Bring along road trip pet toys – Pet toys are a great way to entertain your pet while on the road. Need some ideas? Chew bones are available in edible and non-edible varieties. Top Dog Chews Natural Water Buffalo Bully Horns Edible Chews and Nylabone Bacon Flavored Dura Chew Double Bone Toy are good choices for chew bones. Rope dog toys are a terrific alternative to an ordinary piece of rope. Great rope toys include Mammoth Flossy Chews Natural Tug Toy with Bone and Planet Dog Orbee-Tuff Fetch Ball Dog Toy.
Pack some tasty pet treats – Pet treats will keep your pet entertained for some time. Looking for treats that are healthy, nutritious and tasty? Rocco & Roxie Gourmet Jerky Dog Treats are delicious, healthy, slow-smoked and tender. They are available in 3 flavors- beef, chicken and turkey. Fruitables Crunchy Dog Treats are baked, delicious, healthy and natural. These dog biscuits feature a blueberry and pumpkin flavor. Old Mother Hubbard Crunchy Classic Natural Treats are miniature, oven-baked dog biscuits. They are available in 4 flavors- char tar, cheddar, chicken and original.
Play a mobile game with them – If you are a passenger in the vehicle, consider playing a game with them on your smartphone. Yes, there really are games you can play with your pet. Jolly Dog is available for Android devices. This game features 15 different pet toys, each with lively animation. The game's color palette is designed for the vision spectrum of dogs. Game for Dogs is available for iOS devices. This game features backgrounds and moments that will harness your dog's attention. Lonely Dog Toy is available for iOS devices. This game features 6 animals and objects for dogs to chase, as well as 6 different sound effects.
Pop in a movie they'll love – Pop a doggie-themed movie into the portable DVD player so your dog can "veg" out and pass the time away. Need some ideas your dog will love? Try the 1993 adventure comedy- Homeward Bound: The Incredible Journey, the 1996 live-action comedy adventure- 101 Dalmatians, the 2000 comedy- Air Bud: World Pup and the 2010 computer animated- Space Dogs.
Talk to them – Pets are normally comforted by the sound of their owner's voice. While it may seem rather strange to talk to your pet, they really are responsive to your voice. Mention their name several times and just talk to them about anything that comes to mind.
Head over to Kim's Chrysler Dodge Jeep to find a car that fits your needs!