**Full Disclosure: This is a sponsored post for SheSpeaks/Rubbermaid®.
I'm a meal planner. I sit down every Saturday evening to decide on what meals I'll be making the following week. I write those meals on the front of an index card and the necessary ingredients & other essentials on the back of my index card. I have every intention to make each meal during the week but things pop up – James has to stay late for band or football, my day runs long and I don't get dinner started on time, etc. So, inevitably, we grab dinner on the run and the fresh fruits & vegetables I purchased sit in the fridge only to start wilting & aging. Rubbermaid FreshWorks Food Storage Containers are such a life saver! Let me share a few of the benefits of using Rubbermaid FreshWorks Containers with you.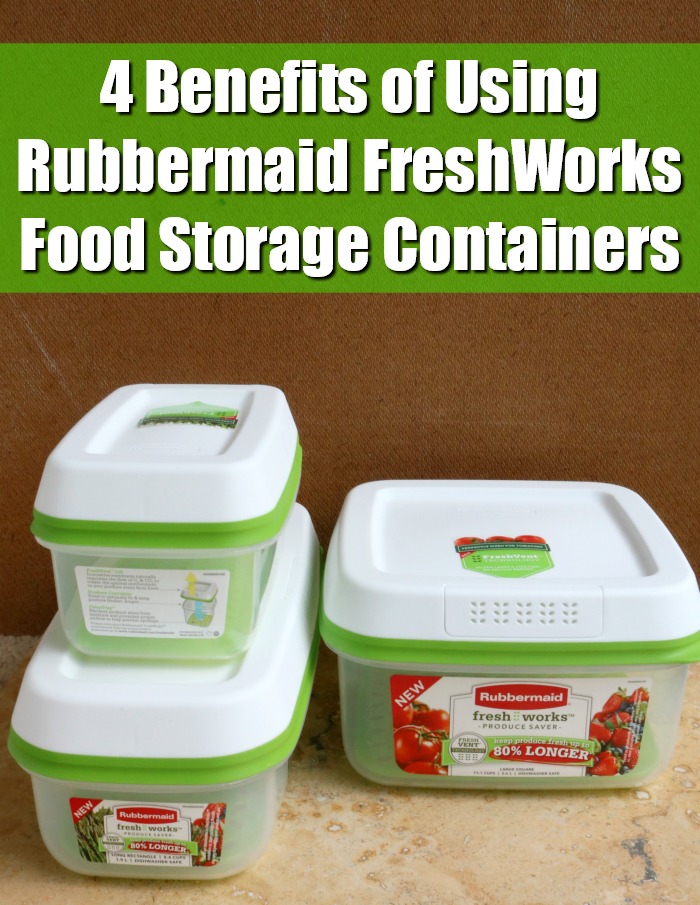 The Benefits of Using Rubbermaid FreshWorks Food Storage Containers –
Keeps Produce Fresher, Longer: FreshWorks is a food storage container that uses patented FreshVentTM technology to keep produce fresher up to 80% longer* than traditional produce packaging.  It uses a revolutionary built-in FreshVent™ lid, which naturally regulates the flow of oxygen and CO2, in and out of the container to create the optimal environment so produce stays nearly as fresh as the day it was picked. The CrispTrayTM at the bottom elevates produce away from moisture and promotes proper airflow to help reduce spoilage.
Reduces Waste: Many people find that their produce has spoiled after just a few days, leaving them no choice but to throw it away. FreshWorks extends the life of your produce, so you can eat your produce before it goes to waste.
Saves Money:  As a result of throwing away fresh produce, Americans waste $24 billion worth of produce every year, which is the equivalent of $192 per household.**
Easy to Use: With FreshWorks Produce Saver, you can simply move produce from store packaging and into the FreshWorks containers before refrigerating to maintain freshness for up to 80% longer*.  The lid filter lasts a lifetime, no replacements needed.

Dishwasher safe.
Made in the USA of global components, BPA-free.
Available now in six sizes to hold all types of produce:

Lare Square (11.1 Cups): Perfect for Tomatoes – pictured
Long Rectangle (8.4 Cups): Great for asparagus or zucchini – pictured
Small Rectangle (4.0 Cups): Will keep your green beans fresh – pictured
Small (2.5 Cups): Ideal for small berries
Medium (6.3 Cups): Perfect for strawberries
Large (17.3 Cups): Optimal for leafy greens
*Based on strawberries in FreshWorks™ containers vs. store packaging. Results may vary depending upon produce and use.
** Source: USDA 2014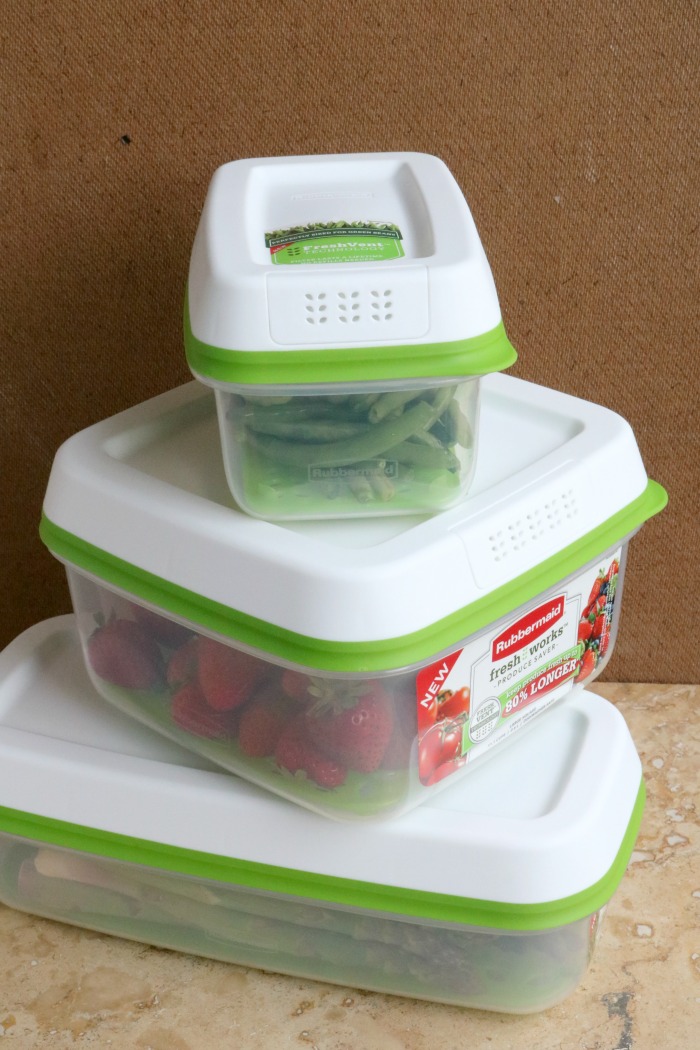 For me, throwing out old produce is the equivalent of wasting money and that's not fun! If you are anything like me, you are a little skeptical with that your produce will stay fresh 80% longer* with just a container. Rubbermaid FreshWorks containers have shown me that I can make my grocery purchases last a bit longer. For best results, do not cut or rinse the produce before storing and be sure to remove existing produce packaging.
Will you give Rubbermaid FreshWorks a try?