**Full Disclosure: A promotional item was provided to me for today's discussion. The host for this event is Still Blonde after all these Years.
Have you thought about creating your own website? Does it scare you to think about building a website from the ground up? Maybe it's scared you so much that you've put the thought out of your mind. Great news! GoDaddy's GoCentral Website Builder is nothing to be scared of and it's incredibly easy to use!
The fears we DON'T face become our limits. –Robin Sharma

— SensiblySara (@SensiblySara) June 20, 2017
I didn't have any idea what I was doing when I created this blog but somehow it all came together. If I could go back to change something, the only thing I'd change would be the method I used to build SensiblySara. I hired some things out but I also spent a good amount of time searching the internet for every little thing – how to pick a theme, how to create a header, how to get the copyright at the bottom, and so much more. I wouldn't say it was a waste of time because I learned quite a bit but it took a long time to get my website ready for publication. With GoDaddy's GoCentral Website Builder, you can build a website in under an hour!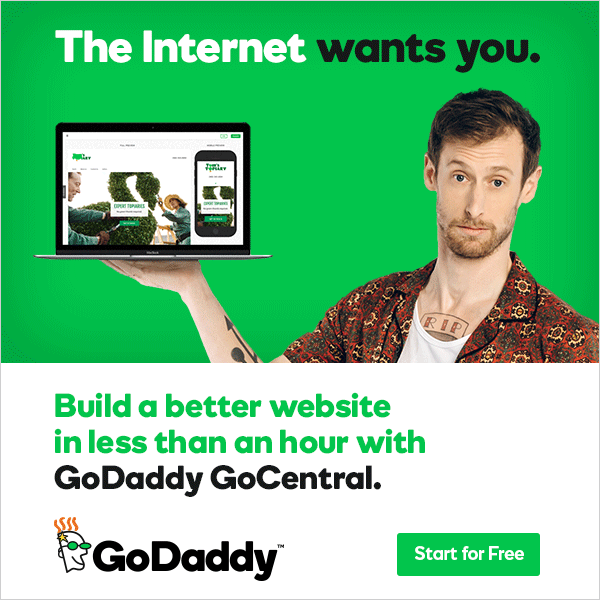 My in-laws live in Washington state. They don't often read this blog and aren't on social media but they enjoy looking at pictures of our family. I thought if I created a site where they could just go look at pictures with short descriptions of our family they'd be pretty happy. Using GoDaddy's GoCentral Website Builder, I built PhilCoAdventures. It's a very simple site that allows me to share our adventures with out-of-state family.
Here's how it works:
Using your desktop or mobile device, create an account. You only need 4 things and a credit card is not required!

Give some details about the site you are building.

Once your site has a name, choose the colors and fonts you like best.

Decide on a theme and edit it to fit your taste. Some of the features on GoDaddy GoCentral include Unlimited Designs, Integrated Marketing, and eCommerce Tools.

Preview what you've built as many times as you'd like. Continue to change things until you are happy!

With the click of one button, publish your site. Decide if you want to purchase the domain or if you want to wait on that.

Go to your site and look at it from your readers' perspective. Is everything user-friendly? If not, go in and edit it. Easy-peasy!

TRY IT: Now through 8/11/17, get a 1 month free trial* of GoDaddy's GoCentral Website Builder! When you visit the back-end of your site, you'll see this pop-up. You will lose access to your site if you decide not to upgrade.

Building PhilCoAdventures was beyond easy. I had it put together in about 45 minutes (far quicker than I'd anticipated!) For me, the hardest part was deciding which images I should use for the site! There are plenty of graphics and fonts to choose from. While I appreciated the stock images, I much preferred to use my own since the site I built is personal in nature.
I know a little coding but I didn't feel like I needed it when I was creating the GoDaddy GoCentral site. To change nearly everything, you just had to click to add or edit each section.
If you built a website, what would it be about?
*Restrictions: The Free Trial is an opportunity for you to use a GoDaddy Product free of charge for one (1) month, beginning on the date that you accept the Free Trial offer.  The Free Trial will expire one (1) month from the date you accept the Free Trial offer, regardless of whether or not you use the Product during the Free Trial period. No credit card is necessary. The free trial is now available in all markets we sell the product.