**Full Disclosure: This is a sponsored conversation written by me on behalf of Tyson Foods, Inc. The opinions and text are all mine.
My Dad (Pop) makes the best food but, to me, breakfast is his specialty. His fried eggs are out of this world, butter melts so flawlessly on every slice of toast he makes and all breakfast meats are cooked to perfection. Since Pop retired, he spends more time cooking but I grew up on breakfast-for-dinner, BBQ and cheap, frozen pot pies.
Breakfast has always been my absolute favorite meal but I like it best when I get to eat it for dinner. I decided to create this Mini Breakfast Pot Pie recipe for two reasons – 1) I can't get enough of breakfast-for-dinner but sometimes it's good to change things up a bit and 2) this recipe pulls forward some of the memories I have from dinners of my childhood.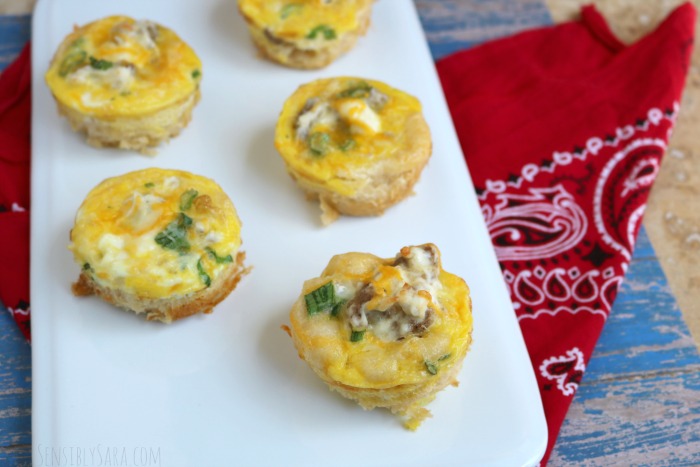 Okay, okay, I know you are probably thinking that this recipe can't really be called pot pies because they don't have a top. So let's call them open faced breakfast pot pies or breakfast pot pie muffins!
Mini Breakfast Pot Pie Recipe –
Ingredients:
Jimmy Dean® Fully Cooked Pork Sausage Patties
1 roll of refrigerated Croissant dough
6 Eggs, scrambled

2 – 4 ounces Cream cheese, softened
Green onions, chopped
Cooking spray
Shredded cheese, optional
Directions:
Preheat the oven to 350 degrees.
Spray a muffin tin with a thick coat of cooking spray.
Soften cream cheese and dice green onions. Set aside.
Roll out the croissant dough and cut circles to fit the muffin tin (about 2.5 inches in diameter).
Gently lay the dough in the bottom of muffin tin.
Heat sausage in a skillet as direction on the package.
Add the softened cream cheese into the heated sausage and combine them together.
Put the sausage and cream cheese mixture on top of the croissant dough.
Scramble 6 eggs and green onions.
Pour about 2 TSBP of the egg mixture on top of the sausage and cream cheese mixture.
If desired, top with a sprinkle of shredded cheese.
Bake for 12-15 minutes
Serve and enjoy!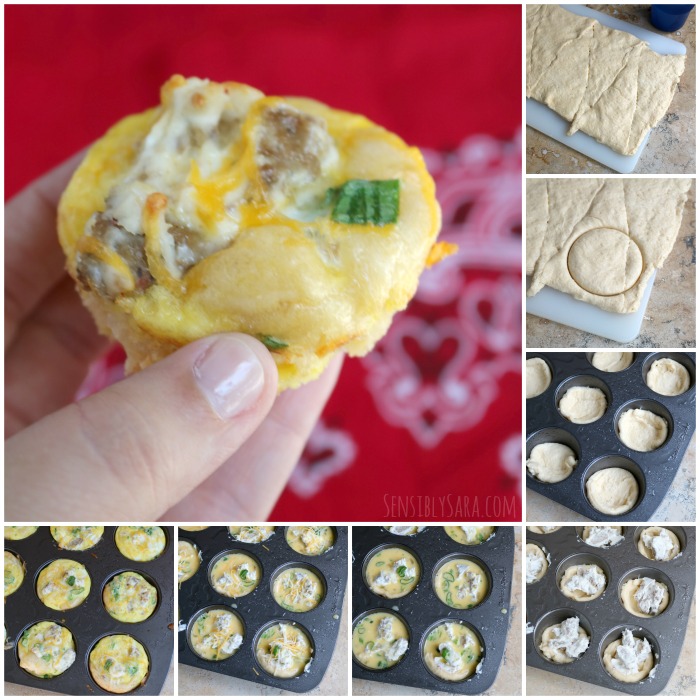 OH MY HEAVENS are these Breakfast Pot Pies delicious!!
The cream cheese and green onion pair so nicely with the sausage and egg. There are no spices – not even salt and pepper – other than the spices in the sausage. The pot pies probably don't even need the croissant but generally pot pies have a breading crust and I like bread so I included it.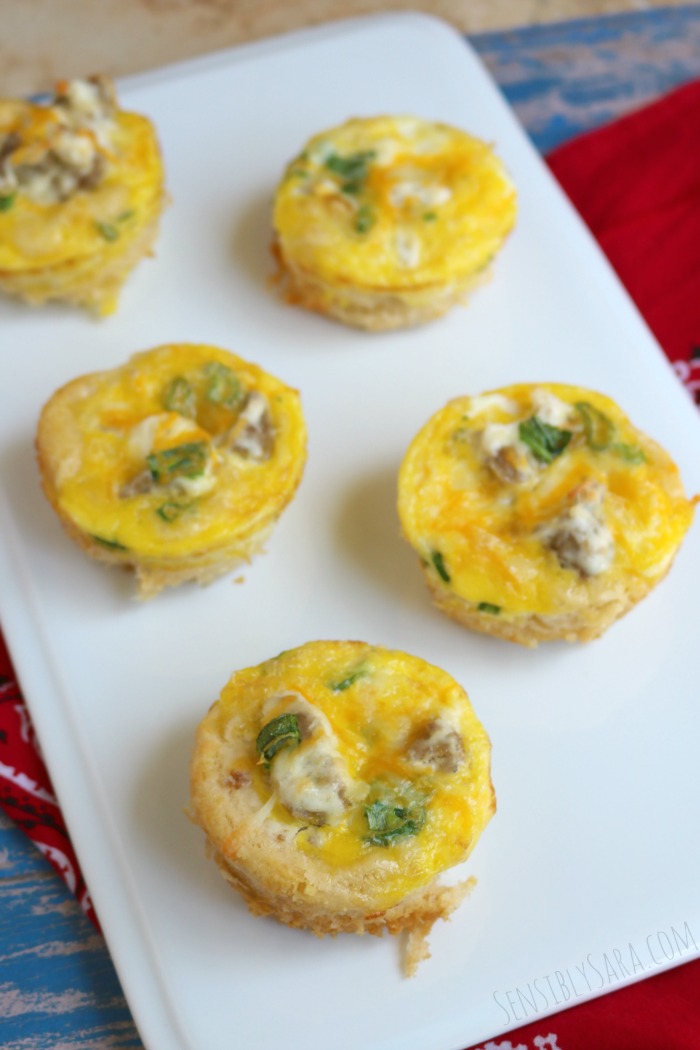 This Mini Breakfast Pot Pie recipe is incredibly easy to throw together and the food is ready to serve in under 30 minutes! They can be served for all meals, including but not limited to, breakfast on-the-go, breakfast for dinner, mid-morning snack. To make a meal, pair the pot pies with a fruit salad or some veggies, depending on the time of day. MMMM-MMMM!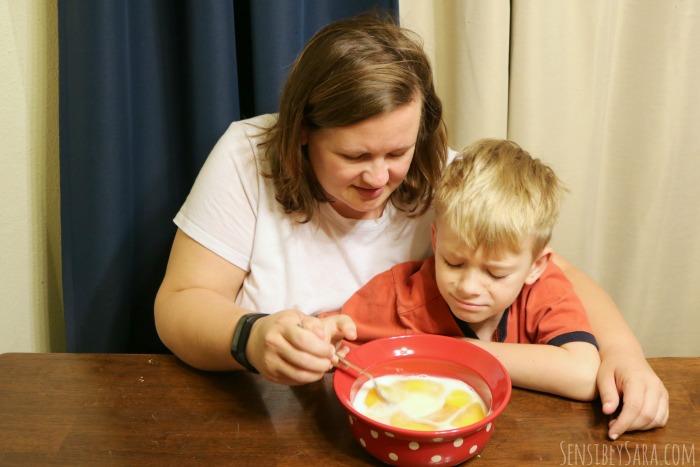 We had these for dinner last night and I only made 12 (1 muffin tray full). There was not a single breakfast pot pie left! I know now that I'll need to at least double the recipe from here on out. My oldest son, James, was plotting to eat the leftovers for breakfast AND lunch the next day, but he was sorely disappointed when there were none left for his plan.
Add another delicious option to your meal plan rotation with the Jimmy Dean® Fully Cooked "Breakfast Taco" recipe – located on HEB App.
What is your favorite breakfast using Jimmy Dean® products?
H-E-B- Deal: Buy Jimmy Dean® Fully Cooked Product, get Large Egg 6ct free – expires 5/16.