This is a sponsored post written by me on behalf of Tyson Foods, Inc. All opinions are entirely my own. 
Born and raised in San Antonio, I am Texan to my core (well, with the exception of my non-existent accent). Most Texans are incredibly proud of our heritage which incudes red, white & blue, cowboys, longhorns, bluebonnets, BIG open spaces, teeny-tiny towns, State Fair® Corn Dogs and so much more.

Opening its first store in Kerrville, H-E-B is Texan through-and-through, too, carrying hundreds of Texas-made products. The grocery store is one that can't be beat in selection and prices which is why I do all my grocery shopping there. My sister, who lives in Dallas, doesn't have an H-E-B close to her and she often complains that she can't do her shopping at an H-E-B.
State Fair Corn Dogs are a staple in my house so the 22 count package is on my grocery list at least once a month! My husband and kids like to eat them for weekend lunches or for dinner on nights that I don't want to cook or if they are on their own because corn dogs are an easy meal and are a good source of protein with not much prep work. James even likes to take leftover corn dogs for lunch so he doesn't have to purchase or make something in the morning. Both of my boys like the corn dogs as-is, my husband and I like to make them a little more bold which is where my idea for Chili Cheese Corn Dogs came in to play.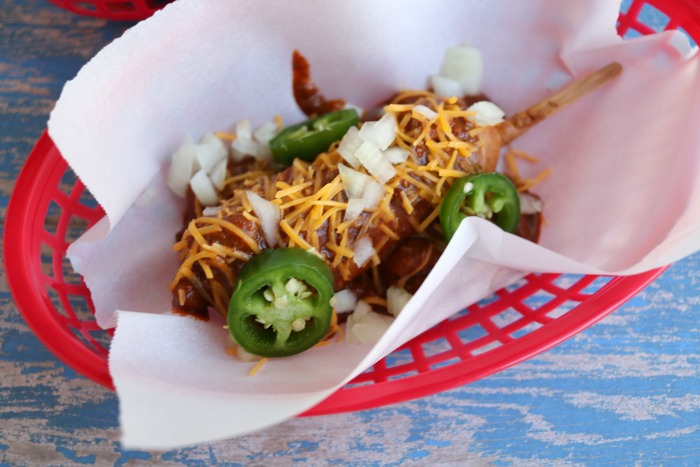 Deep fried foods are a favorite in Texas and, even though these corn dogs are baked, it's easy to satisfy any crowd's hankerin' for real Texas flavor with State Fair Chili Cheese Corn Dogs. They only use five ingredients and are ready to eat in under 20 minutes.

Chili Cheese Corn Dogs
Ingredients
22 count State Fair Corn Dogs
1 can chili
1 package shredded cheddar cheese
1 sweet onion, diced
2 jalapenos, sliced
Instructions
Bake State Fair Corn Dogs as directed on the package.
While the corn dogs bake, heat the chili on the stove.
Remove the corn dogs from the oven.
Cover each corn dog with chili, cheese, onions and jalapenos.
Serve and enjoy!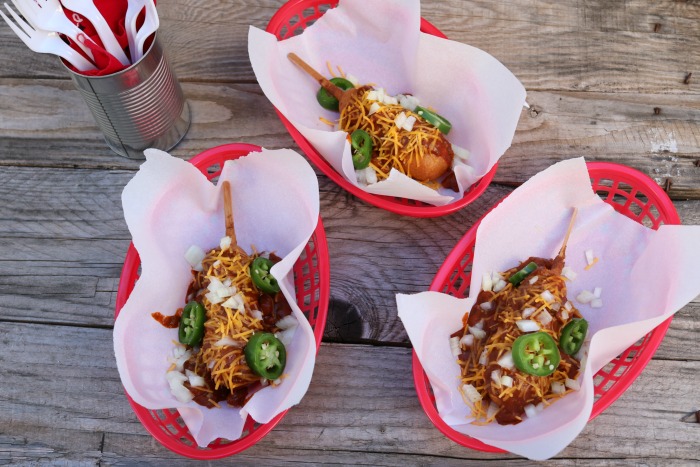 If you want to put forth a little extra effort, sautée the onions and jalapenos in a dollop of butter before topping the chili cheese corn dog. The sautéed vegetables will give this meal a bit more flavor. Of course, if one doesn't care for onions and/or jalapenos, they could be removed or replaced with anything imaginable.
My suggestion is to serve these Chili Cheese Corn Dogs with sweet tea and maybe some french fries! No matter how you plate them, State Fair Corn Dogs are a good source of protein which will leave your crowd full and happy!
Save on State Fair Corn Dogs with this H-E-B coupon valid, from 2/22 – 3/21-2017.