**Full Disclosure: As a member of the Stream Team, I was provided a Netflix subscription and promotional items. All opinions are my own.
Netflix is a streaming giant that allows you to stream movies and television shows. In 2013, Netflix started their Netflix Original Series, which provides you with streaming content that is exclusively produced or distributed by Netflix. Their first original series was House of Cards, which aired in 2013. Since then, Netflix has released hundreds of original series, including drama and comedy series, family, animated and live action series, reality TV series and talk shows. I think the following are the best Netflix Original Series for 2016.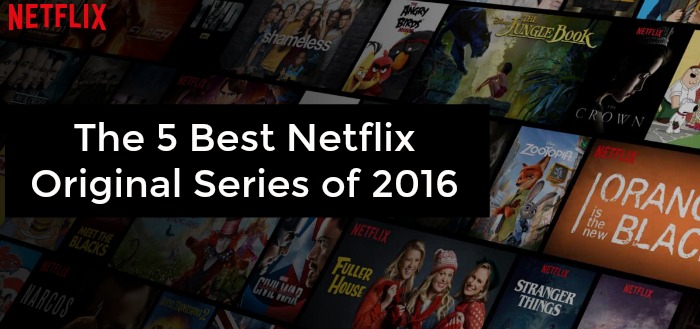 The 5 Best Netflix Original Series of 2016:
House of Cards– House of Cards is a political drama television series that premiered on February 1, 2013. House of Cards has aired for 4 seasons so far. It is based on the UK television series of the same name, that aired on the BBC Channel from November 18, 1990 to December 9, 1990. The series is also based on the House of Cards trilogy novel series, which includes House of Cards in 1989, To Play the King in 1992 and The Final Cut in 1994. House of Cards showcases the story of Frank Underwood, played by Kevin Spacey, who started off the series in the House of Representatives, then became Vice President of the United States and eventually his current position, President of the United States. However, his rise to the top wasn't without some scheming, planning and manipulation. Robin Wright stars as Claire Underwood, the First Lady of the United States.
Orange is the New Black– Orange is the New Black is a television series that combines drama and comedy. It is based on the 2010 memoir titled Orange is the New Black, My Year in a Women's Prison, written by Piper Kerman. Orange is the New Black premiered on July 11, 2013 and season 4 of the series premiered on June 17, 2016. The show centers on the life of Piper Chapman, played by Taylor Schilling, who is serving a 15-month sentence in a women's prison for transporting drug money. The series shows Piper in the prison and her interactions with other inmates and staff.
Daredevil– Daredevil is a television series that pretty much has it all: action, crime, drama and of course, a superhero. Daredevil is based on the Daredevil character from Marvel Comics. The series showcases the life of Matt Murdock, who was blinded when he was young and because of that, has heightened senses. Murdock, played by Charlie Cox, works as an attorney by day, and by night, he is the superhero, known as Daredevil, who is fighting crime on the dangerous streets.
Narcos– Narcos is a crime thriller television series that premiered on August 28, 2015. Season 2 of the series aired on September 2, 2016. The series is based on the real life of Pablo Escobar, a drug lord and trafficker in Columbia. Escobar died in 1993, at the age of 44, when he was shot and killed by Columbian National Police. Narcos focuses on the life of Pablo Escobar, played by Wagner Moura, who is a Columbian drug lord. The series shows his various interactions with other drug lords, as well as DEA agents, leading him to make millions producing and selling cocaine.
Stranger Things– Stranger Things is a horror/science fiction television series that made its debut on July 15, 2016. It focuses on the storyline of Will Byers, played by Noah Schnapp, a young boy who mysteriously disappeared. While searching for him, Will's friends, Mike Wheeler, played by Finn Wolfhard; Dustin Henderson, played by Gaten Matarazzo and Lucas Sinclair, played by Caleb McLaughlin, come across a young girl named Eleven, played by Millie Bobby Brown, who has psychokinetic abilities and knows where Will is being kept.
What do you think is the best Netflix Original Series?