**Full Disclosure: This post contains affiliate links. If you make a purchase, I get a teeny-tiny percentage at no cost to you.
STAR WARS: ROGUE ONE recently opened in theaters across the country. My family and I saw it opening night and I very highly recommend you go see it as soon as possible. It was a fantastic film! As you might imaging, we are big STAR WARS fans. We have a few unique Star Wars things in our home, including an ice tray and cookie cutters so I thought it might be fun to compile and share a list of Star Wars Kitchen Tools and Home accessories. They are all awesome gift ideas which makes it even easier to shop for the Star Wars fan in your life!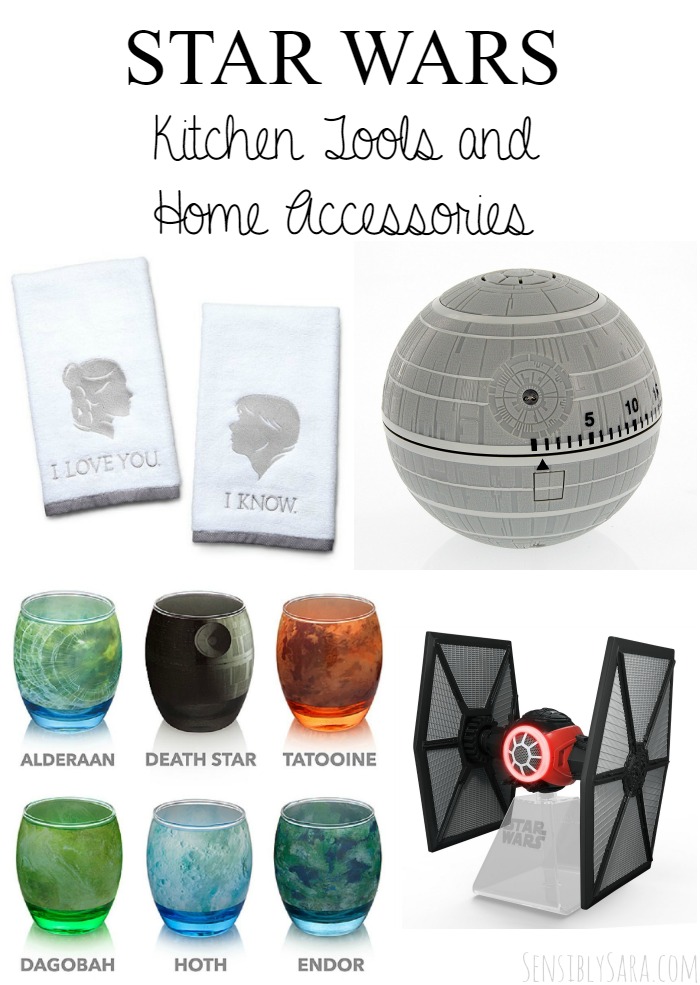 Star Wars Kitchen Tools
Star Wars Millenium Falcon Metal Bottle Opener – New!
Star Wars R2-D2 Oven Mitts – Set of 2
Star War Death Star Stacking Measuring Cups
Star Wars Planetary Glassware 6 Piece Set -Death Star, Endor, Alderaan, Dagobah, Hoth, and Tatooine
Star Wars Salt & Pepper Shakers
Disney Star Wars Millennium Falcon Serving Platter
Vibrant Kitchen Set of 8 Ice Cube Trays And Candy Silicone Molds for Star Wars Theme Baking & Gift E-book
Star Wars Death Star Kitchen Timer with Lights and Sounds
Chop Sabers Light Up Lightsaber Chopsticks, Green Pair
Star Wars Home Accessories
Star Wars LightDark Side Light Switch Cover Custom Stone
Star Wars Han and Leia Bathroom Hand Towels
Star Wars Millennium Falcon Bluetooth Speaker
Star Wars 12-Month 2017 Calendar
Can you recommend any must-have Star Wars kitchen tools?