One of the best parts of having sons is the one-on-one time I get to spend with each of my boys. I try to make mother and son date nights a priority by planning at least one a month. My boys are very different so we do different things on our evenings out.
Mixing things up is key, though. If James and I do one thing, Colin and I do something different the next month just to keep them on their toes. Sometimes I let the boys pick the date and other times I'll surprise them with an activity I know they'll love!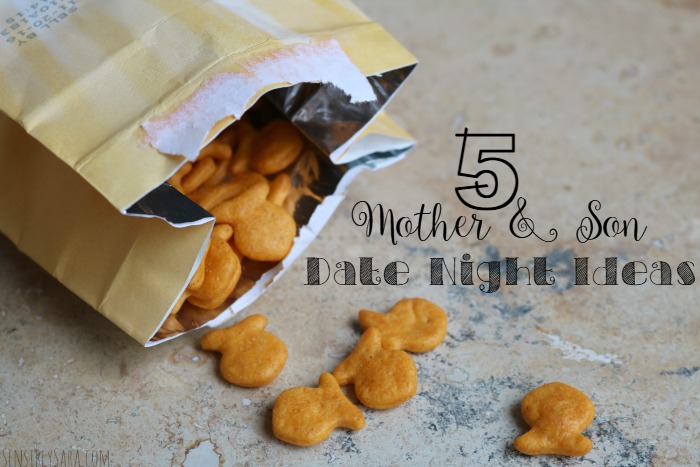 5 Mother and Son Date Night Ideas:
The Zoo. We have an annual zoo pass so going to the zoo doesn't cost much money. I toss Goldfish crackers in my bag for snack and we go eat a late dinner when we leave the zoo.
The Movie Theater. The boys and I love the dollar theater by our house and go as often as we can!
Stargazing. A fun date night that starts with buying beverages (hot or cold, depending on the season) and ends with watching the stars while munching on Goldfish.
Geocaching. We start early, while it's still cool outside, and end at a lunch location. But because this is an active date snacks are a must!
The Bookstore. Both of my boys are big readers so the bookstore is always a huge hit! We usually go for dessert before heading home.
Goldfish Crackers are our go-to date night snack because there are no artificial flavors or preservatives, they are always baked with real cheese and have 12 grams of whole grains per serving. They are a snack I feel good about feeding myself and my kids.
What do you do on mother and son date nights?
Enter the Goldfish Tales Contest: Have a story about a time when Goldfish
®
crackers added smiles to you and your loved ones' lives? 
Share your Goldfish
®
Tale on Twitter or Instagram with #GoldfishTalesPromotion and you could win awesome prizes!