Fall is finally here, and it's the perfect time to spice up your kitchen with some beloved pumpkin recipes. You don't have to slave over the oven making the perfect pie. Get a little wild with these scrumptious recipes. This year you can pass on the pie — try some savory recipes instead!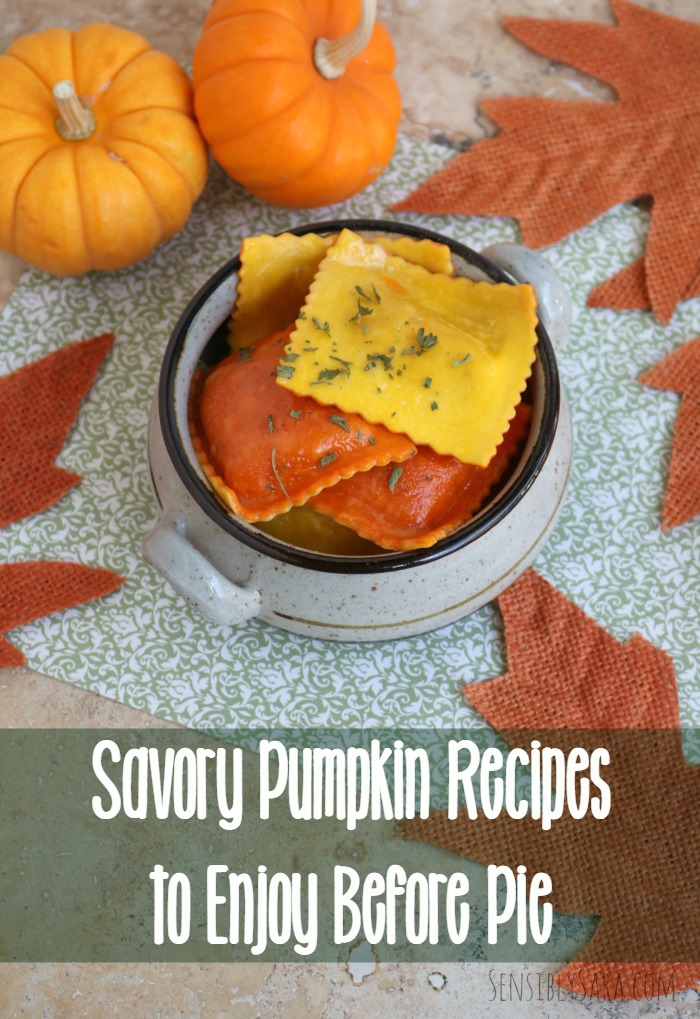 Pumpkin Cinnamon Streusel Pancakes 
What could be better than pancakes on a cold, crisp fall morning? Pumpkin pancakes, of course! Though not quite savory, this recipe will guarantee a full day of pumpkin treats from breakfast, lunch, dinner, and if you just can't pass on it – pie! Your house will smell better than a Yankee candle when you get to baking with cinnamon and pumpkin for breakfast. It's the best way to warm your tummy and start your day. You'll want to wake up to these pancakes every morning.
Bowties With Creamy Pumpkin and Parmesan 
Pasta is such an easy meal, but have you ever thought to put pumpkin in your pasta? Top it off with parmesan cheese and you have a delicious dinner in front of you. This recipe is quick to cook, but it will make your mouth water. This is a great meal to introduce yourself to a pumpkin and cheese flavor if you're skeptical and would rather stick to baking pie.
Pumpkin and Yellow Split Pea Soup
Soup is an essential meal for those cold nights. Heat things up with an Indian style dish of cumin and cayenne. This is an amazing combination of spices and flavors galore. It only takes about 30 minutes to make, but you'll be thinking about this meal all day long. Fall is all about finding your favorite recipes, and this just might become yours.
Pumpkin Spice Tacos 
Taco Tuesday anyone? Forget just one night — you'll want to make these all week long. A sweet and spicy mix of pumpkin, spices and chipotle sauce makes for the best pumpkin tacos around. Tacos are a great recipe for picky eaters because you choose what you put in them. Adding pumpkin will make your stomach grumble for these tasty tacos.
Creamy Pumpkin Soup Shooters
Everyone loves an easy, homemade pumpkin recipe for the holidays. This is a great option if you are planning on hosting guests at your house. It's easy to make but packs a great taste and beautiful display. The cute little dishes are perfect to carry around during cocktail hour. People will remember this pumpkin soup. Make sure to try this yummy choice to keep you and your guests warm this fall.
Pumpkin Cannelloni 
Say goodbye to your typical cannelloni recipe. Spice up your regular ricotta cannelloni by mixing in some pumpkin filling. It takes just over an hour to make, but it's perfect for those nights spent by the fire with your family. It's crazy how a few simple ingredients can turn into an amazing meal. You'll definitely want to make this more than once.
Pumpkin Stuffed Shells 
Mmmmm, stuffed shells. This takes the cannelloni recipe to the next level with a delicious creamy sauce. Of course the perfect, pumpkin comfort meal to keep you warm this fall combines a cheesy, creamy drenched pasta. Stuffed shells are easy to make, and this recipe takes just under an hour to make. You'll even have time to clean up all of the dishes while it bakes in the oven. Relax around the table with this great pumpkin spiced dinner.
Pumpkin Chili
Give your mouth a flavor frenzy by making chili with a fall twist. Chili is a staple for fall and football season meals. It's easy to make and take with you to any party or tailgate you have planned. Pumpkin chili is quick and easy to make — just throw it together in a big pot. Another great thing about chili is that it serves a lot of people! Your friends and family will love this fall flavored chili so much, they'll even ask for the recipe.
Sweet Potato & Pumpkin Casserole 
Make a meal that has sugar, spice and everything nice about fall. Sweet potatoes make a great combination with pumpkin. When you mix them together into a casserole, that makes it even better! This will definitely be a favorite for all of you who have a sweet tooth. It only takes about an hour to make, and the ingredients are pretty simple. Don't let simplicity fool you though — you'll want to go back for seconds with this recipe.
Pumpkin Pierogies 
If you think homemade pumpkin pierogies sound complicated, don't fear. While this recipe takes a little more effort, it's totally worth it! You make your own dough, stuff the pierogies and boil them yourself. You'll feel so accomplished! This recipe makes about 60 pierogies, so you can pack some up and give them to your friends or freeze them to eat as leftovers. Otherwise, this is the perfect recipe for a fall party because of how many people it will feed.
What is your favorite savory pumpkin recipe?
Thanks, Jennifer for this savory pumpkin recipes roundup!

Jennifer Landis is a writer, wife, mama, and blogger. She writes about healthy living, fitness, yoga, and parenting on her blog Mindfulness Mama. She enjoys peanut butter, adult coloring books, and really cozy socks. Follow her on Twitter @JenniferELanids.