This year is the fourth year I've participated in the Great Food Blogger Cookie Swap. It's so much fun to make cookies and send them to complete strangers! Not only do I get to send my cookies, I also receive three packages of cookies in my mailbox.
When I signed up, I paid $4 to participate. That money is donated to Cookies for Kids' Cancer. This year, there are two brand partners, Oxo and Dixie Crystals. Each brand partner matched the bloggers' donations (up to $3000 each).
About Great Food Blogger Cookie Swap:

The Great Food Blogger Cookie Swap brings together food bloggers from around the world, sharing cookies and recipes with each other.  
Last year I made Devil's Food Crinkle Cookies. And OH BOY were they good!!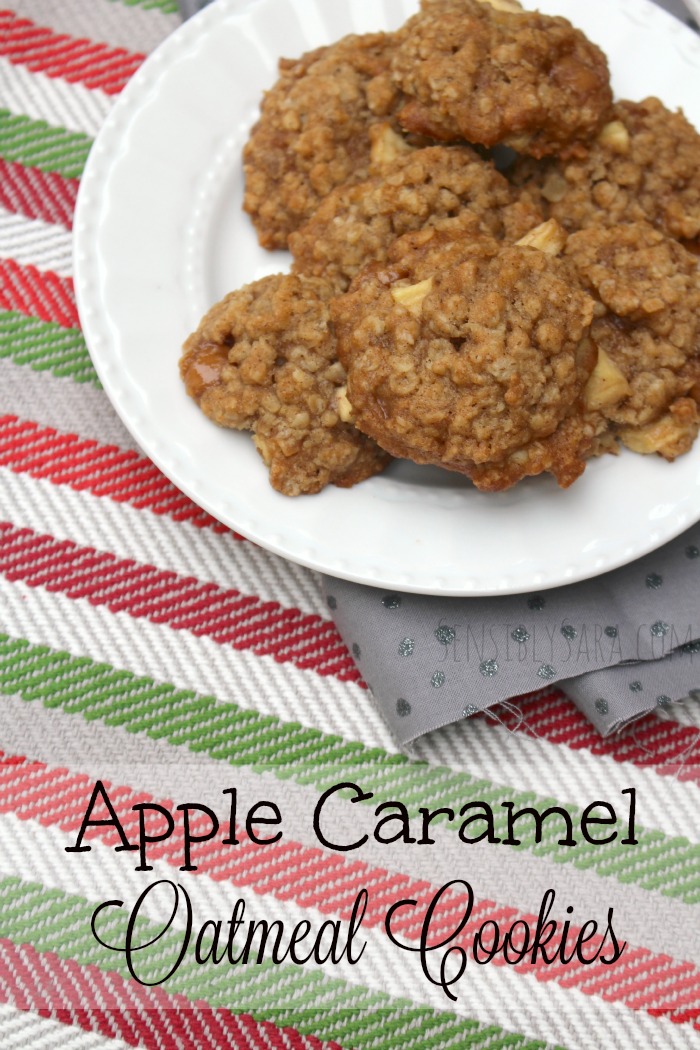 This year I decided to make Apple Caramel Oatmeal Cookies.
The week before Thanksgiving, my kids and I took a trip to my sister's house. There is this amazing little town (West, Texas) about 2 hours from her house. We always stop for a bathroom break and treats. This time they had Apple Caramel Oatmeal Cookies that looked delicious! It looked like it was worth the 99 cents the store was asking. The cookie was so good! I knew I had to re-create those chewy, goodness-filled cookies, so here we are!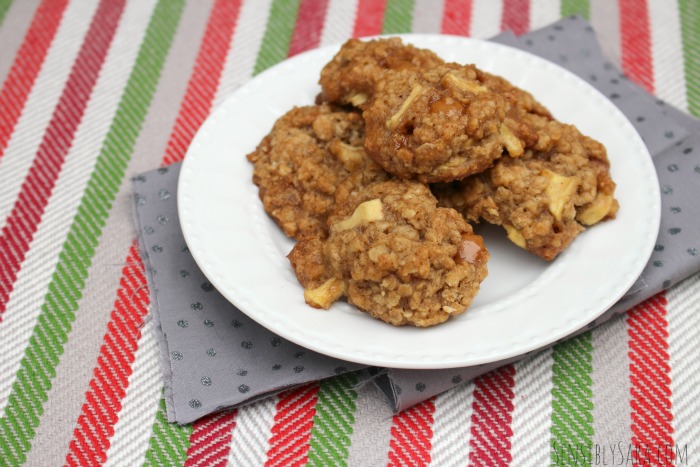 Apple Caramel Oatmeal Cookies Recipe #FBCookieSwap
Ingredients
Apples:
2 apples (any kind), peeled and diced
1 tsp butter
Dough:
1 cup butter, melted
1 cup packed brown sugar
2 eggs
1 tsp baking soda
1 tsp cinnamon
dash of nutmeg
½ tsp salt
2 tsp vanilla
1½ cup flour
⅓ cup caramel bits
3 cups oats
Instructions
Peel and dice the apples.
Put them in a skillet with about a tablespoon of butter.
Heat on medium-low for about 15 minutes or until they start to get soft.
While the apples cook, preheat the oven to 350 and prepare your dough.
Beat butter, sugar and eggs until smooth.
Add cinnamon, nutmeg, salt, baking soda, vanilla, and flour. Mix until smooth.
Fold in oats and caramel bits.
Remove any liquid from apple skillet.
Fold the apples into the batter.
Bake for 13-15 minutes.
Serve and enjoy!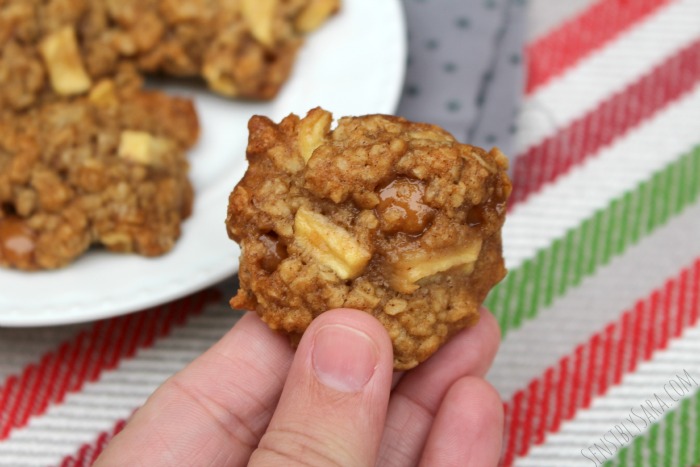 I hope you'll take the time to make these cookies. They are worth the (little bit of) effort it takes to make them! Plus, these cookies contain apples which makes them healthier for you, right?! Learn all about the science-backed health benefits of apples.
Have you had Apple Caramel Oatmeal Cookies before?