**Full Disclosure: This shop has been compensated by Collective Bias, Inc. and its advertiser.  All opinions are mine alone.  #BigGameTreats #CollectiveBias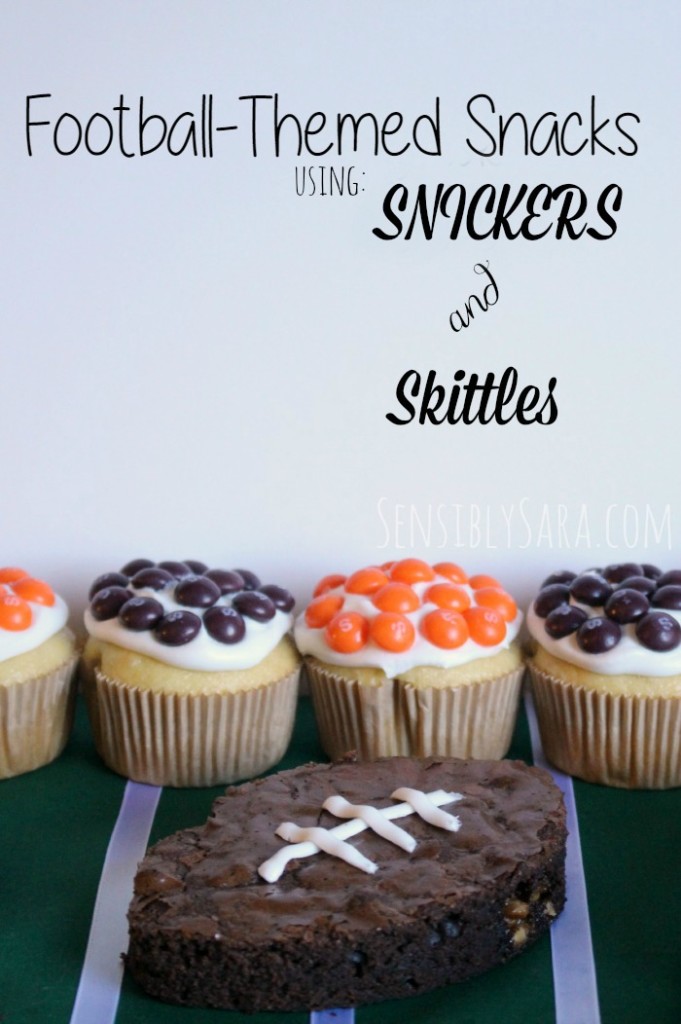 For the last couple of years, my family and I have spent Big Game Sunday with friends – either at our house or theirs.  No matter where we watch the football game, two things are the same: I am in charge of dessert and we have an absolute blast together!
I usually make something easy (like cookies) but this year I wanted to step up my game!  I stopped in at Walmart and got everything I needed to test run my idea for football-shaped SNICKERS® brownies and Skittles® 'crowd' cupcakes.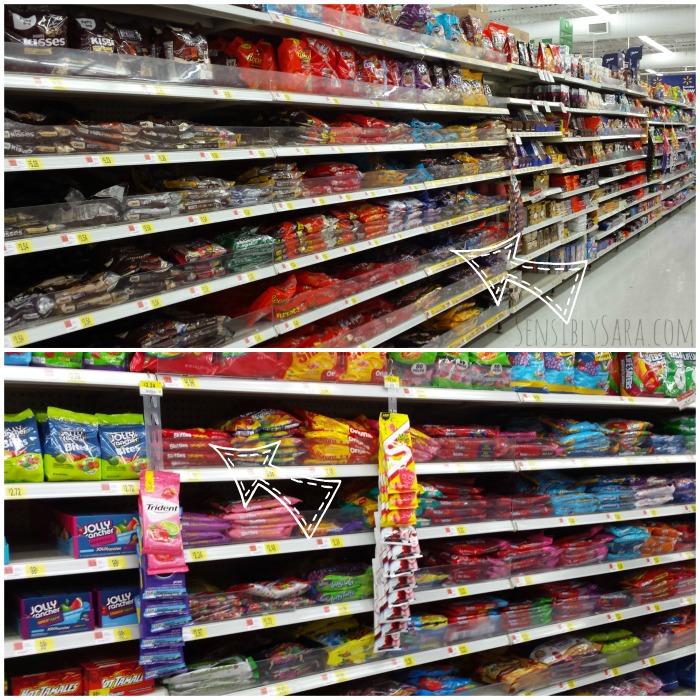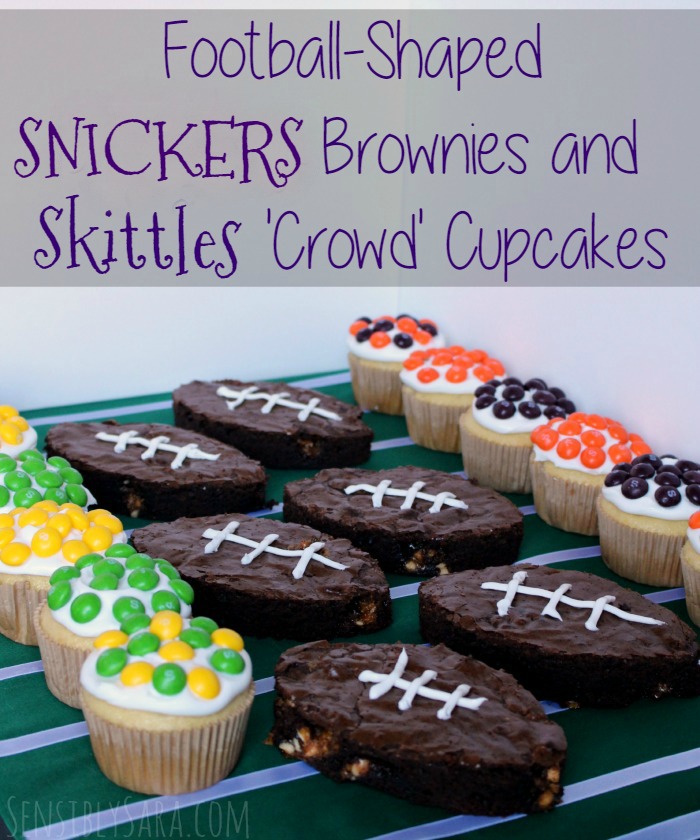 What You'll Need for Football-Shaped SNICKERS Brownies – 
2 boxes brownie mix (I used Duncan Hines)
Ingredients – doubled – as called for on the box of mix (eggs, water and oil)
1 (11.18 oz.) bag funsize SNICKERS
Jelly Roll Pan
Cooking Spray
Foil
Football cookie cutter
Directions – 
Chop SNICKERS bars and set aside.
Make brownie mix as directed, then gently fold in the chopped SNICKERS.
Preheat the oven as directed on the box.
Line the jelly roll pan with foil.  Spray with cooking spray.
Pour the brownie batter over the foil.
Bake until the brownies are done in the center.
Let cool and then cut with the cookie cutter.
Use some of your cupcake frosting to make the laces, optional.
ENJOY!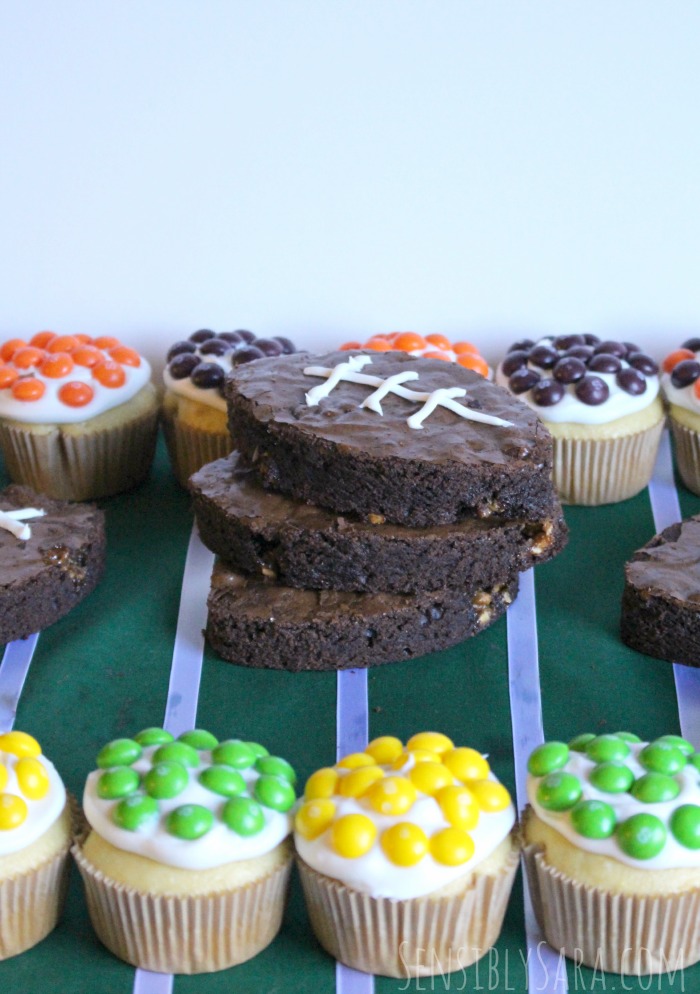 I thought the brownies were delicious!  But my husband said he couldn't really tell they had SNICKERS in them.  I think when I make them for the big game, I'll chop my pieces a little larger.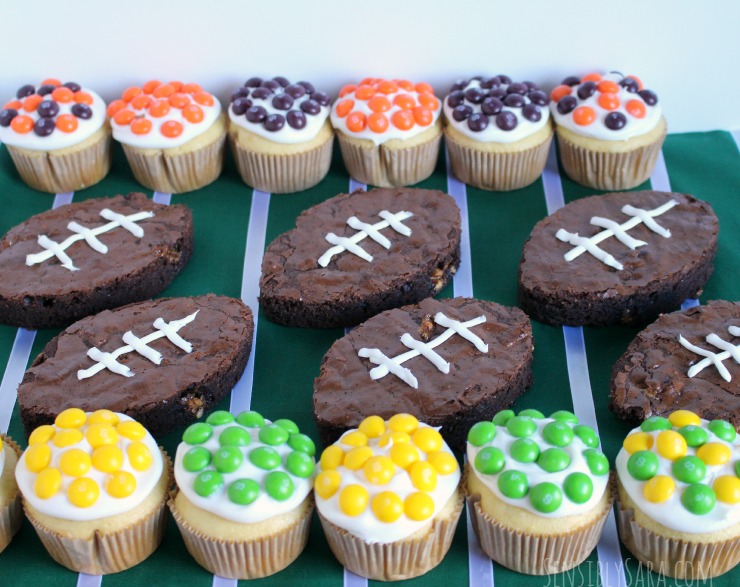 The Skittles cupcakes are meant to look like the crowd – the idea came from a sugar cookie I saw on Pinterest.  The cookie used nonpareils to create a 'crowd' but I wanted a larger 'audience' so I my kids sorted the Skittles by color and picked team colors.

Football-Themed Snacks: 'Crowd' Cupcakes
Ingredients
1 box cake mix, any flavor
1 box pudding, any flavor
½ cup unsweetened applesauce (replaces oil)
1 cup milk (replaces water)
3 eggs
Frosting, any flavor
Skittles
Instructions
Preheat oven as directed on box.
In mixing bowl, combine cake mix, pudding, unsweetened applesauce, milk and eggs.
Mix until smooth.
Fill cupcake liners ⅔ full and bake as directed.
Let cool and then frost.
Top with Skittles.
ENJOY!
Skittles 'Crowd' Cupcakes are good – but FULL of sugar!  Have a big glass of milk or something salty to counteract all that sweet.
What are your favorite game day snacks?