**Full Disclosure: I received a Chuck E Cheese guest pass in order to conduct my review.  No other compensation was received.  All thoughts and opinions are my own.  
My husband and I enjoy taking our boys out to eat – but it's usually our choice and there isn't anything for the boys to do (other than coloring).  So when I was asked to review Chuck E Cheese's new 'Say Cheese' app, of course I said yes!
One Sunday after church, my husband and I loaded James & Colin up in the car and headed off to our closest Chuck E. Cheese.  We didn't tell them where we were going (this is my favorite way to surprise them!) but as soon as we turned into the parking lot, there was cheering from the back seat!  Can you tell we don't go to Chuck E Cheese often?!  Mostly because other kids can be rude but also when we do go, it's a great treat and completely unexpected!
The 'Say Cheese' app is free Apple & Android phones.  I downloaded it on my android phone with no problems but once there, I couldn't get the app to take a photo.  I blame this on my phone (it was OLD and I've since upgraded).  I do love the concept of the app, though, and I can't wait to go back and try it again!
How it works: 
Download my new Say Cheese! app from either the iTunes App Store or Google Play, depending on your mobile device.  It's free!  The next part's the fun part: Go to your nearby Chuck E. Cheese's!  It's simple to use; just turn on the app and point your camera at one of the "Say Cheese Here!" signs located throughout the store, then watch as I come to life!  It's kind of like magic, only cooler.

There are multiple signs throughout Chuck E. Cheese's.  So be sure to find the pink, orange, and blue versions to check out all three of my different poses.  Have a favorite picture? Awesome! My app makes it easy to share your picture on Facebook and Twitter, or by email.  You can even share your picture with ChuckECheese.com for a chance to have your photo posted right here on my website! Or why not make a print of a picture and put it up on the fridge!
Remember: 
My app only works at Chuck E. Cheese's.

All photos taken with my Say Cheese! app are automatically saved to your device's photo album.

No photos will be shared without an adult's consent.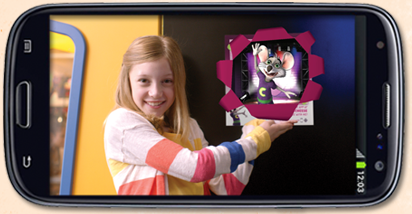 From now until June 1, 2013, when you submit your snapshots from our new, free app to our Facebook page, you'll have a chance to be a daily or weekly prize winner.  You could win prizes like a free visit to Chuck E. Cheese's, a $200 gift card, or various Chuck E. toys for your kids!

GOOD LUCK!
Only one person per household/IP address may enter.  This giveaway is open to US residents only and will run through midnight CST on Wednesday, May 22, 2013.  The winner will be randomly chosen using random.org and an email will be sent.  The winner must respond within 48 hours or a new winner will be chosen.  The giveaway item will be shipped directly to the winners from the sponsor.  NOTE:  The prize cannot be delivered to a P.O. Box.