**Full Disclosure: As part of the Chick-Fil-A Moms Panel, I received promotional cards to enjoy a salad and beverage to facilitate this post. All opinions are my own.
Of all the things on the Chick-Fil-A menu, the cobb salad with sweet tea is the meal I order most often! Not only is the salad delicious but it's only 430 calories (without dressing). I like to open the salad bowl, drizzle on the dressing, close the container again and shake it up until the salad is lightly coated. MMM-MMMM!
But what do you do with the awesome container after you finish your salad? I used the top of salad bowl to make an upcycled bird feeder!
This DIY bird feeder is beyond easy to make!
You'll Need:
Chick-Fil-A Salad Container
Twine
Scissors
Bird Feed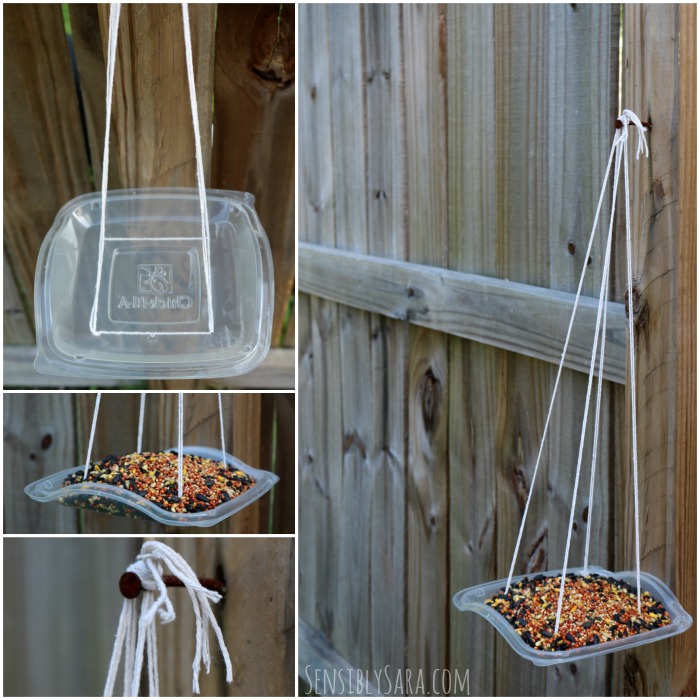 Directions:
Enjoy your salad!
Wash the container.
Cut 4 lengths of twine (however long you want your bird feeder plus 2 – 3 inches)
Feed the twine up through two holes in the lid of the salad container. Repeat this 3 more times. Each hole will have 2 pieces of string.
Pull all pieces of twine so they are all even and the lid is even on a flat surface.
Tie one knot with the ends of the twine.
Add bird feed
Hang where desired and enjoy the birds!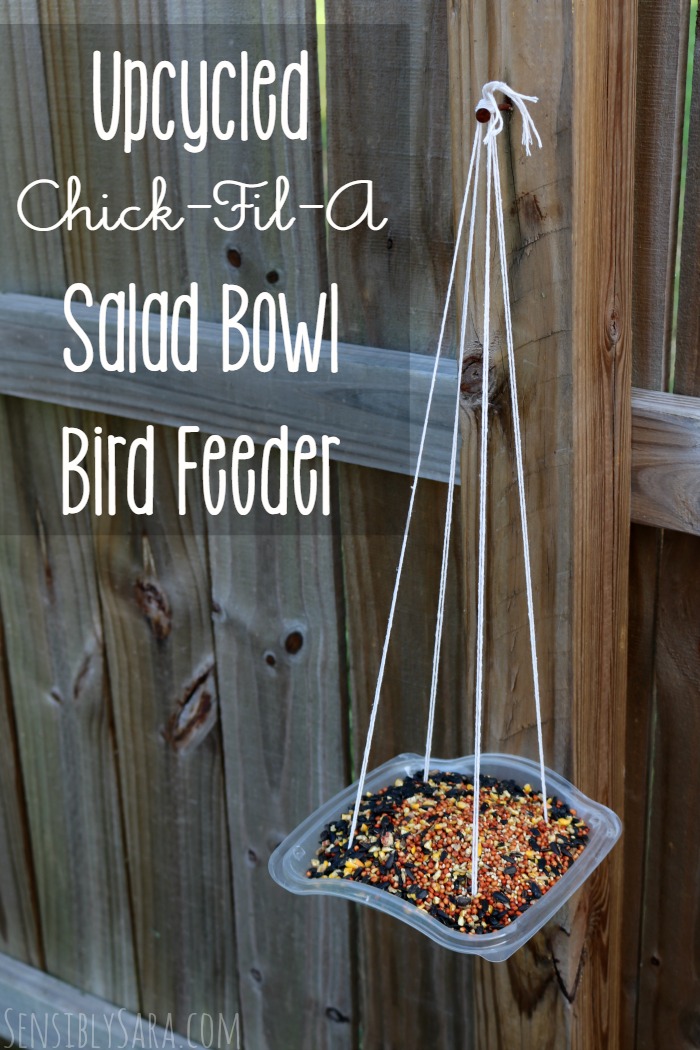 I will say, the doves swarmed our upcycled bird feeder and had it knocked over it no time! You could add some weights to the bottom of the tray to make it heavier. If I did that, I'd add a piece of twine through the hole, knot it to the hanging string just above the hole and then add the weight under the plastic lid.
My boys and I enjoyed making the upcycled bird feeder and had a great time watching the birds flock to the food.
How would you upcycle a salad container?