**Full Disclosure: This post contains affiliate links. If you make a purchase, I get a teeny-tiny percentage at no cost to you.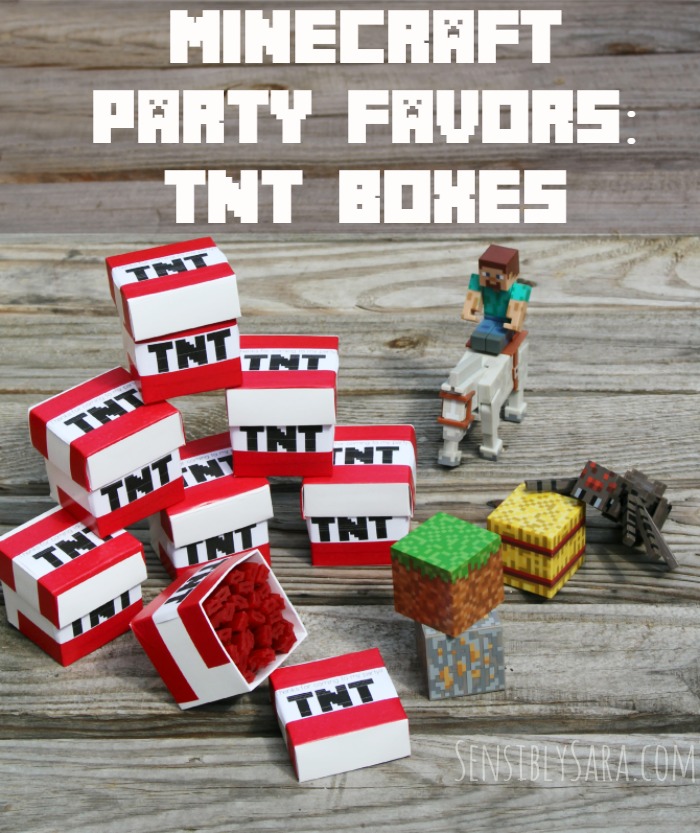 I am pretty awful at pulling together a themed party.  I always start with great intentions but then the little details fall off my radar and by the time the party rolls around I've given up.  When James asked for a Minecraft party and I knew I had to at least try – again.  I felt like the cake turned out well so then we moved on to create the Minecraft Party Favors: TNT Boxes.
James had his birthday party at the bowling alley so I didn't worry about making everything really over the top. Not stressing over the small stuff helped.  It was a great party and that's what counts.
I wanted to share the Minecraft Party Favors for other moms who want to be crafty but can only handle the simple stuff.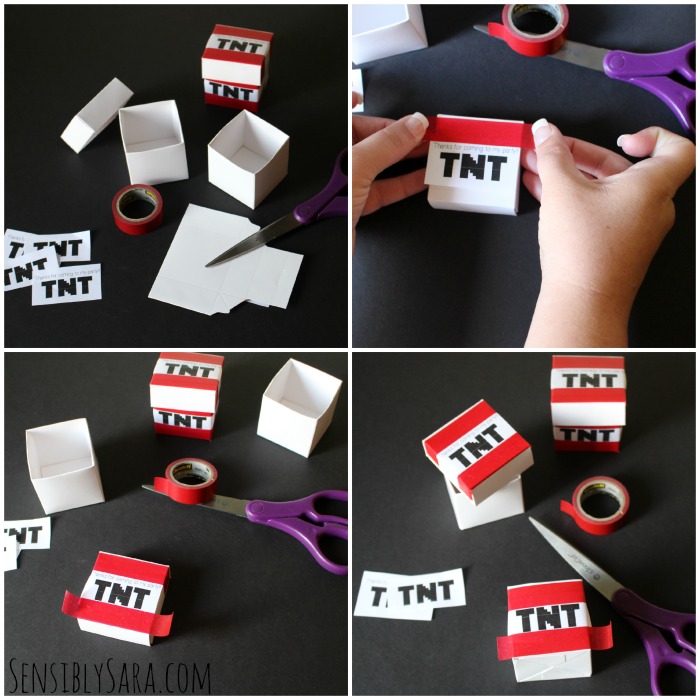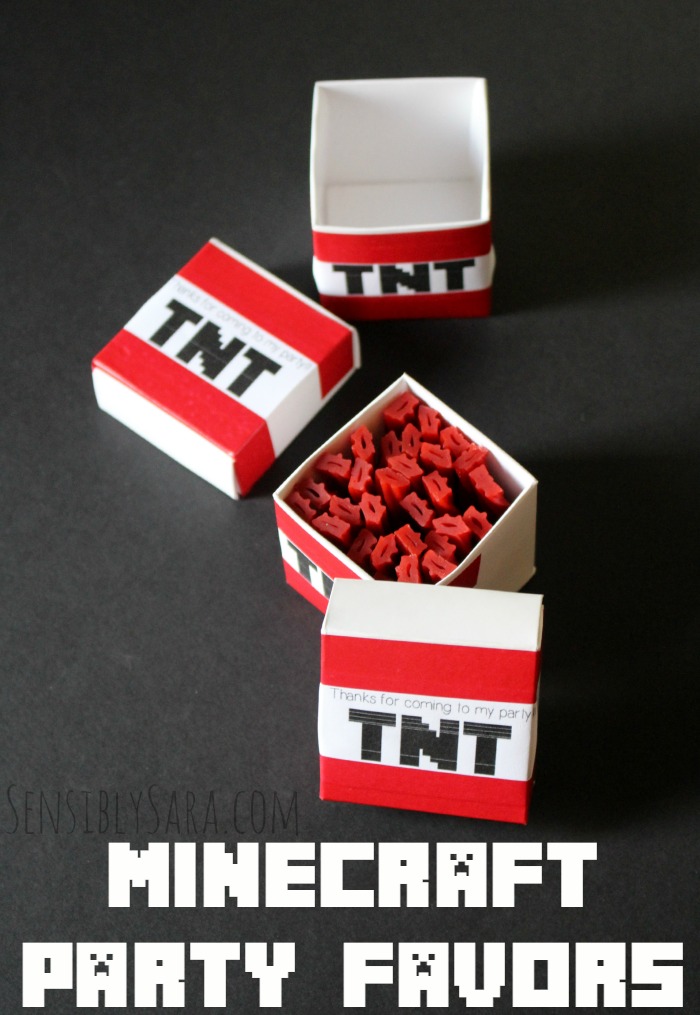 Minecraft Party Favors: TNT Boxes
You'll Need: 
Favor Boxes (2 x 2 x 2) – I bought these in white at Michael's.
Red Washi Tape
Twizzlers – probably 2 big bags (or another red 'stick' candy)
Kitchen Shears or a knife
Directions:
Put the boxes together as directed.
Print these TNT labels and cut them to fit, leaving a little white space at the top and bottom.
Cut pieces of washi tape.
Tape down the TNT labels.
Now you are ready to fill your boxes.  Snip the ends off the Twizzlers and then quarter what's left.
Fill each box with about 30 Twizzler pieces.
Share with your friends!!
**Note: I only put the TNT labels on the top and one side of the box, but you could add the labels to two or all sides of the boxes.  Feel free to play with it and make them your own!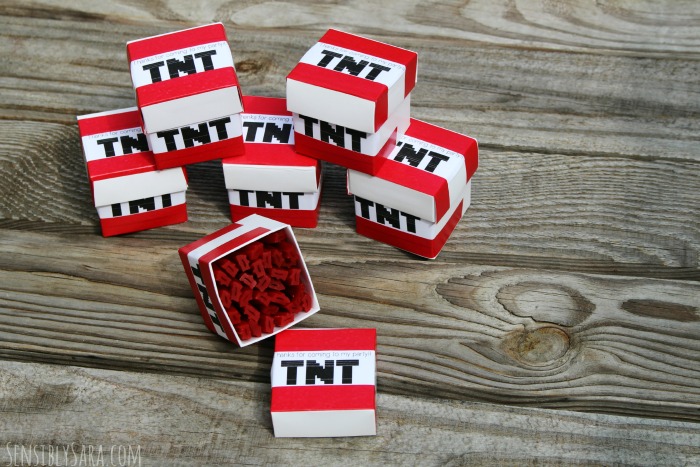 I was happy not to send 'stuff' home with our party guests, but the TNT Boxes were a huge hit!!  I got compliments from random strangers walking by our table, too, which helped boost my ego a bit.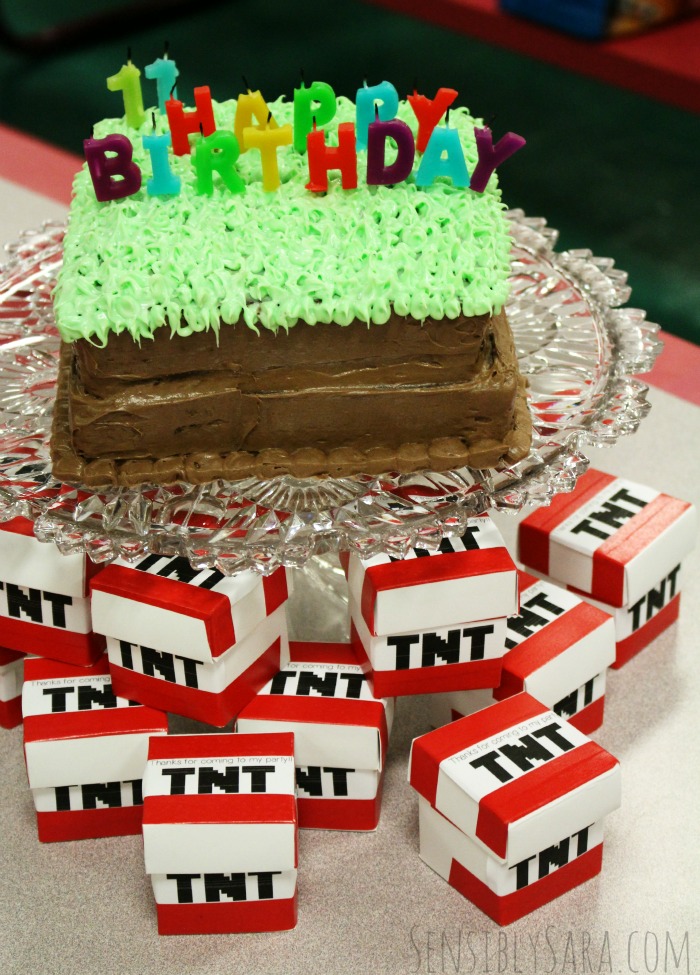 Don't forget the Minecraft Cake!!
Do you think these Minecraft Favors look like TNT boxes?