**Full Disclosure: This post may contain affiliate links.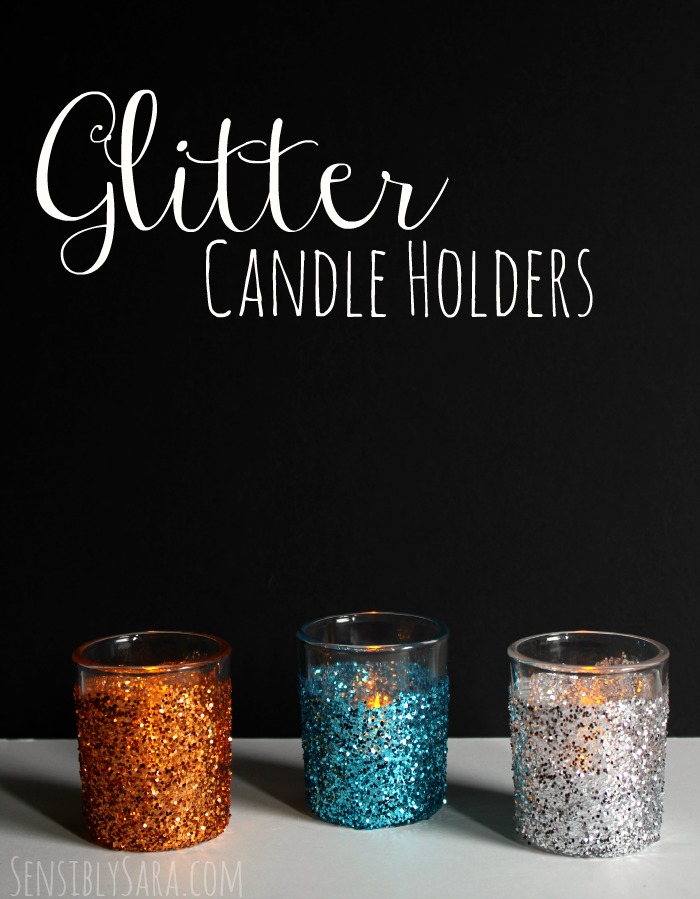 I love candles!  I enjoy their yummy scents, the way the light flickers & bounces in their holders and how they provide light if the power goes out.
What I don't love about them, though, is the actual flame that comes with the candle.  That's why I love LED tea lights so much.  But LED tea lights are kind of ugly by themselves and deserve beautiful candle holders, right?  And that's when I decided to make Glitter Candle Holders!
While I adore the glitter-covered candle holders, my husband is not a fan.  I am still using them, though!
What You'll Need: 
Glass Votive Holders (77 cents each at Walmart)
Chunky Glitter (88 cents per tube/color at Walmart)
Elmer's Glue
Paintbrush
Bowl and Funnel, optional
LED Tea Lights
Clear Sealer (spray form works best)
Wax Paper
Masking Tape
Directions:
Using a paintbrush, quickly apply Elmer's glue to your votive holder in the design you want.
Over a bowl, cover the glue with chunky glitter.
Set on wax paper and let dry for at least 6 hours.
Repeat as desired.
After the glue is dry, wrap masking tape around the un-glittered parts of the glass.
Outside, spray the glittered glass with a clear sealer.
VERY CAREFULLY remove the masking tape.
Let dry at least 24 hours.
Put one LED tea light in each glitter-covered votive holder.
ENJOY!
Notes:
I made two candle holders with the glitter INSIDE the glass container and that helps to keep the glitter contained, but I didn't think they were nearly as pretty.  Also, when you put turn the LED tea light on and off, you knock glitter off the sides.
I tried using Mod Podge to hold the glitter in place on the outside of the votive holder, but it made the glitter look flat.  (It didn't matter what kind of Mod Podge I used.)
The glitter doesn't sparkly as beautifully when the room is DARK, but I still love the way these glitter candle holders turned out!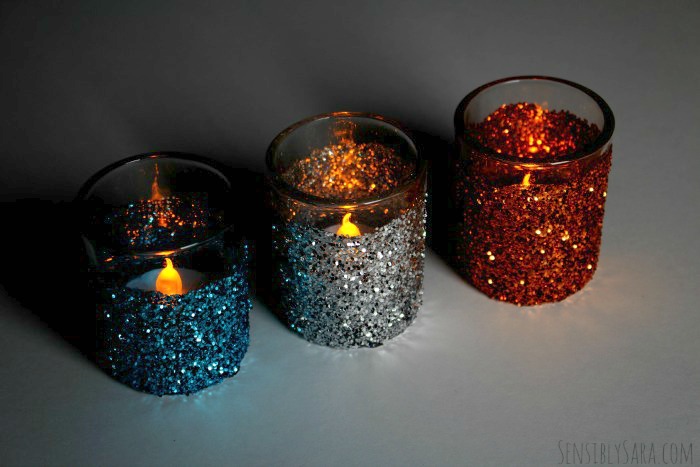 Would you make glitter candle holders?  What color glitter would you use?