**Full Disclosure: I received free LeapFrog products in order to host the LeapFrog sponsored MommyParty.  The opinions expressed here are my own.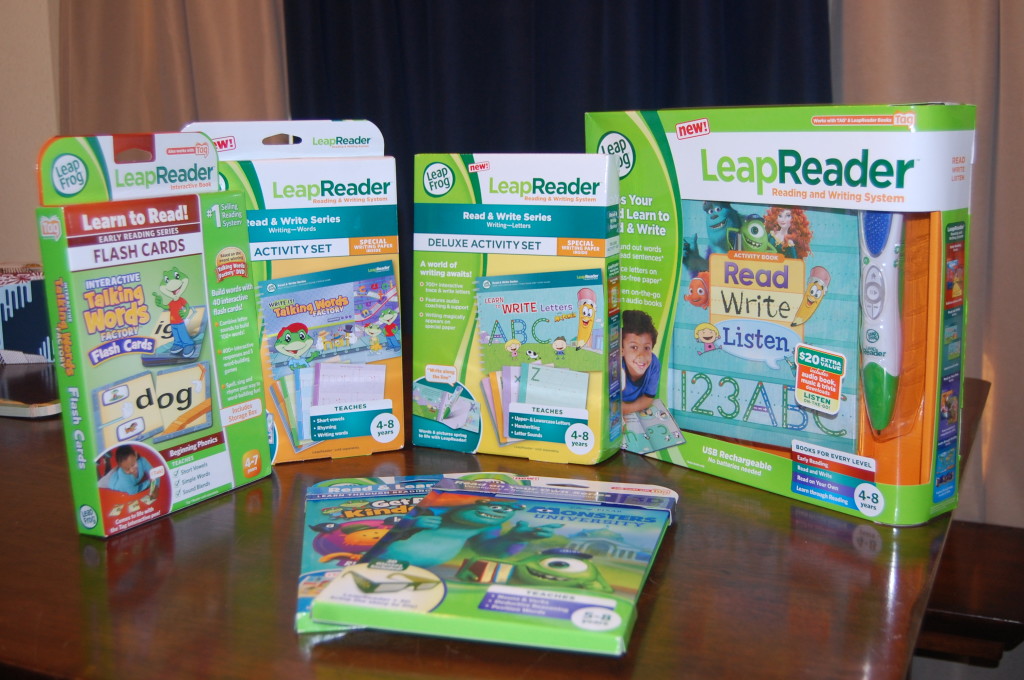 We are big fans of LeapFrog products!  My boys probably have at least 10 toys (not including books/cartridges) laying around the house.  So, when I was offered the chance to host a LeapReader party, I jumped at it!
When my box arrived, my kids asked and asked to look in it.  Of course I told them no!  I wanted its contents to be a surprise.  Something fun for the upcoming weekend.
A few days later, it was time for the party.  I'd invited some friends over but only 2 kids (1 adult) were able to make it.  All the kiddos wanted to play for a bit before we sat down to try the LeapReader.  After about 45 minutes, I asked if who was ready to try the device, but no one answered!  So I coaxed all four kids to the table with some pizza.  Then I pulled out the LeapReader and all of the accessories.
The kids started by taking turns with the Mr. Pencil Writing Workbook.  When they traced the colored letter, they were excited by the encouragement provided from the LeapReader.  But then they were ready to move to the dotted letter, and the device was saying they were doing it incorrectly.  They were not and got discouraged.  I would like to see the LeapReader keep up with the child – so that they could work at their own pace.
Then the kids decided they wanted to read along with the LeapFrog Disney-Pixar Monsters University 3D book.  They did not experience any difficulties with the LeapReader while listening along with the device.
The kids only used the LeapReader for about 30 minutes before they were ready to call it quits, but I think that had more to do with the fact that they wanted to play with one another rather than with an educational toy.
While watching the kids interact with the LeapReader, I noticed that the device seems to be too fat for little hands.  I feel like it might teach them to hold an actual writing utensil incorrectly.