I saw this on There's Magic Out There's blog (she saw it on Simply Clarke) and KNEW I wanted to participate, so here are the ABC's of ME!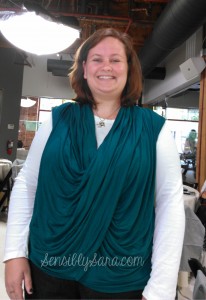 A. Age?
Tomorrow I'll be 30!
B. Book?
I love children's books.  Wacky Wednesday is my favorite!
C. Cake or Pie?
Cake!  (Yellow with chocolate frosting)
D. Drink of Choice?
Water!  I do like the occasional Coca Cola, but it's about once a week (sometimes less).
E. Essential Item?
Probably my laptop.
F. Favorite Color?
Blue … or Red!
G. Game to play or watch?
Skip-bo or Yahtzee!
H. Hometown?
San Antonio, TX
I. Indulgence?
Deep Dish Chocolate Chip Cookies
J. Job?
SAHM/Blogger
K. Kids and names?
2 – James and Colin
L. Life isn't complete without?
My husband.  He makes me a better person.
M. Music group or singer?
Gosh, this is hard.  I can tell you my favorite SONG: "If God"
N. Number of siblings?
1 sister – Becca
O. Oranges or apples?
Apples (with Peanut Butter!)
P. Phobias/Fears?
More than I'd like to list, but my biggest is heights.
Q. Favorite Quote?
1 Corinthians 13:4 "Love is patient, love is kind.  It does not envy, it does not boast, it is not proud."
R. Reason to smile?
EVERYTHING!
S. Season?
Spring!  It's the perfect temperature and you get to see everything in bloom!
T. Tattoos?
Nope.  I am too chicken.
U. Unknown fact about me?
I can drive, but I don't love it.  I'd rather be a passenger.  And driving at night hurts my eyes.
V. Vegetables you love?
Peas, green beans, carrots, corn … those are the biggies!
W. Worst habit?
Cracking my knuckles
X. X-rays you've had?
I don't think I've had any.
Y. Your favorite food?
Papa Murphy's Pizza!
Z. Zodiac?
Aquarius
Well, that's me!  Did you learn something new?