I was going through blog newsletters in my email and came across one from Melinda at Look What Mom Found.  I love reading about other people – especially when you "know" them, but only as a friend in your computer.  Posts like this let you see the more personal side of the computer friend!
I recently did an ABC's of Me post, so you got to know a little about me.  But, I am sure you want to know more, right?!  So I'm stealing the questions!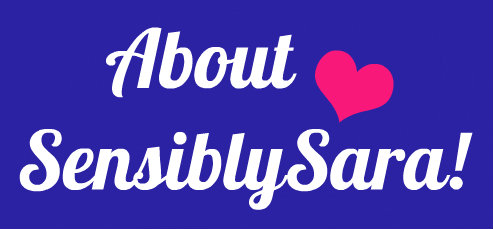 1. WERE YOU NAMED AFTER ANYONE?
Nope, not specifically.  Though, there was a 'Sara' on my dad's side of the family.
2. WHEN WAS THE LAST TIME YOU CRIED?
The last time I cried was a few days ago.  But it seems like I cry ALL.THE.TIME.  I cry when I am happy, sad, mad, or just plain frustrated.
3. DO YOU LIKE YOUR HANDWRITING?
Most of the time, yes!
4. WHAT IS YOUR FAVORITE LUNCH MEAT?
I love Boar's Head Turkey!
5. DO YOU HAVE KIDS?
Two – James & Colin
5. IF YOU WERE ANOTHER PERSON, WOULD YOU BE FRIENDS WITH YOU?
Yep!
7. DO YOU USE SARCASM A LOT?
Yes.  Probably WAY too often.
8. DO YOU STILL HAVE YOUR TONSILS?
Yes
9. WOULD YOU BUNGEE JUMP?
HECK NO!
10. WHAT IS YOUR FAVORITE CEREAL?
Quaker Oatmeal Squares
11. DO YOU UNTIE YOUR SHOES WHEN YOU TAKE THEM OFF?
It depends on the pair – but most of the time, yes.  (I don't untie the "OLD" shoes, just the newer pairs.)
12. DO YOU THINK YOU ARE STRONG?
I think I can be strong, but I don't think I always am.
13. WHAT IS YOUR FAVORITE ICE CREAM?
Ben & Jerry's Brownie Batter – but I can't find it anymore (which is probably a blessing in disguise).
14. WHAT IS THE FIRST THING YOU NOTICE ABOUT PEOPLE?
Their shoes.
15. RED OR PINK?
Red.  But, I do really like pink, too!
16. WHAT IS THE LEAST FAVORITE THING ABOUT YOURSELF?
My calves.  They look like stove pipes.  (I've also been known to call them 'cave man legs'.)  It's a hereditary thing and, without surgery, there's nothing I can do to change it.
17. WHO DO YOU MISS THE MOST?
This is a really difficult question.  I've lost all of my grandparents & an uncle.  I miss them all terribly.
18. WHAT IS THE TECHNIQUE THAT YOU NEED TO WORK ON THE MOST?
Cleaning!
19. WHAT COLOR SHOES ARE YOU WEARING?
Blue/Gray/Pink
20. WHAT WAS THE LAST THING YOU ATE?
Salad with Grilled Chicken
21. WHAT ARE YOU LISTENING TO RIGHT NOW?
Disney Channel (on TV)
22. IF YOU WERE A CRAYON, WHAT COLOR WOULD YOU BE?
Brown
23. FAVORITE SMELLS?
Anything fruity, bacon, cookies, my husband … anything that doesn't stink!
24. HOW IMPORTANT ARE YOUR POLITICAL VIEWS TO YOU?
Not as important as my personal ones.  (This is Melinda's answer and I agree, so I am leaving it!)
25. MOUNTAIN HIDEAWAY OR BEACH HOUSE?
Mountain Hideaway!
26. FAVORITE SPORTS TO WATCH?
Football
27. HAIR COLOR?
Brown (and starting to get some grays – ACK!)
28. EYE COLOR?
Hazel
29. DO YOU WEAR CONTACTS?
Nope.
30. FAVORITE FOOD?
I love food.  I don't know if I can nail this down to ONE thing.  But Pizza or Chicken Parmesan.
31. SCARY MOVIES OR HAPPY ENDINGS?
Happy endings.  I can't watch scary movies.
32. LAST MOVIE YOU WATCHED?
Here Comes the Boom
33. WHAT COLOR SHIRT ARE YOU WEARING?
Pink
34. SUMMER OR WINTER?
Winter (but if I could pick from all 4 seasons, it would be Spring).
35. FAVORITE DESSERT?
Chocolate Chip Cookies (but not TOO many chips!)
36. STRENGTH TRAINING OR CARDIO?
Cardio – I LOVE walking with my friend Emily!
37. COMPUTER OR TELEVISION?
Computer, DUH!
 (Psst: You can watch most TV on the computer!)
38. WHAT BOOK ARE YOU READING NOW?
Classic Snacks Made from Scratch
39. WHAT IS ON YOUR MOUSE PAD?
I don't have a mouse pad.
40. FAVORITE SOUND?
My kids' laughter!
41. FAVORITE GENRE OF MUSIC?
Anything but rap.
42. WHAT IS THE FARTHEST YOU HAVE BEEN FROM HOME?
Seattle, WA
43. DO YOU HAVE A SPECIAL TALENT?
No, I don't think so.
44. WHERE WERE YOU BORN?
San Antonio, TX
45. WHERE ARE YOU LIVING NOW?
San Antonio, TX
46. WHAT COLOR IS YOUR HOUSE?
Blue & Cream
47. WHAT COLOR IS YOUR CAR?
Blue
48. DO YOU LIKE ANSWERING 48 QUESTIONS?
It was pretty easy!
Pick one question and answer it in the comments!  I'd love to learn a little about you!
If you decide to share these 48 questions, leave me a link!