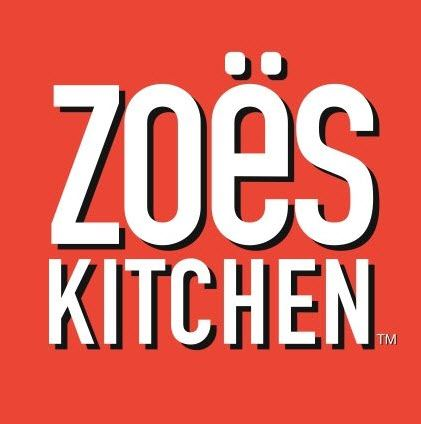 I think I've told you before, but my sister is getting married at the end of February.  When I was at her house for Christmas, she told me she had one open weekend for a shower before the wedding.  That one weekend was two weeks away — TWO weeks!  I was worried about pulling it off which resulted in me being really unhappy about the situation.  I had no clue what I would do for invitations, food, games or decorations.
I headed to Pinterest, found some cute ideas for games and the invitations and decided to forego decorations.  (Trust me, I know how crazy it was!  Sister was about as happy about this as I was having only 2 weeks to throw this shindig together.)  But I still needed a plan for food.  Everything I found (that I was willing to make) on Pinterest only linked me back to an IMAGE!  So then I started to get creative – how could I get away with NOT cooking?!  Zoës Kitchen!!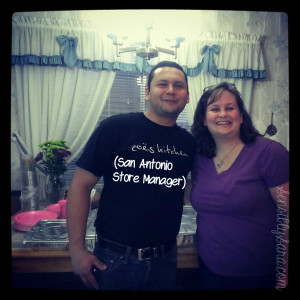 The San Antonio store manager delivered our food.  He was so friendly and personable!  If you ever go into the restaurant, make sure you say hi.  Zoës Kitchen delivered Greek Salad with Grilled Chicken, a fresh fruit bowl, Pita finger sandwiches (Pimento Cheese & Chicken Salad), and a Hummus tray with Pita chips and cucumbers.  They also brought a tray of grilled onions, extra Pita chips, containers of raw onion, feta cheese, Zoës dressing and tongs/spoons for each dish.  I was also given a bag full of plates, forks and napkins but since I'd already purchased those, so I had the manager take those back to use on another catering job.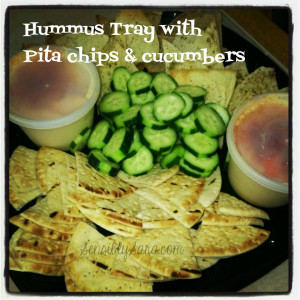 The food was PHENOMENAL!  The hot foods were hot and the cold foods were cold.  Everything was fresh and delicious!  I am not a huge Pimento Cheese person, so I didn't try that, but those that did said it was excellent.  I was told it tasted homemade.  I sampled a little bit of everything – and like I said, it was absolutely amazing!  I would recommend Zoës Kitchen over and over again!  (Even my Dad, who is such a picky food person, said he'd give Zoës Kitchen an A+ in his book!!)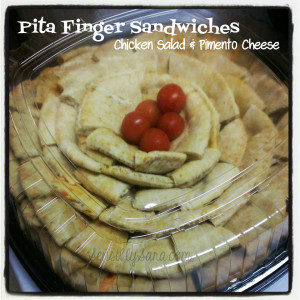 Zoës Kitchen offers catering for events of any size with a large selection of menu items.  The restaurant has recently been building bridal and baby shower packages, so make sure you check 'em out.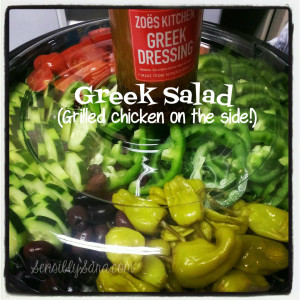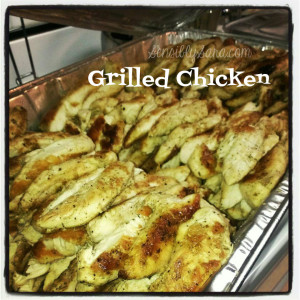 About Zoës Kitchen: 
The first Zoës Kitchen opened in 1995 in downtown Birmingham, Alabama.
The Mediterranean-inspired meals are hand-crafted, original recipes from founder Zoe Cassimus!
They use pure and simple ingredients.
Zoës Kitchen is built on a philosophy of a balanced lifestyle that includes spending time with family and friends over simple, tasty and freshly-prepared food.
Every day is started by making the food from scratch onsite at each restaurant.
The menu is Mediterranean-inspired comfort food with customers' dietary concerns in mind–nothing fried with gluten-free and vegetarian options.
Find Zoës Kitchen near you and enjoy lunch one day soon!
You can connect with Zoës Kitchen on facebook and twitter!
If you find yourself hosting an event (bridal shower, baby shower or otherwise) make sure you call Zoës Kitchen!!
You won't be disappointed!!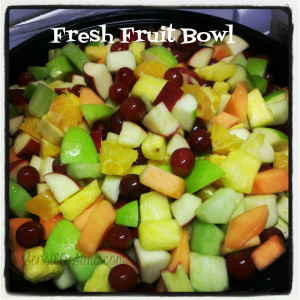 **Full Disclosure:  Zoes Kitchen provided the catering for the bridal shower I threw my sister.  No other compensation was exchanged.  All thoughts and opinions are my own.